Google MAC Rollout
Announced this year at Google I/O, My Ad Center (MAC) is starting to roll out. The new controls will give users the ability to influence ads that appear in Search, the Discover feed and on YouTube (but not third party sites in the Google network). It's an opt-out framework but allows users to indicate topics and brands of interest. It also provides the ability to block ads in "sensitive" categories: alcohol, pregnancy, weight loss, dating, gambling. Ad personalization can be completely disabled, as well as fine-tuned using (+/-) indicators. MAC will be accessible directly from menus in the ads themselves but users must be signed in to use the tools. Ad Settings will govern when users aren't signed in. There's some complexity here and, undoubtedly, Google hopes that presenting options in context will encourage engagement and increased personalization.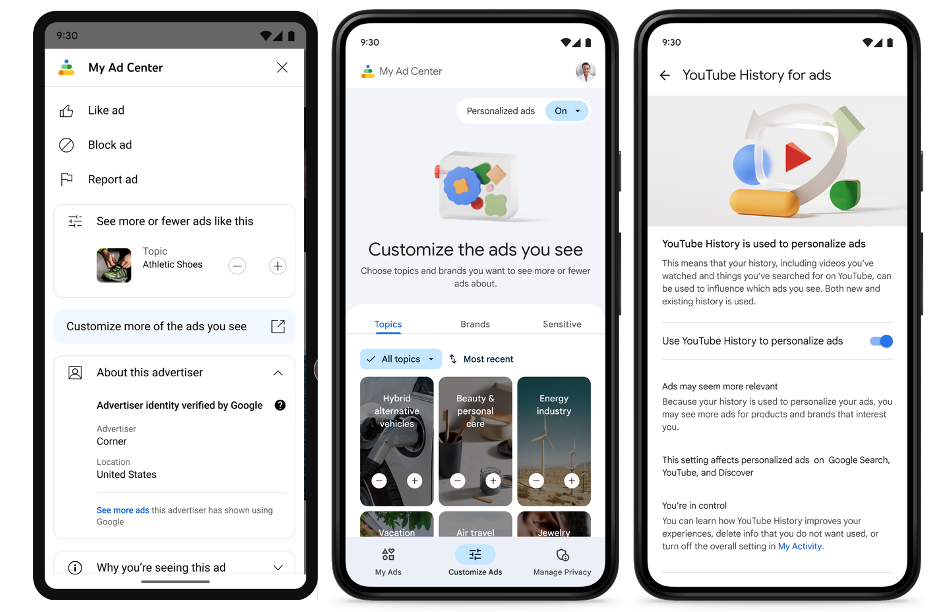 Our take:
Google is doing this for multiple reasons, among them: to offer more transparency and control over targeting to mollify critics.
Earlier we asked whether people would actually use this. Apple's opt-in tracking controls work because they're dead simple. There's a lot more complexity here, suggesting lower adoption.
While MAC could improve ad targeting, it will be most interesting to see what percentage turn personalization completely off.
TikTok Maps, Location Tracking
There's been extensive discussion about TikTok replacing Google for Gen Z as a local search engine. Yet Gen Z influencer Jessica Tsoi demonstrated the continued value of Google Maps as a travel planning tool. Beyond the fact that the video (embedded below) anecdotally shows Gen Z does continue to use Google Maps, it offers intriguing roadmap guidance for TikTok. An obvious one: build or integrate maps and a places database. Another suggestion in the video is travel booking. Places discovery could happen in TikTok followed by travel reservations. On the theme of location, TikTok's Chinese parent ByteDance has been accused of planning "to use the TikTok app to monitor" the location of "specific American citizens." The company denied this but the allegation, apparently supported by documents, plays into long-standing fears that TikTok is a national security risk. That could revive Trump-era demands that TikTok be sold.
Our take:
TikTok's local content and targeting tools are still embryonic. There's obviously a big opportunity yet to be seriously developed.
The company confirmed that it was testing a "Nearby" feed in Asia.  
There's also room for significant SMB adoption, given that 77% of SMBs surveyed use Facebook for marketing but only 30% use TikTok.
Local Underutilized by Retailers
Two parallel surveys, of retailers and consumers, from Digital Commerce360 and Bizrate clarify the holiday shopping picture – one in which local is underutilized. The majority of retailers surveyed (60%) are upbeat, expecting between 1% and 25% revenue growth. They are concerned about consumer spending and competition with Amazon. Hiring associates earlier, inventory management, discounts and free shipping comprise the bulk of holiday strategies. Yet totally absent is the idea of exposing local inventory online for visibility and as a way to attract consumers and/or compete with Amazon. Only a minority of store-based retailers will offer click and collect (26%) or curbside pickup (17%). For their part, consumers are shopping earlier. They'll be more cautious and do lots of online research before buying both online and in stores. Free shipping remains the most desired/required online shopping feature. Finally, 57% of shoppers say they'll check "product availability" (presumably online) before placing an order; 30% said they'd check local store inventory online.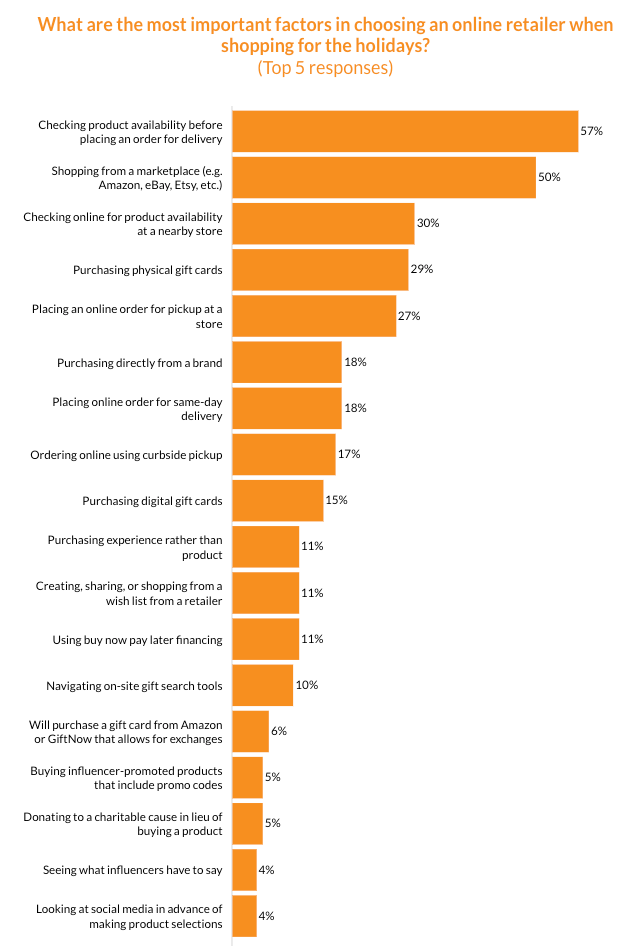 Our take:
The survey conveys the impression that retailers still don't entirely "get" the hybrid shopping (h-commerce) environment they now operate in.
Only a minority are integrating digital and store experiences, reflected in BOPIS/curbside pickup percentages.
Not putting local inventory online is a missed opportunity, as an SEO tactic and way attract people who might otherwise buy from Amazon.
Recent Analysis
Short Takes
Listen to our latest podcast.

How can we make this better? Email us with suggestions and recommendations.