Meta Forced to Divest Giphy
Facebook parent Meta said yesterday that it would sell Giphy. This is the first time Meta has been forced to divest a completed acquisition and it signals rough sailing ahead for big tech acquisitions. Facebook bought Giphy for more than $300 million in 2020. The deal went unchallenged in the US but last year the UK's Competition and Markets Authority (CMA) argued it would reduce social media competition, harming users and marketers. Facebook appealed CMA's decision to an administrative tribunal but it was upheld. The company said it would accept the decision. In the US, the FTC has challenged Meta's acquisition of VR fitness company Within. The regulator's antitrust suit against Meta also seeks to unwind its WhatsApp and Instagram purchases. The Giphy decision is something of a watershed because it represents a divestiture rather than merely blocking a yet-to-be-completed acquisition.
Our take:
Meta is weaker now than it was a year ago, in large part because of TikTok and Apple. The FTC's antitrust action is thus likely to fail.
US courts may thwart US regulators. But that may not matter if EU authorities take a more aggressive posture around M&A.
Google antitrust fears, especially around its Apple search deal, appear to be prompting a strategy shift and more investments in hardware.
Report: Brands Blowing Last Mile
Many reports have documented the challenges brands face marketing locally. For those selling through semi-independent franchisees, agents or dealers it's worse. A report issued by the CMO Council and BrandMuscle identifies the waste, incompetence and inefficiency in local channel partner marketing. The survey of "140 marketing leaders across B2C and B2B industries," found that 75% of national marketers (also responsible for local channel partners) had only a moderate-to-limited understanding those efforts. Only 40% said their local channel marketing programs were effective or very effective. What's the problem? The report identifies several issues: marketing fund/co-op utilization, data sharing and local measurement, access to brand assets and local partner marketing sophistication. Perhaps the biggest insight involves culture. The report concludes, "national marketers see local marketing as competition to national marketing campaigns — and they resent local partners for it."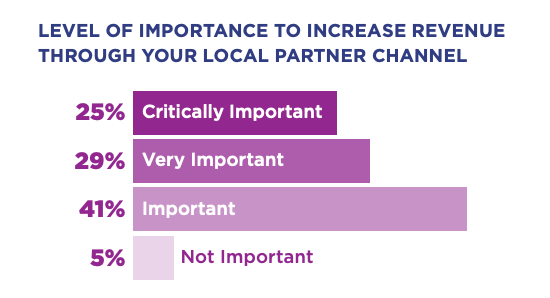 Our take:
Despite the above chart, the report reveals ambivalence and ignorance on the part of national brands around local and its importance.
Most of these local partners are small businesses and so they suffer the same challenges (time, money, sophistication) all SMBs confront.
There are numerous brand-to-local digital tools in the market. It's not a technology problem; it's a commitment issue.
Nearly 60% of SMBs Using Social Media
Small businesses (SMBs) appear generally positive about their prospects in 2023, despite ongoing concerns about the economy. That's according to a new Verizon report. Polling roughly 600 SMBs (1 - 499 headcount), the survey was fielded by Morning Consult in August. Macroeconomic issues (i.e., inflation, recession) loomed larger than employee or customer retention in these findings. Over the past year, 61% of respondents said they had upgraded their tech stacks to become more operationally efficient (more than to boost customer CX). Social media was central to their digital marketing efforts. The majority (59%) said they were using social media to promote themselves; an additional 19% said they were considering it. But only 36% were using social commerce. Facebook (77%) and Instagram (57%) were the dominant platforms; TikTok was not being used by 65% of SMBs.
SMB Social Media Marketing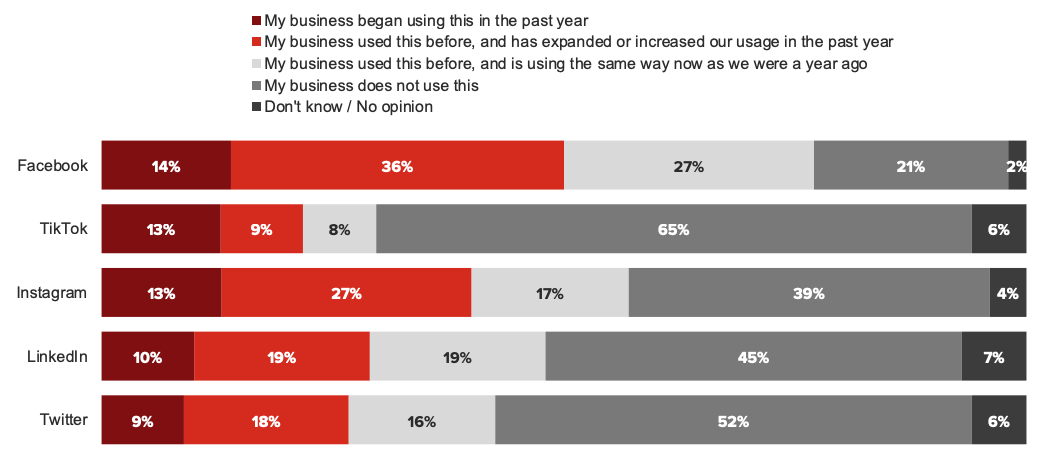 Our take:
The survey didn't distinguish between very small businesses and those with 500 employees, likely distorting the findings.
The survey also didn't ask/report about paid search, SEO or other digital channels. The marketing questions were incomplete.
The findings show, however, that TikTok has a major SMB opportunity and can take share from Meta. (See, e.g., Nerdy Nuts.)
Recent Analysis
Short Takes
Listen to our latest podcast.

How can we make this better? Email us with suggestions and recommendations.