My Ad Center: Will People Use It?
In Google's "100 things we announced at I/O" blog post, My Ad Center is number 90. It's a privacy tool that will roll out later this year, intended to give users (more) control over ads on YouTube, Search and the Discover feed. It gives Google another way to do ads personalization in a post-cookie/IDFA world. Screenshots make it appear relatively user-friendly. My Ad Center will be accessible directly from individual ads, as well as Google privacy settings. Users can edit or shut off demographic data or personalization entirely. There are three categories of personalization options: topics, brands and sensitive (ad categories). Users can express (+/-)  interest accordingly. Right now, customization is only available for the aforementioned Google properties, not Google's ad partners.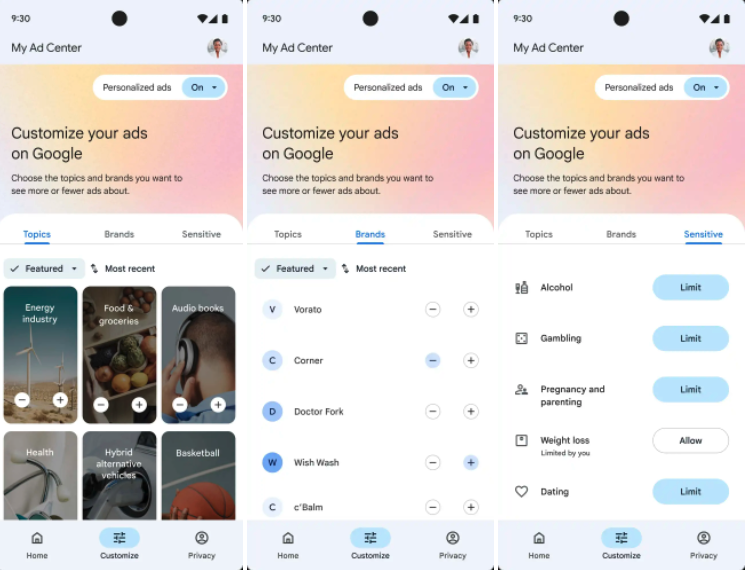 Our take:
Similar concept Adskeeper launched in 2010. And the DAA's AdChoices has been around since 2015 – though it's mostly a failure.
Turning off all personalization in AdChoices results in icky gambling, dating and viagra ads. Consumers would rather have "relevant" ads but don't want their data to be abused and circulated to unknown parties.  
Google's move is smart and potentially good for the ecosystem. It offers more transparency and, presumably, strong intent signals. It's effectively consent-based targeting. But will it be used?
Marketers: Social More Effective than Search
Paid social trumps paid search for intended budget increases and perceived effectiveness, according to Nielsen's latest report (form). Nielsen polled just under 2K marketers, with $1 million or more ad budgets, across verticals in several countries. With some regional variation, paid-media channels that will see the largest ad-spending growth over the next 12 months are: 1) social, 2) display, 3) video, 4) search, 5) CTV. Traditional media gain too, but much smaller increases (OOH is most popular). The top two marketing objectives cited were brand awareness and customer acquisition in that order. In terms of perceived paid-media effectiveness, it goes: 1) social, 2) search, display, video, 3) email. Marketers expressed confidence in tracking ROI for individual channels but had more limited confidence in full-funnel measurement.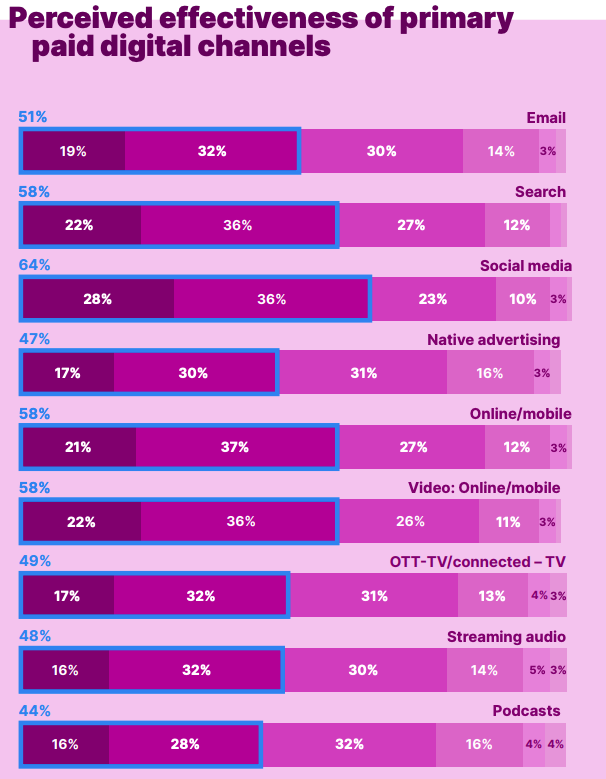 Our take:
This bullishness on social comes despite the loss of iPhone mobile targeting/attribution data, which impacted Facebook and other sites.
Engagement was the top KPI, followed by "viewability." Engagement wasn't fully defined though. ROI metrics may be "squishy" for many.
Interestingly, paid digital channels – except online influencers – remain the least trusted by consumers vs. traditional media and organic digital.
Google v. Amazon: Inefficient Investments
On the last Near Memo, David lamented some of Google's gee-whiz products with limited utility (e.g., Google Maps Immersive View). Over the years Google has invested billions in products that ultimately failed (e.g., Google+). In a LinkedIn post Fabric CEO Faisal Masud, who previously worked at both Google and Amazon, contrasts Google and Amazon's M&A strategies. He praises Google, which has made multiple "blockbuster" acquisitions: YouTube, Android, DoubleClick, Applied Semantics. He critiques Amazon for having a sloppy strategy, with a few exceptions. For example, he considers the $14B Whole Foods acquisition a big failure. But Masud explains that Amazon has so much cash that it has to spend it on share buybacks and acquisitions. He argues Amazon's acquisition strategy must become much more disciplined.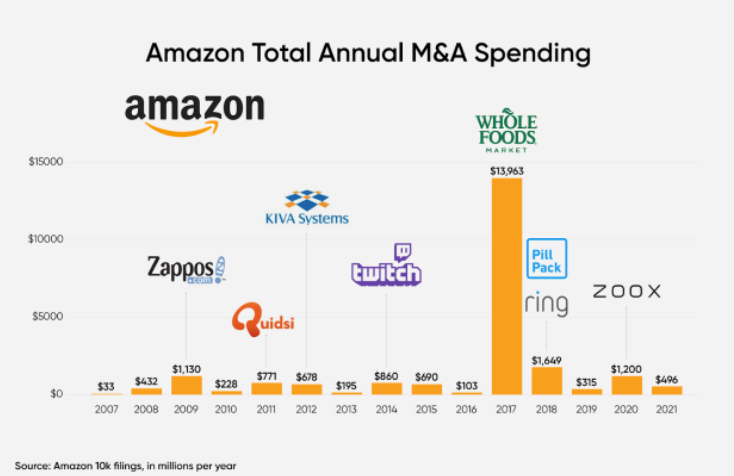 Our take:
Amazon has its fingers in so many businesses now, any future acquisitions will draw close government scrutiny in the US and Europe.
In defense of Amazon and Google, they're in a position to make big bets on new markets. Risk and failure are an inherent part of the process.
Yet it's unfortunate when M&A results in the degradation of the acquired company or service: Whole Foods and Zappos in Amazon's case.
Recent Analysis
Short Takes
Listen to our latest podcast.

How can we make this better? Email us with suggestions and recommendations.