More In-Store Shopping than Pre-COVID
Despite hand-wringing over inflation, consumer spending has remained relatively strong. We'll have to see how that plays out during holiday shopping. But retailers are leaving little to chance, starting deals earlier and employing a range of strategies to attract consumers. A apparent survey consensus is that more transactions will take place in physical stores this year; Adobe is predicting only 2.5% e-commerce growth. A recent, lengthy Bloomberg story argues e-commerce projections born out of the pandemic were a "costly delusion." Now, a multi-country survey from Mood Media finds nearly 85% of consumers will return to stores, especially those 35-44, while 38% (overall) expect to shop more in stores than before the pandemic. But just as people went crazy with overly broad statements about the demise of stores, they're now doing the same with e-commerce. In reality, people are seeking value, convenience and positive experiences. It's not just "stores vs. e-commerce," it's both.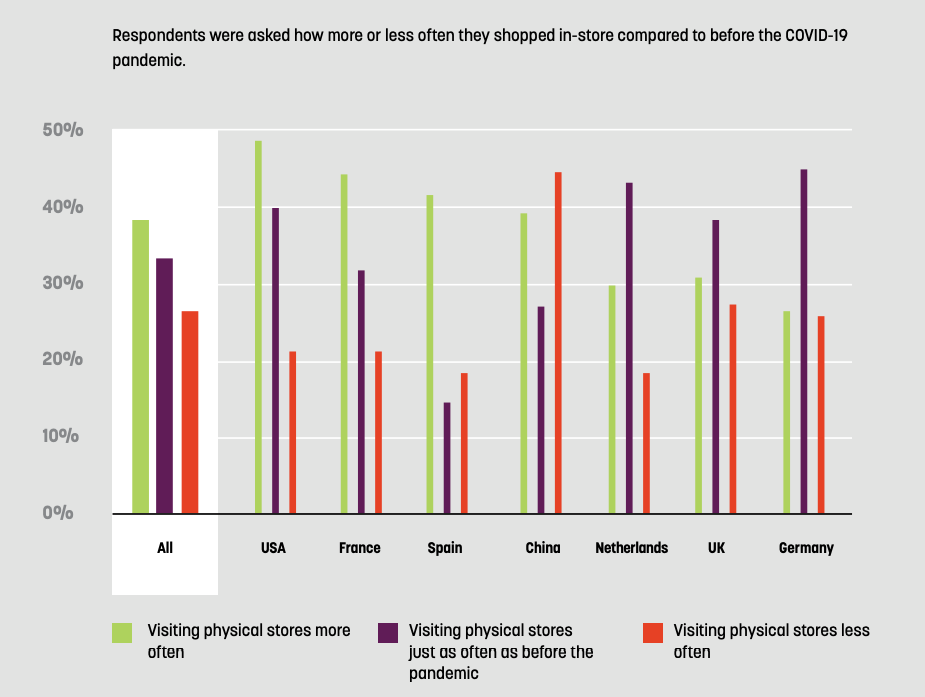 Our take:
People are the biggest draw with stores. "Friendly, knowledgeable staff" is the top reason for visiting stores in the Mood Media survey.
Offline stores can't succeed without digital marketing/e-commerce. But online-only stores are highly vulnerable to failure (see Shopify below).
It's increasingly important to integrate digital into stores, while using technology to bring "tactile" experiences online (3D, AR, video).
Review Influence Waning?
There's lots of online discussion about Google's increased effort to fight review spam and how it's impacting legit reviews. Google's stepped up review-spam fighting comes amid growing regulatory pressure and some evidence of declining user trust. Gallup found that nearly two-thirds of adults don't trust the "internet industry" (only 26% trust "advertising"). We don't have a good sense of review trust erosion. But the seeming decline may be contributing to the growth of alternatives (e.g., WoM, experts, influencers, TikTok). An August consumer survey from IPSOS asked about different consumer buying influences, review sites among them. There's no historical data and it doesn't specifically ask about Google, Amazon or Yelp. Yet only 33% of respondents said they had "bought products or services based on [review site] recommendations." The numbers are different by age category. Regardless, they're much lower than the familiar, "90% of consumers read reviews before buying."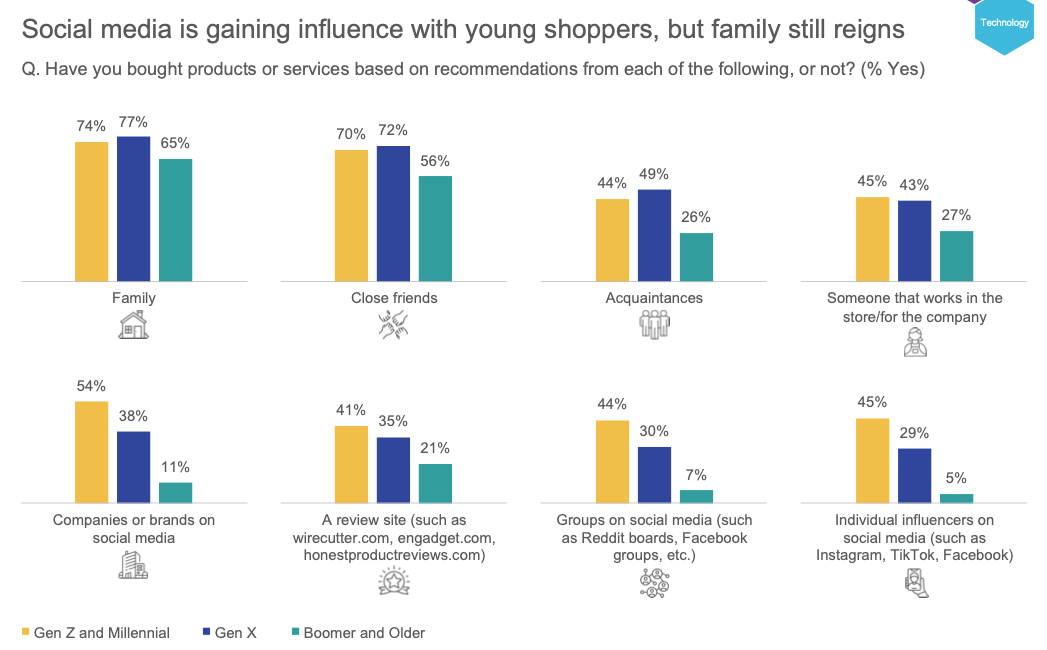 Our take:
Amazon and Google see declining confidence in their reviews and are taking stronger enforcement measures accordingly.
For the foreseeable future consumers will continue to look at reviews but, absent significant change, their impact will diminish.
As long as reviews remain an important ranking factor, consumer trust will not matter in terms of merchant/marketer behavior.
66% of Shopify Stores Don't Last
Only 34% of Shopify stores survive more than one year. That's the conclusion of a Globe and Mail analysis of customer retention on the platform. The publication worked with a third party and examined "more than five million online stores that used Shopify's technology." Shopify hasn't historically disclosed customer survival/retention data. And it's not clear what percentage of losses resulted from overall failure vs. defections. However, failure is the main cause. WooCommerce appears to be the biggest beneficiary of Shopify defections. Wix and Square are also in the top five. Globe and Mail says Shopify's "customer survival rate is substantially lower than its rivals." But Shopify Plus reportedly has a much longer (2X) survival duration compared to the entry level product. At the end of 2021 Shopify reported 2.1 million merchants on the platform. It publicly maintains a bullish outlook for the year.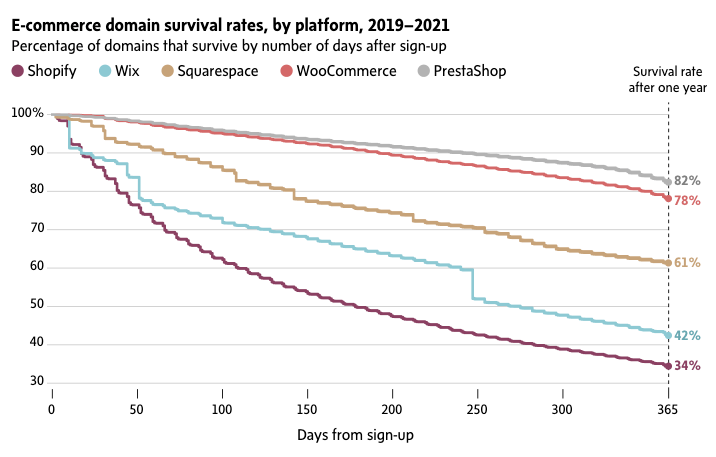 Our take:
In July Shopify laid off 10% of its staff in July, including much of its SEO team.
Some of these numbers can be attributed to slowing e-commerce, but that doesn't explain why Shopify underperforms rivals.
Shopify's ease of use and brand awareness may attract a wider pool of e-commerce aspirants, which may not all be serious. Regardless, the company needs to do more to help customers succeed.
Recent Analysis
Short Takes
Listen to our latest podcast.

How can we make this better? Email us with suggestions and recommendations.