Yelp's New Services for Home Services
Last month, Yelp integrated its restaurant tools into a "Guest Manager" SaaS suite. Now it's introducing new services for home services businesses, as we speculated it might in Near Memo episode 35. There are also new consumer features that support home services. First, there are HomeAdvisor-style project Cost Guides. Useful at the highest level, they're designed to help generate merchant leads and SEO juice (e.g., "how much does a new roof cost?"). There are new search filters to help consumers more quickly find businesses that, for example, respond fast or have request-a-quote enabled. There are also new search ad units called "themed ads." Finally, and most interestingly, Yelp will now prompt consumers who've used its request-a-quote feature to write a review. There's also a new structured review flow with less emphasis on narratives and stars, and more focus on specific-question prompts: "was the service a good value?" (thumbs up/down).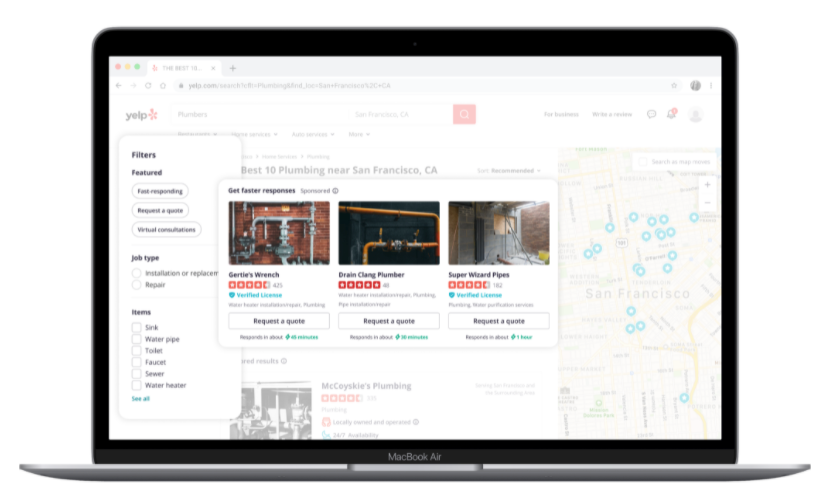 Our take:
Yelp's big challenge is always to differentiate vs. Google. These announcements try to do that by serving both consumers and merchants at the same time.
Yelp has finally recognized it can build good will among merchants and help itself by helping businesses collect reviews.
The new home services review flow appears to move away from the traditional "stars and screed" model and closer to what Apple is doing.
DoorDash's Charm and Revenue Offensive  
DoorDash and its competitors have been on the receiving end a firehose of bad press for well over a year. One consequence of numerous stories of unethical business practices has been delivery fee and data-use regulations in New York and San Francisco, which the company is now fighting in court. While already a huge market, food delivery is not profitable and fee regulation is unwelcome. Beyond pushing back legally, DoorDash is presenting itself as a champion of local restaurants (its mission is "to serve local businesses and empower local economies.") To that end, it announced a $1 million local restaurant disaster relief fund. But more importantly, DoorDash just introduced a range of new ad offerings, ostensibly in response to customer demand but which open up new revenue streams. They include banners, sponsored listings and featured listings. Sponsored listings are self-service. Billing is based on placement of actual orders rather than impressions or clicks.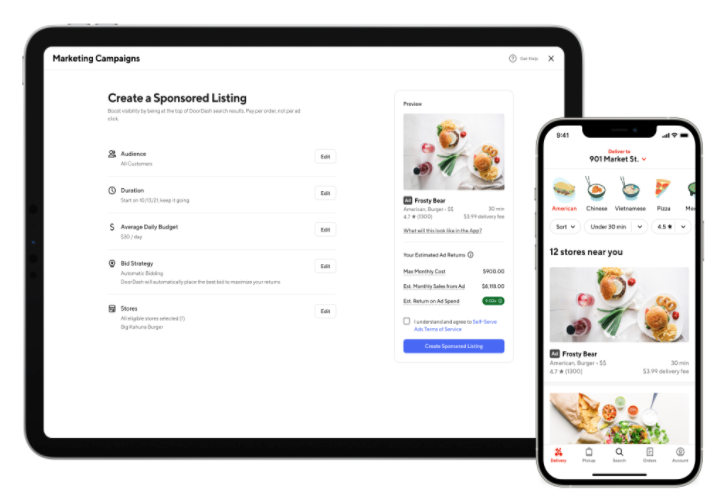 Our take:
There's a long way to go before DoorDash can accurately say it's living up to its mission statement.
The demands of Wall Street and institutional investors are at odds with the interests of local communities and the health of local restaurants.
Local food delivery is more sustainable and equitable but faces long odds against larger, better funded rivals crowding them out of SERP visibility.
Nextdoor and the Local 'Intention-Action' Gap
Nextdoor is back with another survey that captures America's (almost) post-COVID moment. It explores a range of topics: parenting, COVID comfort levels, socializing patterns, car leasing, house buying and moving. Most relevant for our purposes is data on local purchase intent. Among other things, the survey found "72% of US adults have made it more of a priority to support local businesses compared to before the pandemic." We like this, but it's an aspiration and not actual behavior. The survey also says, seemingly at odds with the above, that 44% of respondents are "making an effort to spend more at local businesses." Right there is a gap of 28 points. That implies people will support local businesses when it's convenient and easy. Earlier this year, Shopify documented this "intention-action gap," finding that while 50% of US shoppers wanted to support local businesses only 36% actually did. Heart vs. head and all that.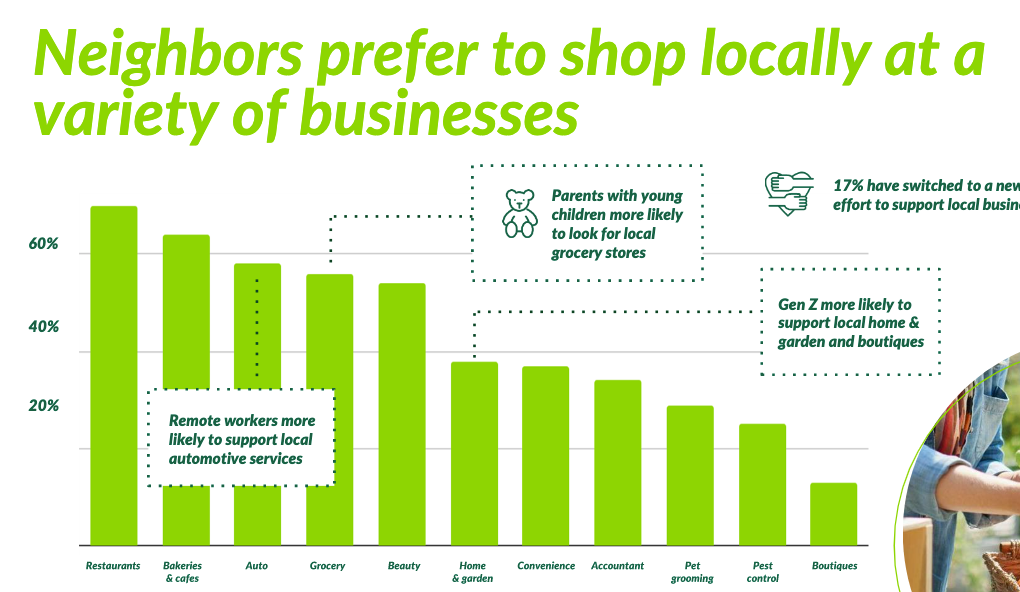 Our take:
Consumers prefer local businesses philosophically but they often shop at Amazon. This is about convenience, prices and inertia.
The only way to close this "intention-action" gap is by improving SMB online visibility and "removing friction" (e.g., chat/text vs. calls).  
But regardless of business size, Nextdoor says internal (not survey) data show "localized messaging drives 58% higher engagement."
Short Takes
Listen to our latest podcast.

How can we make this better? Email us with suggestions and recommendations.