Dobbs Creates Personal-Data Minefield  
Following the demise of Roe, many companies announced they would pay for abortion-related employee travel: Apple, Google, Facebook, Salesforce, Yelp, Dicks Sporting Goods, Neflix and others. Digital agencies have also formed a coalition called Agencies for Reproductive Rights, which agreed to do the same. These efforts are strong statements but may face liability in red states, which could seek to punish anyone helping residents get abortions. Tech companies will also confront new dilemmas on locating facilities, holding conferences, political contributions and even hiring. SCOTUS may also have doomed pending Congressional privacy legislation, because of disagreements over abortion-related concerns (Democrats want stronger safeguards for location data, search histories and texts). That will lead to more disparate privacy rules in blue vs. red states, creating an even bigger compliance headache for tech companies.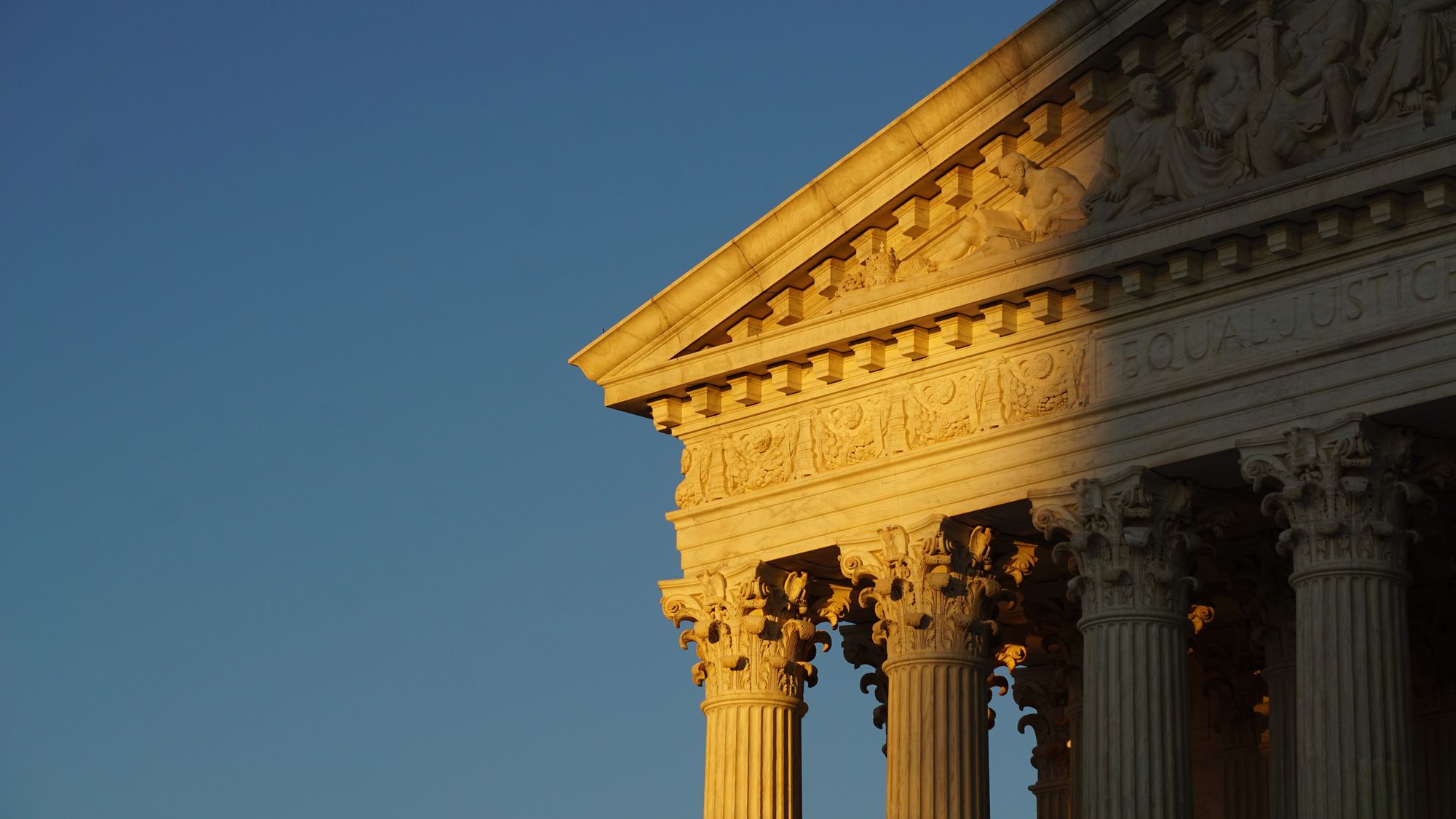 Our take:
Data privacy enters a new, more serious phase. Despite employee-support pledges, tech companies have made no public statements about data itself.
California and New York, at a minimum, are likely to pass new legislation that will affect who can access and use personal data (e.g., location).
Many previously didn't connect abortion and data privacy. but the fallout will impact the whole digital ecosystem and data-availability for marketers.
Survey Finds ROI Decline
Marketers are seeing a decline in the effectiveness of digital channels, says a new survey (n=400 B2C marketers) from chat provider Spectrm. Respondents were from Europe (50%) and the US (50%). Less than 10% said they've seen no decline; the remaining 91% say they have. The channels with the greatest performance erosion (in order) were: social media, influencer marketing, email, SMS, display, search, retargeting, SEO. In other words, SEO saw the least performance degradation. Nearly 60% say their digital marketing overall has become less effective because of privacy regulations and the challenges of capturing data. (There's no EU vs. US breakout.) Instagram was seen as the most effective messaging channel (below). Generally, as one might expect here, "conversational marketing" and chat were seen as effective channels by 72%.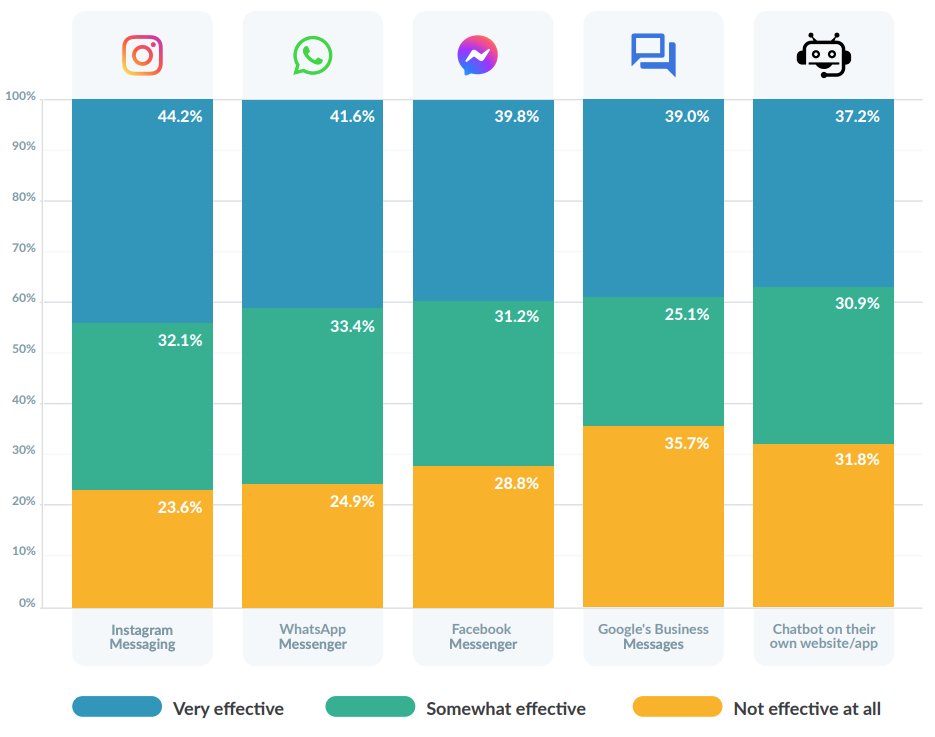 Our take:
Customer acquisition and retention were the top challenges identified in the survey. Marketers also said investing in first party data is critical.
Generally this confirms other survey data showing digital marketing returns are diminishing because of cost and data challenges.
Marketers can't afford to reduce their digital marketing, but they can be more judicious. This SEO piece should prompt some re-thinking.
Voice: Half Empty or Half Full?
When voice was a shiny new object, people made bullish adoption predictions (including me) – typified by the now discredited statement, "By 2020, 50% of all searches will be conducted via voice." Now, usage of voice search has slowed and smart speaker adoption is flat. But the technology continues to advance -- and power search (e.g., Google LaMDA). A new "voice consumer index" (form) from Vixen Labs makes a renewed, upbeat case for voice and virtual assistants. Based on a survey of 6,000 consumers in the US, UK and Germany, Vixen finds high levels of awareness and increased daily usage in all three countries. The survey also found that people were using voice for multiple shopping-related tasks, including tracking package locations and making purchases (things I've never done). The report asserts users trust voice and are increasingly comfortable using voice assistants out of the home. Alexa and Google Assistant saw comparable usage (34% vs. 31%), while Siri lagged (27%).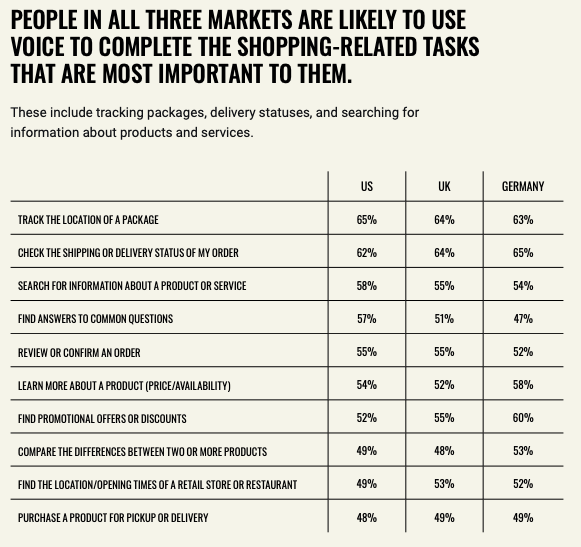 Our take:
Surveys don't always reflect behavior. The Vixen survey may be directionally accurate, but I don't believe the voice-buying data, for example.
As other surveys have also found, there is a core of very active, daily voice search/assistant users (- 38%) and more casual users (~19%).
Regardless, the background technology (NLU) is advancing and will have a profound impact on future of search and consumer experiences.
Recent Analysis
Short Takes
Listen to our latest podcast.

How can we make this better? Email us with suggestions and recommendations.