Two-Factor Fake Review Fix
Review bombing is becoming a bigger problem. It shows up with games and, more often, movies and TV. Typically, it's a loosely organized effort driven by some political or ideological agenda (often ugly). In local, it has happened most often to restaurants, with vaccine requirements or for political reasons. Yelp and Google have mechanisms in place to address the issue, which seem to work. But it's a symptom of the larger problem of spam and fake reviews. Epic Games has adopted a novel approach to try and mitigate review bombing. "Our ratings system will ask random players, who have played a game for more than two hours, to give a rating on a five point scale." The company will thus randomize review collection from a pool of verified users. This "two factor" approach may represent a model for other review-dependent segments (i.e., local).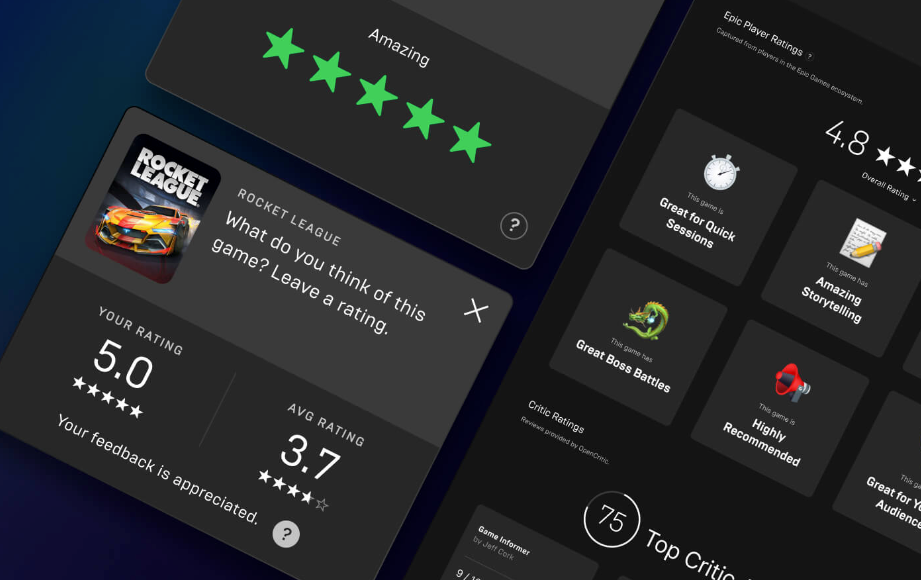 Our take:
Apple's new native reviews feature has several anti-fraud mechanisms, including matching user location history with reviewed places. Amazon has verified purchasers (although that can be cheated).
With nearly 11% fake reviews, Google could equally use location history and randomized solicitation to maximize authentic reviews.
If platforms solicited reviews it could cut fake review volumes. Downside: smaller volume local businesses and product sellers might suffer.
Study: 69% Say Paid Links Work
Aira's third State of Link Building Report is out. Based on a survey of 270 SEOs, mostly from agencies with 50 people or less, it's a little like a "Local Search Ranking Factors" but for link building. The top strategy is content (68%); competitor analysis and guest posting are next in order (below). Ahrefs is the dominant SEO tool and ranking/search visibility is the dominant KPI. It takes between 1 and 5 hours to build a single link (56%) but between 1 and 6 months for the impact to appear. Most SEOs include nofollow links (62%) and no-link brand mentions (67%) toward their objectives. Industry specific links are seen as the most valuable (72%). In terms of paid links, 31% buy them (against guidelines) and 69% believe they're effective. Most SEOs don't report paid links. The toughest part of link-building: getting links from outreach targets and generating content ideas.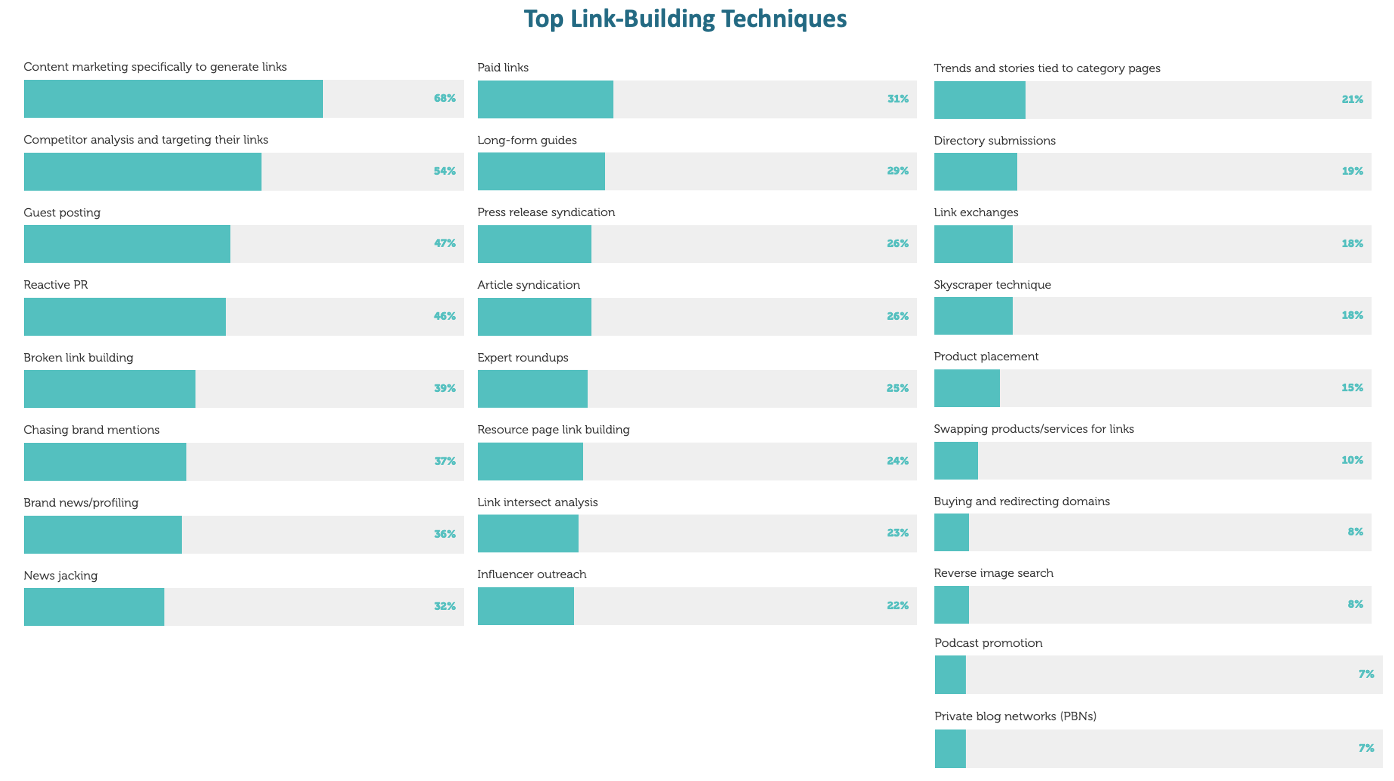 Our take:
A large number of content campaigns typically last 1 - 4 weeks and generate 1 - 9 links (seen as successful). Most effective: long-form reports (really?).
A majority (59%) say demand for link-building services has grown in the past year. Most others say it has remained constant.
The vast majority (94%) believe Google will use links as a ranking signal for at least five years; they're less confident about 10 years (73%).
Smart Speaker Adoption Flat
Edison Research and NPR have been doing their "smart audio report" for five years. It illustrates an oft-repeated maxim from Roy Amara (wrongly attributed to Bill Gates): "We tend to overestimate the effect of a technology in the short run and underestimate the effect in the long run." Smart speakers, virtual assistants and voice were supposed to revolutionize search and commerce. They haven't – yet. Roughly 35% of US adults own a smart speaker (~100 million). That number is essentially flat. The top purchase motivations remain essentially the same (below). However, smart-home controller looms larger. The latest report is silent on commerce, which essentially isn't happening. But there's a finding that 50% of users have heard ads; 48% percent say these audio ads are more effective than ads on other media. And 62% of Americans now use voice assistants on one or more devices, mostly smartphones.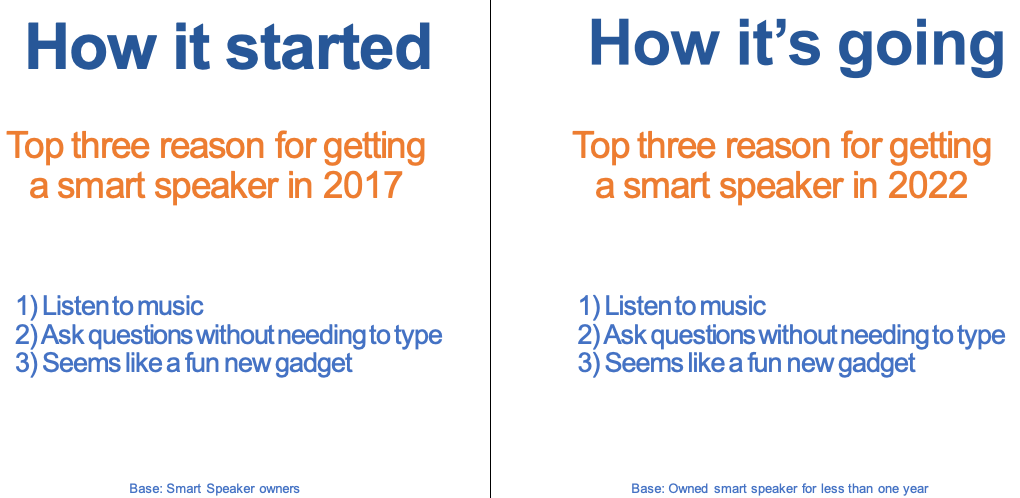 Our take:
Early survey claims of "v-commerce" purchases and local search turned out to be mostly inaccurate. (I ask about store hours sometimes, but that's about it.)
Security and privacy are the major reasons more people aren't buying smart speakers/displays. These obstacles won't be easily overcome.
The failure of smart speaker commerce and local search is a UX failure. Voice-search has also reportedly peaked. Long term, however, voice will be a primary computing interface. That's the Roy Amara part.
Recent Analysis