Google Is Full of 'SEO Chum'
There's a growing perception that Google is in decline or dying. This is happening even as its "back end" is becoming much more sophisticated. In a 3,300 word piece in The Atlantic, Charlie Warzel tries to dissect what's going on. He agrees in general with the idea that Google "is not what it used to be." He argues that while the "Google of the late 1990s seemed almost magical," SERPs are now dominated by "corporate search results" and "long posts littered with pop-up ads and paragraphs of barely coherent SEO chum." (He doesn't really get into SERP clutter.) Indeed, Warzel points to content creation for ranking purposes as a fundamental problem. He also sees the revenue imperative as a corrupting influence. In the end, Warzel lands on something of a paradox: as Google has tried to eliminate low-quality content, its results have become more sterile: "authoritative information can be dry and boring." He adds, "Google Search has stopped delivering interesting results."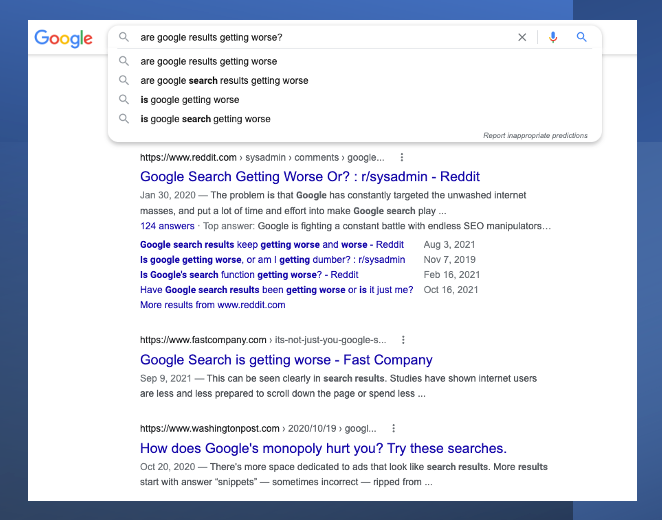 For debate: SEO content proliferation has had an overall negative effect on results quality (which Google is trying to combat).  
Anecdotal evidence suggests some people are turning to other sources (e.g., Reddit or TikTok) that might have previously gone to Google.
Warzel doesn't offer solutions but argues: we want something between spam and corporate content, something more "human" or authentic.
Simon Says: Local Inventory Search
Malls may or may not be dying, but in-store shopping is certainly back. Now, America's largest mall owner, Simon Properties, is testing a local search tool focused on in-store inventory: Simon Search. The company's CMO said in a press release, "Simon Search brings new search capabilities to our retail centers, offering shoppers multiple ways to search for specific in-store merchandise." Participating retailers include Aéropostale, Anthropologie, Athleta, Banana Republic, Gap, J.Crew, JCPenney and Old Navy. The obvious idea is that local inventory search will drive people into physical stores. It will be available through the "Simon app, property websites, and interactive directories located at Simon properties." The test is happening at 29 malls with national expansion planned for later this year.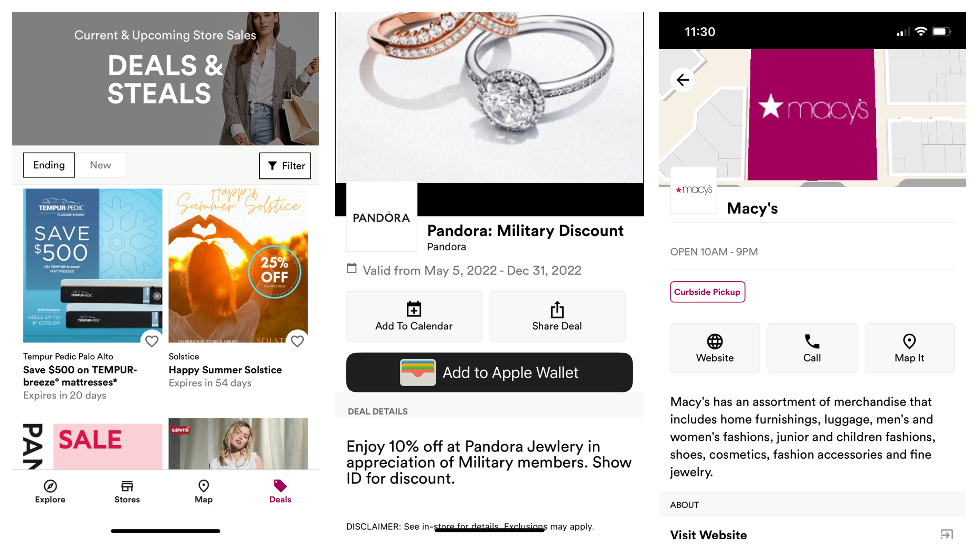 Our take:
Many years ago, ShopLocal and NearbyNow were trying to pull this off. Needless to say they were ahead of their time. Now the market is ready.
Google is using local inventory as a differentiator vs. Amazon. The availability of online and offline products "is working" I was told at GML.
The time is ripe for local inventory search. Simon is probably better positioned than almost anyone, not named Google. But I fear that the execution and UX will be suboptimal.
Will 'Open Metaverse' Speed Adoption?
Will open standards help accelerate the metaverse? A group of heavily invested companies are hoping the answer is yes. A new Metaverse Standards Forum launched this week. Its mission is "to encourage and enable the timely development of open interoperability standards essential to an open and inclusive Metaverse." Among the founding members are Facebook/Meta, Microsoft, Adobe, Epic Games, Sony, Ikea and others. Apple, Google, Roblox and Niantic appear to be missing for now. Simultaneously, Meta CEO Mark Zuckerberg showed off a range of new VR headset prototypes. (Headsets are the company's bid to create a device-based ecosystem it can own.) Separately, McKinsey estimates the metaverse could create "$5 trillion in value by 2030," with roughly half coming in e-commerce. Education, media, advertising, banking and gaming are other sectors that may be significantly impacted.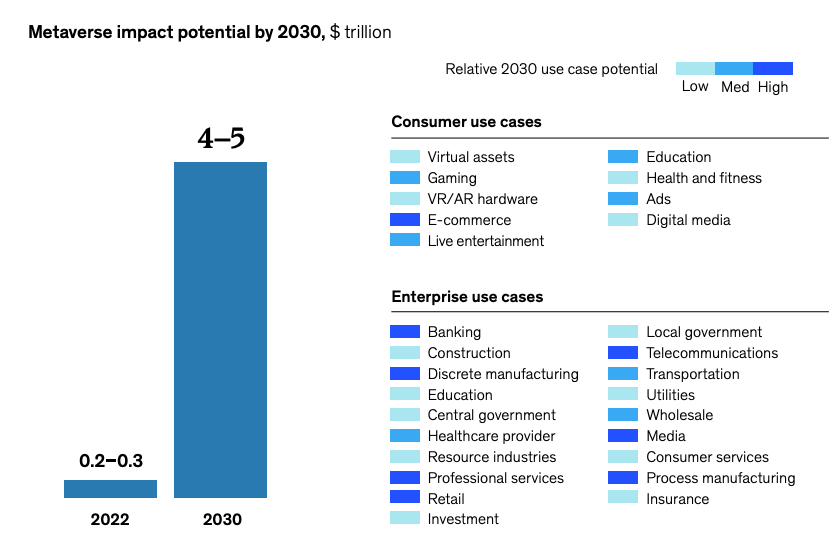 Our take:
The metaverse is one of the tech world's top shiny new objects and is being relentlessly hyped by analysts, who are insufficiently skeptical.
In a B2B survey conducted by McKinsey, revenue/business model uncertainty was seen as a bigger obstacle than the technology itself.
Truly mainstream VR hardware may be years away. But AR is here today (esp. in retail: here, here, here) and will continue to outpace VR adoption.
Short Takes
Listen to our latest podcast.

How can we make this better? Email us with suggestions and recommendations.