Antitrust legislation before Congress may bring about the end of the Local Pack. Google is quietly testing an alternative.
New 'Local Cards' have appeared in organic results. They offer less information but still link to GBP pages, not local websites.
Even if this test is abandoned, we need to be prepared for change in local SEO and local marketing.  
The American Innovation and Choice Online Act (AICOA), which has bi-partisan support, would prohibit dominant tech platforms from what its sponsors believe "amounts to unfairly ranking their services above those of rivals" or "self-preferencing." Google has complained AICOA would make "it harder for customers to find [your local business] because your business listing may no longer appear on Google Search," implying that the 3-Pack would disappear if the bill were to pass.
We spotted a local search result test that may provide insight into how Google might respond if the AICOA were to become law.
Local Cards
In this test, every local organic result that Google could associate with a local business gets annotated with a Local Card. While this test isn't new (first seen by Brian Freiesleben) per se, it has been dramatically expanded.  The Local Card includes a map, the business name, address and whether the store is currently open or closed.

When you click on the Local Card you're immediately taken to the Google Business Profile. The Local Finder is missing in action in this test.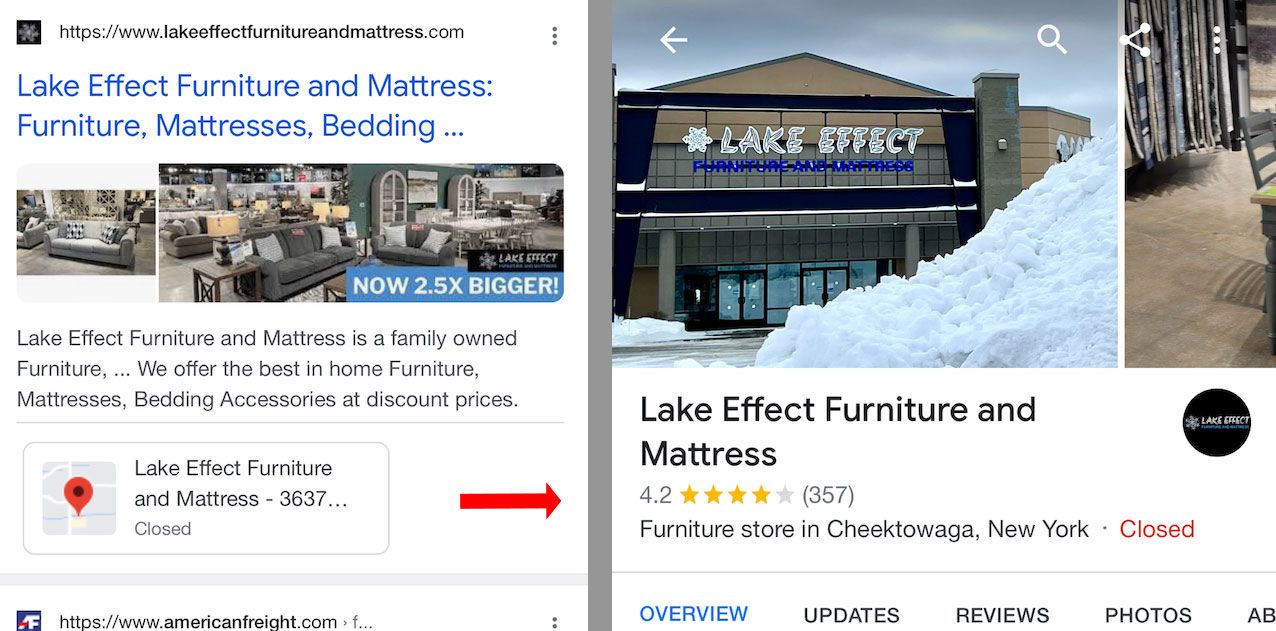 The Local Card has very limited space. Essentially the name and address are allocated two lines (21 characters each), with the business name followed by a dash symbol. If the business name is 21 characters or less, the second line is devoted to as much of the address as can be fit in 21 characters, or whatever space remains after the business name. Perhaps this abbreviated name display would be Google's best defense against business-name spam.
Keeping the Local Knowledge Graph
Clearly this is a test that is not very visible. It has only been seen on an iPhone and only on a "cheap furniture near me" search result. (Note: As of 6/28 the feature is now showing on Samsung & Pixel phones as well as on a broader array of non furniture search results - search screen shot at end). The Local Cards have not been found in other product categories yet. While the display of the Local Card inline in organic results is not as visible as the 3-Pack, it is a clear indicator that no matter what happens, Google is not going to stop using the Local Knowledge Graph to enhance local results. Google will also continue to try to keep users on the site for local results. But instead of not sending users to Yelp (with the Local Pack), they're also not sending them to local websites (with Local Cards). Yelp might celebrate the demise of the 3-Pack, but I am not sure most local businesses would.
What Yelp has called "self-preferencing" and Rand Fishkin called "zero click," local SEOs call conversions. The Local Pack has been the holy grail for local marketers and a godsend for many small businesses. According to case study data from agency SterlingSky, GBP is responsible for 70% to 80% (or more) of local conversions. While it keeps some users from visiting the business website, the current Local Pack allows searchers to convert easily into callers or visitors. Reputation is at the forefront and images are prominent.
Local SEO Would Change
GBP images and reviews become less visible with Local Cards. If it actually comes to pass, this Local Card model appears less likely to convert, is more dependent on organic rank and less tied to proximity.
Regardless, as Rand Fishkin recently pointed out, if AICOA were to pass and Google is forced to get rid of the 3-Pack, marketing in general, and local marketing in particular, will be dramatically different.
While this SERP test might not be the solution that Google implements, it's a reminder that we should be ready for changes when they do come.