'One and Done' Policy Will Be Global
Google has rolled out a new policy and process for reinstatement of suspended listings in Europe. When a business is suspended for violating Google Guidelines, it now has one reinstatement opportunity via support. If rejected, as required by P2B regs in Europe, a business can only appeal via third party mediation service. It's Google's intention to roll out this "one and done" process globally. Previously, if critical documentation were missing or if the listing remained in violation, the business would have several chances to get it right. That process has been so convoluted, some local SEOs have made a business out of getting reinstated. No more. If the business doesn't provide the correct information, or their listing continues in violation, communication with support ceases. The business would then either need to go to the forum, pleading for an escalation, and/or file (and pay) for mediation. As with many support processes of late there's a "form for that" and more (theoretical) guidance about the specific violation. If the new process is in fact more transparent and GBP support communicates effectively, this change might be positive. Given Google's "kink" ridden development processes, their propensity for secrecy and limited communication, that's a lot to hope for.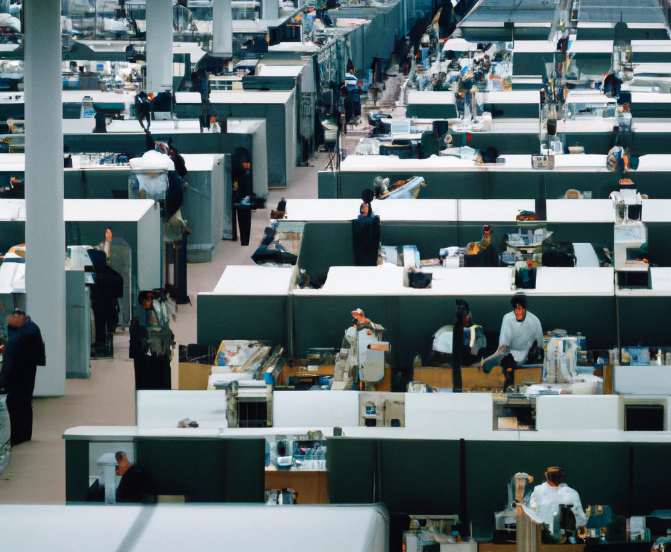 Our take:
More transparency is good, but it's too early to tell exactly how transparent Google will be and whether SMBs will benefit.
Unlike Europe, the US doesn't require third party review. This means one less option for resolution and speaks to the value of regulation.
While mediation is a positive step, SMBs will have to pay. And it's not clear whether Google has to participate or is bound by the outcome.
How Well Does Google Fight Repeat Review Spam?
Joy Hawkins recently published a case study reflecting her multiple attempts to remove fake reviews from appliance listings in the Toronto area. She saw some success; however, in the end the businesses kept on buying more, suffering no obvious consequences. I engaged in a similar exercise with somewhat better results. I tracked and reported three unrelated businesses that purchased reviews from the same company used to attack a client with fake reviews. While all three of the businesses I reported now have fewer reviews and lower ratings, two of the three started buying reviews again. And unless someone reports them, they're likely to stick around.
Review Counts
Businesses reported buying reviews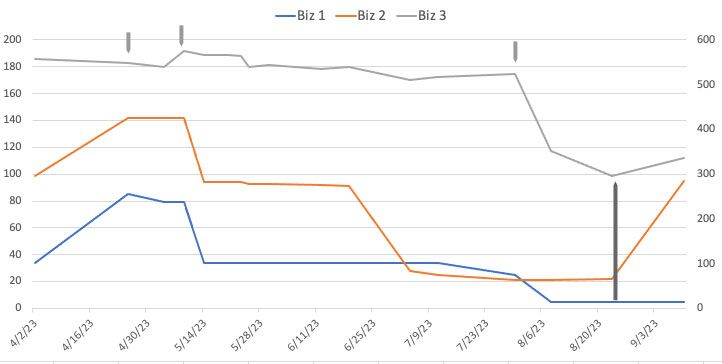 Joy opined on Twitter that businesses buying reviews repeatedly should be held accountable. But Joel Headley, an ex-Google GBP employee, commented that could lead to punishment of legitimate businesses attacked with fake reviews. He also noted that Google knows a lot about users (i.e., location, credit card data, search history, phone calls) and could verify a review accordingly. But for privacy reasons, it chooses not to. Google actually does "punish" listings with fake reviews that are repeatedly reported. The ability to leave reviews for that business (or category) is removed, at least temporarily. Many consumers and honest businesses are being hurt by fake content and the costs are huge. Google has what amounts to a monopoly in local. It should apply greater engineering and human effort to clean up the review cesspool.
Our take:
While review moderation is hard, Google has relied in the past on the "but it might hurt legit businesses" argument for not doing more.
Google isn't using personal information to verify reviews, but it does to remove them. Rumor has it that Google takes down more Android than iPhone reviews for that very reason.
However they aren't nuking as many fake reviews as they should and still removing too many legit reviews.
What Does GBP Review 'Punishment' Look Like?
Google has said, "When we see unusual activity or risk for potential abuse, we routinely put protections on business profiles to monitor and prevent policy-violating content, which can include temporarily blocking all new reviews ... " Google is in fact "punishing" individual business profiles by blocking reviews. New EU moderation transparency rules allow us to actually learn more about what this looks like. The business in this case was not informed reviews weren't being published (but reviewers are). Not only can a reviewer see a review hasn't been posted in their contributions area of Google Maps, they also receive an email explaining both the what and why of it (see below). What Google's statement – "This place is currently more likely to receive content that violates Google's policies. To prevent this, Google has turned off posting" – actually means is unclear. Did the business buy reviews? Were they attacked by a competitor? Did they get too many reviews from abroad? The business doesn't know and has had difficulty finding out from Google.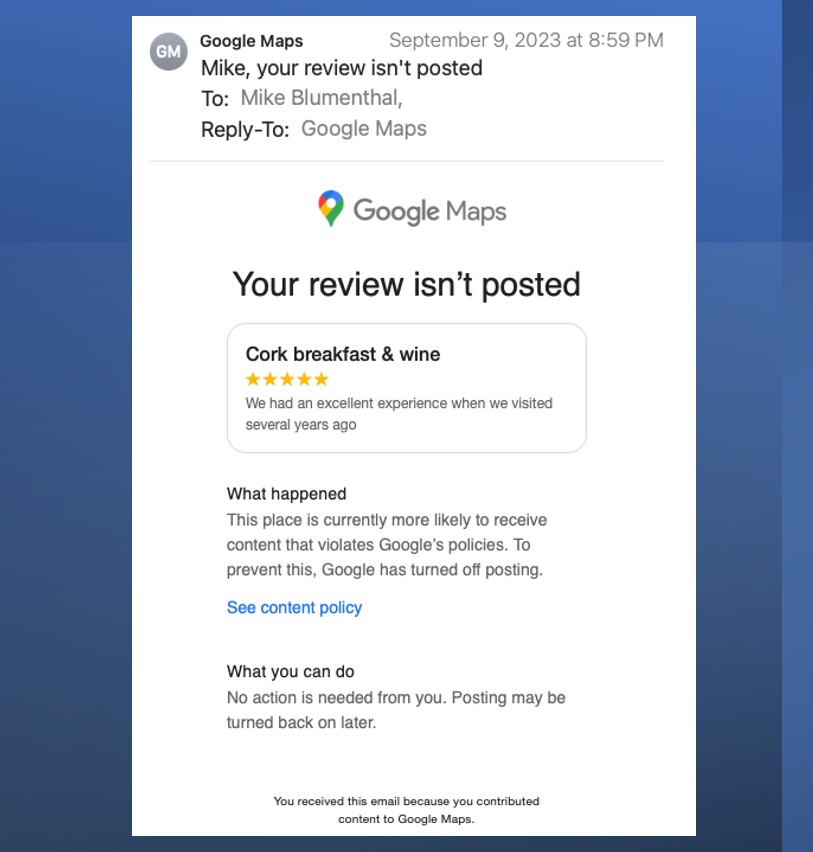 Our take:
While Google moderation policies for consumers are improving, under EU regs, SMBs are not well informed when they're being "punished" or why.
Google appears to be applying a "no reviews for you" policy to businesses buying fake reviews and those on the receiving end of a fake review attack.
This approach slows down fake review attacks. But, as we have seen, doesn't seem to really stop the buying of fake reviews.
Recent Analysis
Short Takes
Listen to our latest podcast.

How can we make this better? Email us with suggestions and recommendations.