Top Issues in the Forum
The Google Business Profile forum provides insight to what is otherwise an opaque aspect of Google: the bugs and issues that SMBs face when dealing with their GPB listings. Periodically we analyze a sample of all posts as well as missing and fake reviews in detail. There has been anecdotal chatter about an increase in review removal, which in fact seems to be the case. With August only 60% complete we are seeing as many complaints about missing reviews as in the whole previous month.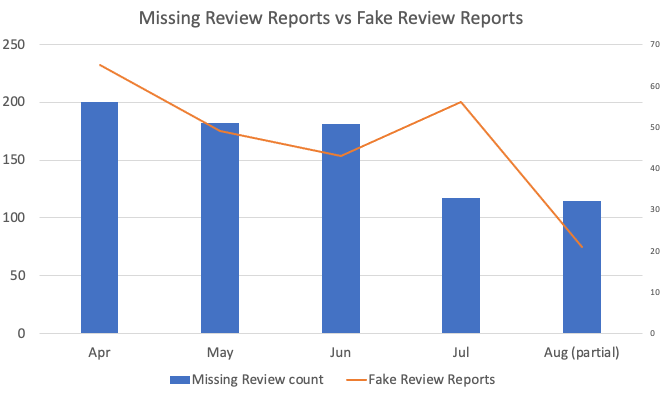 In our sampling, we are also seeing some other significant issues. When there is an algo update for review filtering, fake review reports and missing review reports tend to move in opposite directions. This month, fake reviews dropped by half, indicating that the change was likely a filter update. But two new issues became prominent: video verification issues and a Posts Update bug. Video verification is rapidly becoming more widespread as a way to verify newly created listings and it fails on a regular basis. The Posts Update bug prevents Posts from being created via the search interface but they still work in the Google Maps app. The bug, around for several months, seems to have recently affected many more businesses.
Top Forum Complaints - June vs August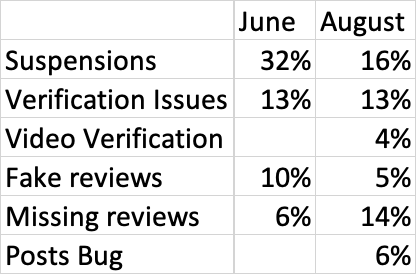 Our take:
It appears that Google's year-long campaign to suspend and reverify SABs is finally slowing down. Unfortunately, the reverification process (video verification) is both opaque and buggy.
Google keeps tweaking the review filter. The false positive rate is still too high, nuking good reviews and letting too many fakes get through.
GBP Form: 'Verification Pending Review' Appeal
There are multiple ways a verification can go sideways. Despite the fact that Google often notes that newly verified listings will be visible within a few minutes, many listings are "sandboxed" for 7-10 days. Everything from problems with video verification to the cryptic "verification pending review" or "processing verification" notifications often persist for weeks. If you reach out to support or the forums, answers are often few and far between. Not wanting to give anything away to spammers, Google is tight lipped about the multitude of reasons (bugs?). However, with new EU requirements for content moderation transparency Google is seemingly becoming more communicative. This includes making forms available to deal with common problems like image approvals, missing reviews and now verifications. A business can go to the Support contact page, answer a few questions about verification issues and actually be brought to a form that specifically deals with common verification problems.
Here are the steps:
Login to Google as the manager/owner of the listing
Navigate to the Support Page
Select your business
Tell us what we can help with: "verification issues"
Select relevant verification issue button
Select "Next step"
(you could check verification status)
Select "Next step"again
Select Contact Option: Email
Select "This Tool did not fix my issue. I need to contact support"
Fill in the presented form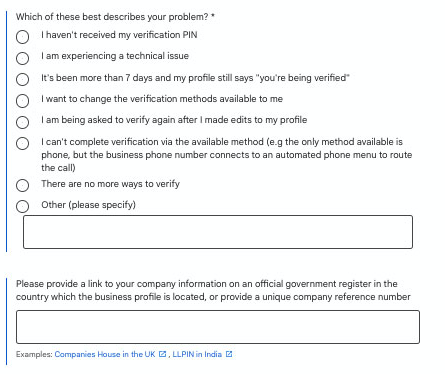 Our take:
Google opposed Europe's DSA, but it's now complying and providing more clear pathways to solve GBP issues for everyone.
The jury is still out on whether Google will actually be more transparent and less arbitrary with GBP support outcomes or whether all the new processes are merely performative.
If Google actually creates effective support mechanisms, it might encourage other countries to pursue similar regulations.
GBP Offering Dispute Mediation in EU
Google has made a number of previously mentioned updates to GBP support, from guidelines & TOS, to comply with new EU content moderation transparency rules. Google has also introduced a new mediation process for businesses, to bring the company in compliance with another EU regulation: P2B. "The P2B Regulation protects the interests of 'business users' whereas the DSA protects the recipient of the [intermediary] service which includes any natural or legal person." The mediation request form can be found here; however it is only visible in Europe. Mediation is open to any business with a complaint that can't be resolved through customer support. But there are caveats: neither the business nor Google is obligated to enter mediation, you must fill out a request form, you must work with their chosen mediator and pay for your share of the cost. Here are screenshots of the requirements and the mediation request form (thanks to Xavier Colomes of LocalBoss review app). The mediation process is provided by CEDR and while the cost depends on the value of the dispute, it starts at ~$700 per party. It's not clear how often Google will agree to mediation or how aggressively they will "litigate" any given case, making outcomes uncertain.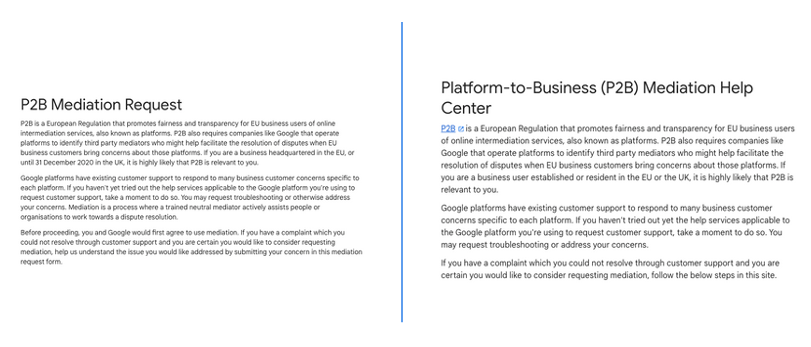 Our take:
The mediation option could motivate Google to provide clearer and more helpful resolutions to GBP disputes.
The pricing incentivizes businesses to exhaust Google support options and have a strong financial case to pursue mediation.
The obvious case is a business suspension. But it's unclear, given the rules, whether a business would be successful in that scenario.
Recent Analysis
Short Takes
Listen to our latest podcast.

How can we make this better? Email us with suggestions and recommendations.