Cost of Fake Reviews: $24B
In its blog post announcing litigation against alleged review fraudster Ethan Hu, Google cited an FTC report stating consumers wasted "$125 on average each year [because of] inaccurate reviews." That figure came originally from a multi-country TrustPilot survey and is actually $110. But this number is speculative at best, essentially a guess, because consumers don't know how many fake reviews they're seeing and certainly can't determine which purchases were influenced by them. By definition, nobody would knowingly buy something based on a fake review. Separately, in early 2022, UK regulators calculated that "the average UK household spends about £900 ($1,142) each year after being influenced by online reviews." This is all reviews, not fake reviews specifically – again, a highly speculative number. The most conservative data I've seen argues that roughly 220 million people in the US shop online. One could thus argue that the cost of fake reviews in the US alone is $24 billion each year.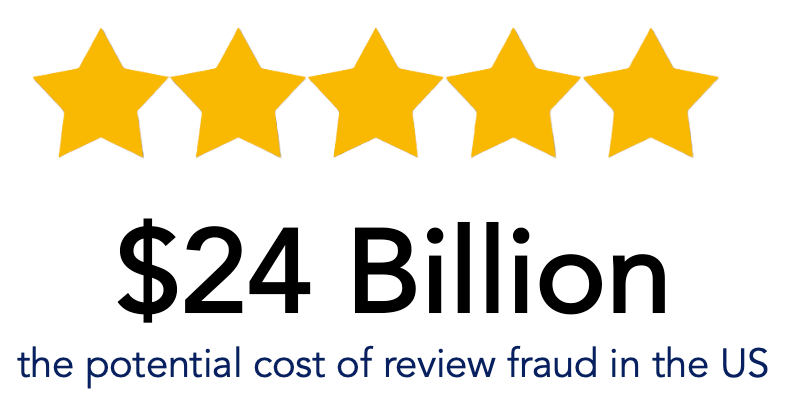 Our take:
Alternatively, let's assume that Americans spend $1.1K per year because of online reviews (the UK number), which is probably low. Prime subscribers spend an average of $1,400 per year on Amazon alone.
Using the $1.1K figure, plus the finding that ~11% of the reviews on Google are inauthentic, the annual cost of fake reviews on Google alone is $26 billion. If other platforms are included, that goes up.
These figures are highly imprecise but serve to illustrate the scale and significant real-world cost of review fraud on the major platforms.
Google Ads CPL Is $53.52.
Wordstream's recent PPC benchmarking report shows that PPC metrics are up YoY except conversions, which are down 10%. CTR, CPC and cost per lead (CPL) have all increased, the latter because conversions are down. Across more than 20 (mostly local) verticals, average CTR was 6.1%, CPC was $4.22, Conversion Rate was 7.04% and CPL was $53.52. The report relies on internal client spending data for these figures. Only Automotive and Beauty & Personal Care saw their lead costs go down. The industries with the highest CPLs were Career and Employment ($132.95), Attorneys and Legal Services ($111.05), and Furniture ($108.85). Lawyers also had the lowest CTR, at 4.76%, while Home Services/Improvement (4.8%) and Business Services (5.1%) were also below average. The industries with the highest conversion rates (undefined) were Pets (13.4%), Physicians and Surgeons (13.1)%, and Automotive (12.6%). The award for lowest conversion rates goes to Apparel (1.57)%, followed by Furniture (2.57)%, and Real Estate (2.88%).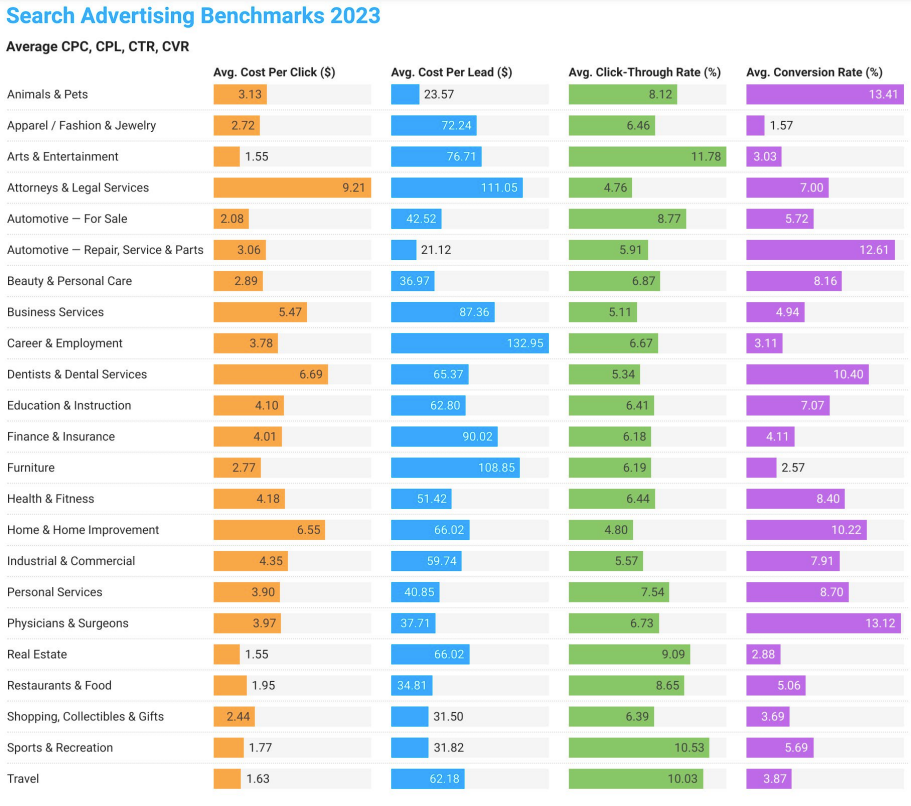 Our take:
The majority of these categories are local and have SMB advertisers. Few are e-commerce. Most of the clicks are going to organic links/listings.
In Near Media's user research most people say they "never click on ads," which is largely true; yet they do click on LSAs.
The impact of SGE on organic and ad clicks remains to be seen, though ads are not "pushed down" like organic results in an AI result.
Poll: 67% Have Internet Remorse  
For years tech companies told the public they were "making the world a better place." They argued their products and tools were enabling people to be more efficient and productive. There's considerable truth in these claims – I owe my career to the internet – but they tell only part of the story. The internet has made certain things more convenient and other things worse (e.g., social isolation, political polarization, disruption of democracy, mass surveillance). Now a Harris poll of US adults finds that 67% of respondents, if they could, would go back to a time before ubiquitous screens and social media. This is probably a function of multiple factors, including connection fatigue and FOMO anxiety. Among 18-34 year olds the "internet remorse" figure was 63% but it was 77% for those 35-54. Another factor: change makes people anxious, especially rapid change. In a separate poll by Ipsos, a plurality (46%) of US adults said that AI development is happening too fast, while 30% said it was going at the right speed. Social and technological change are speeding up and we have to find a way to live them.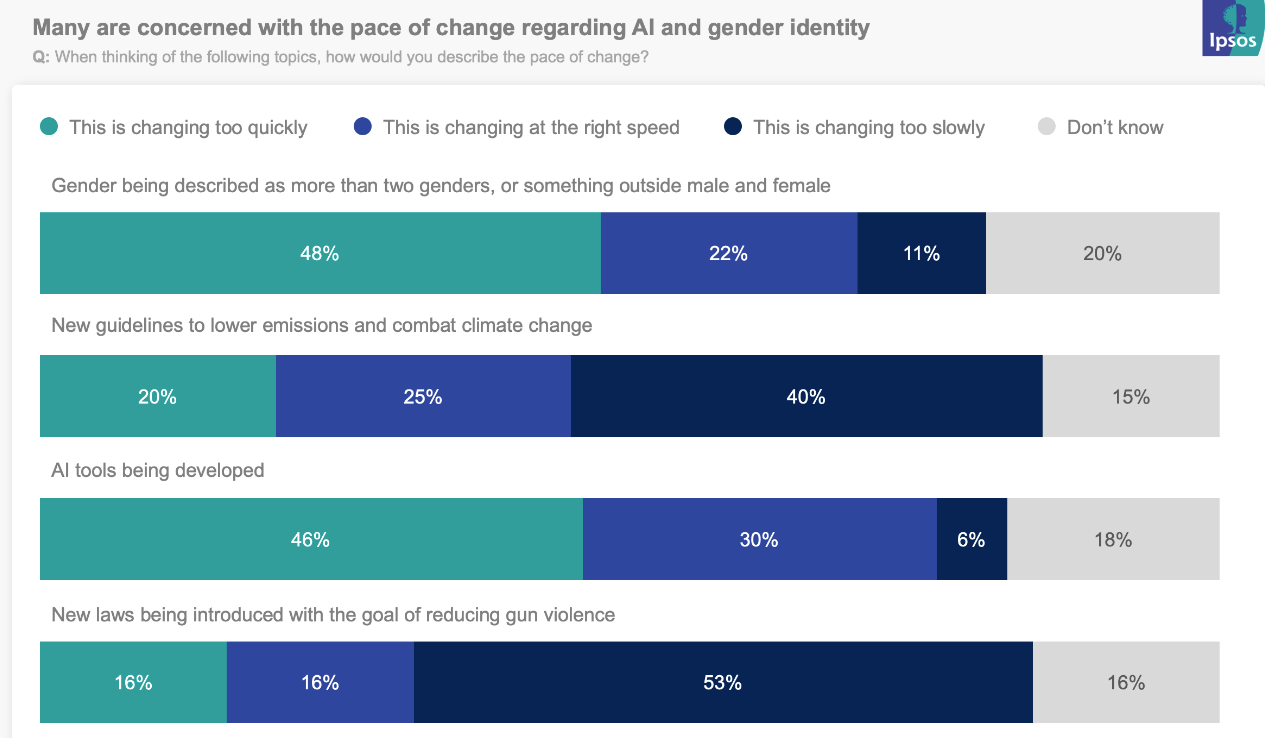 Our take:
If people were actually given the power to turn back the clock and do away with the internet most probably wouldn't. This is a fantasy.
Still, mass online data collection and social media have caused real problems that have not been fully addressed, let alone solved.
The early consumer efficiencies of the internet, including in local, have plateaued. AI may deliver more gains, though it's not yet clear.
Recent Analysis
Short Takes
Listen to our latest podcast.

How can we make this better? Email us with suggestions and recommendations.