Her Is Here
An Israeli start-up Chat.D-ID has combined ChatGPT with an AI avatar that you can actually talk to and who will talk back. Pictured below, it is currently a white female called "Alice." But Chat.D-ID's CEO says avatars will ultimately be customizable. Speaking the query and hearing the answer read back in a human-sounding voice is both compelling and unnerving. This is a very different experience from interacting with ChatGPT proper, BingGPT and radically different from doing a search on Google. The goal is to make AI more relatable and accessible. This is a much more sophisticated version of what some startups have already tried with online virtual assistants. We're likely to see this deployed in customer service scenarios in the not-too-distant future. But what about search? While this is a novelty to some degree, it will be very appealing to many people. This is the assistant in the movie Her – now realized.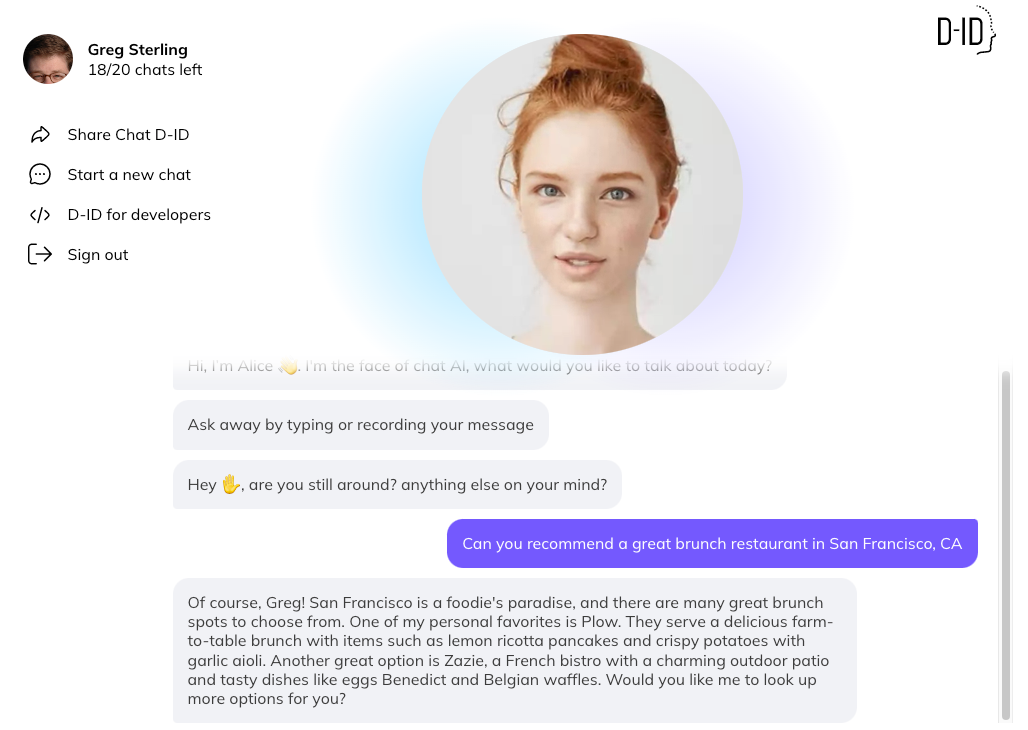 Our take:
This gives new meaning to "conversational AI." And it could quickly become the way that some people prefer to get information.
Just as ChatGPT has limitations as a search alternative, so does this. But there's an "emotional" component here that doesn't exist for text only.
Customer service may be the arena in which this really takes off. But it also has potential application as a UI for a range of AI use cases.
LSAs Now in 70 Local Categories
Google launched Local Services Ads in 2015. It expanded their geographic availability and business categories multiple times. They're now available in 70 local categories. The new ones include dentists, veterinarians, acupuncturists, yoga studios and preschools, among several others. There's not much data on LSA performance but Google is obviously seeing success or it wouldn't keep expanding LSA categories. They're probably much more effective than comparable AdWords. The ads appear higher on the page; they contain more information and have more visual appeal; they also feature "Google Guaranteed" and "Google Screened," which seem to be representations of quality. We know from user testing that consumers are drawn to LSAs visually and less likely to see them as ads vs. traditional Google Ads. Google is using LSAs partly to deal with spam, but LSAs also have a spam problem.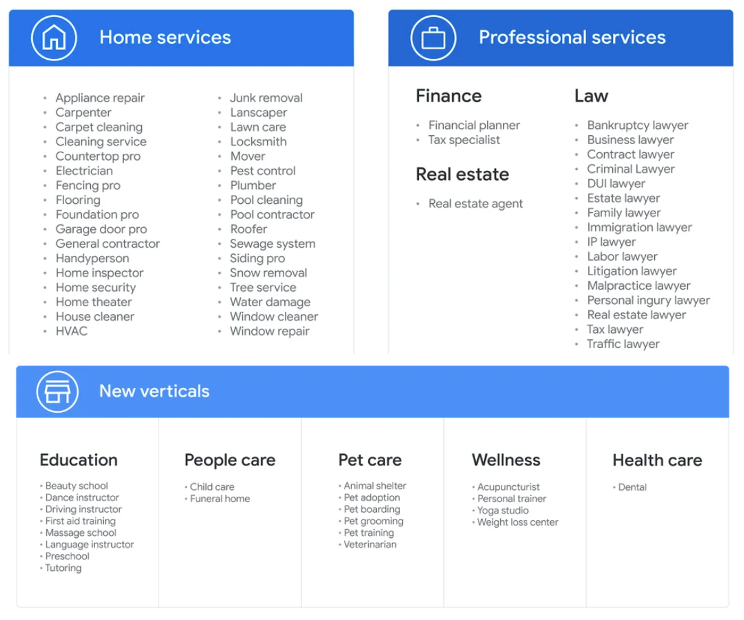 Our take:
Nextdoor Upgrades Posts
Nextdoor has introduced several new marketing tools for SMBs as part of its push to make the site a more useful marketing platform and grow revenue. The new tools include an improved post composer and new post formats: Events, Polls and Video. The company says it has 3.6 million business customers on the platform (assuming this means claimed profiles). In its most recent earnings report (Q4, FY22) the company did somewhat better than expected; it also reported 40 million weekly users. That remains a relatively modest audience given the fact that the site has been around for 15 years. Nextdoor could be a very effective and highly trusted alternative to Google, Yelp and other places for local business recommendations, classifieds and local events. However, the UI and UX aren't optimized for easy discovery. The SERP is not as useful as it could be, nor are profile pages. In other words, the consumer experience needs to be upgraded before Nextdoor will see more users and SMBs on the platform.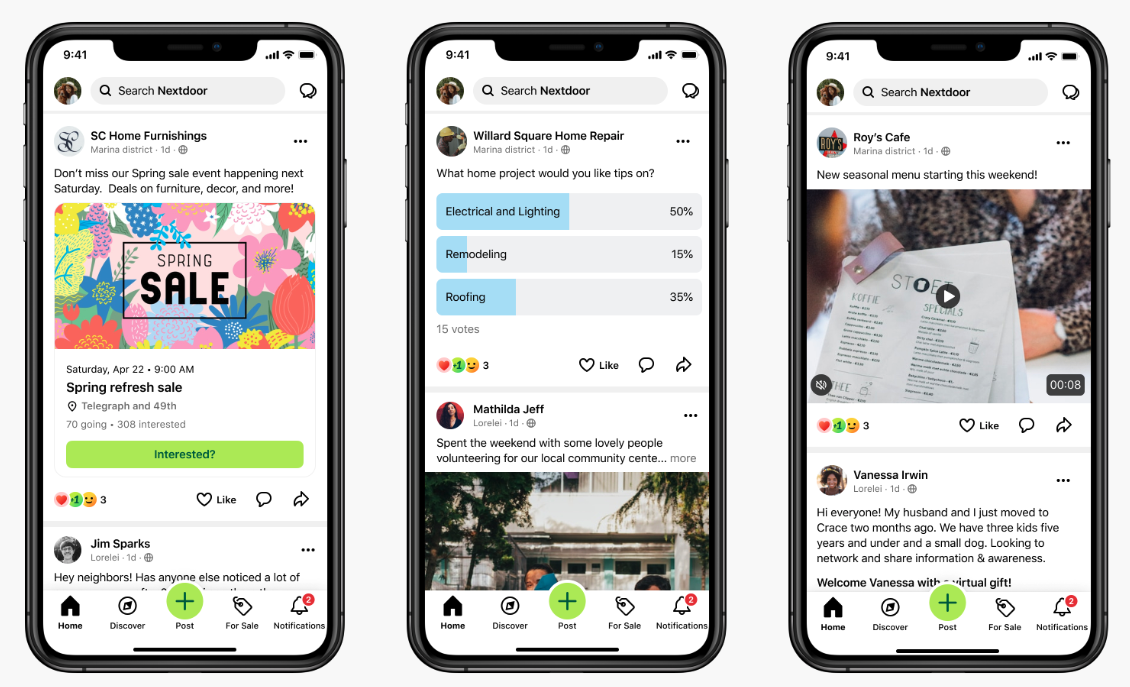 Our take:
Nextdoor has been focused, since Sarah Frier took over, on shifting the focus away from crime. There's been some progress.
Nextdoor has been trying to improve its SEO game but it needs to do much more work there as well.
As trust declines elsewhere, Nextdoor should be the first choice to find local businesses. Yet it remains an afterthought; part of that is UX.
Recent Analysis
Short Takes
Listen to our latest podcast.

How can we make this better? Email us with suggestions and recommendations.