Google Maps and the DSA  
The EU's Digital Services Act (DSA) is a far reaching piece of legislation that seeks to regulate illegal online content, protect minors, mitigate disinformation, prohibit dark patterns, limit certain types of ad targeting and promote transparency in content moderation. The rules apply to online platforms with more than 45 million users and require independent auditing. Where this becomes interesting is in the context of moderation on Google Search and Maps, which were identified respectively as having 332 million and 278.6 million users in the EU. We've written extensively about the many obtuse moderation decisions Google has taken vis-a-vis real reviews, fake reviews, images not being approved, suspensions and more. But Google will have to comply with the DSA (at least in Europe) and provide not only increased transparency but submit to audits – and soon. While the DSA doesn't apply in the US, Google prefers to create and implement global systems. US businesses will not get the full benefit of the act but might see new workflows to recover missing assets or report fake content.

Our take:
Google has said, "We can't tell you why 'X' action was taken against you because it would divulge too much to spammers," leaving businesses in the dark.
Google has never been transparent about Maps abuses, where some verticals have seen as many as 80% fake listings, even when they pretended to be.
Europe is setting regulatory standards for tech companies. While the US won't soon follow, we might see improved processes/content moderation.
New Google LSA Categories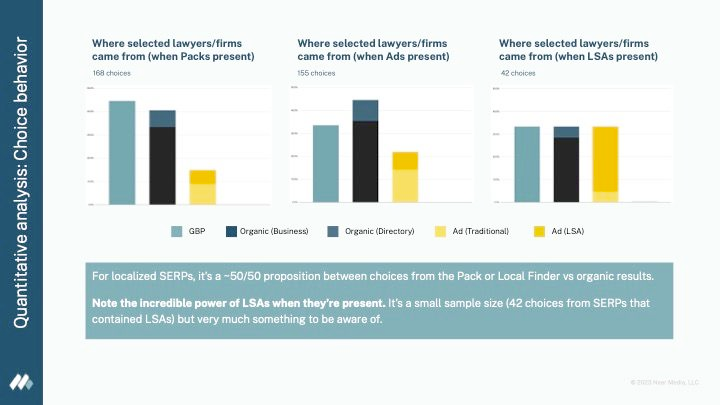 Most consumers, in Near Media's search behavior research, indicate they "scroll right by" sponsored listings and don't consider them when navigating Google results. Local Services Ads (LSAs) appear to be an exception and behaviors change significantly when they appear. LSAs are visually distinctive, include ratings, images and a "Google guaranteed/screened" badge. When present they seem to capture as many as a third of all search clicks/conversions in high-consideration categories. Google announced in March that LSAs were "available for more than 70 types of businesses, including those in categories like education, people care, pet care, wellness and health care." It now appears that another expansion is taking place. Chris Barnard of Sterling Sky noted on X/Twitter an LSA expansion in Florida and California, into 14 new high-value local categories including:  
New Google LSA Categories

Our take:
Local Services Ads are easy to implement and generally provide a good return for the cost.
Every small business in the available categories and markets should try these ads. They are easy to turn on and off, so testing is easy.
It is clear that Google can control user CTR behaviors by including certain creative/ad elements and through their SERP position.
Listings Hijacked Again – and Again
Several weeks ago, during the peak of the flying season, airline service phone numbers on Google Business Profiles were hijacked by scammers. According to CNN and many other major publications, Google was diligently working on the problem and did "not tolerate this misleading activity." Few if any of the news outlets asked why these hijacked listings have occurred regularly over the past 15 years and why they continue to occur – or why Google's standard response is largely unchanged over that time period:
💡
"We do not tolerate this misleading activity, and are constantly monitoring and evolving our platforms to combat fraud …our teams have already begun reverting the inaccuracies, suspending the malicious accounts involved, and applying additional protections to prevent further abuse."
Google has chosen not to fix this problem because they love the free user-contributed data. It helps keep business records but makes the system vulnerable. Truly solving the problem would require costly human intervention. The ML/AI techniques that Google uses for this sort of moderation work well and cheaply at scale but produce false positives. In other words, they get it wrong pretty frequently. Given that Google has no legal exposure, due to Section 230 protections, it has no obligation to stop these hijackings. Malicious UGC and non-human moderation will allow additional hijackings in the future. Google has more engineering capability than almost any other company and yet isn't doing more. The company seems perfectly happy pushing the costs associated with these scams onto the public and local businesses. They are also happy gaslighting the media and public with the same old PR responses. The current hijacking, and history of hijacks, will be forgotten by the time the next abuse is reported and the same PR spiel is rolled out – once again.
The above video is a conversation between Greg Sterling and Mike Blumenthal on this issue.
Our take:
Businesses should take a proactive GBP approach and actively monitor it for changes to prevent these scenarios and any reputation hit.
We used to think that negative coverage of Google Maps' persistent failings would motivate Google to fix things. That has not been the case.
Given the unchanging nature of the issue, it would appear that only government pressure or regulation will motivate Google to act.
Recent Analysis
Short Takes
Listen to our latest podcast.

How can we make this better? Email us with suggestions and recommendations.