GBP's New Policies & Guidelines
Google sent out an email today announcing simplified policies and guidelines. Translated from Google speak: We are now actually telling you what the guidelines are. There are three new pages associated with this update:
For the first time Google is providing clarity about why a merchant will lose access to GBP listings. Google is now admitting that if a Google Account is not in good standing, for repeated abuses in GBP or other Google products, "a merchant must take steps to fix the issue before they can access their Google Business Profile." Google continues, "If a merchant's account is restricted, all Business Profiles associated with that account will be suspended." Google goes on to note, under eligibility, that "[t]o keep data on Google as accurate as possible, Google uses information from different sources such as user reports and licensed content." This is the first time Google has essentially confirmed that they use trusted data sources such as DataAxle (varies by country) to judge whether a business is eligible.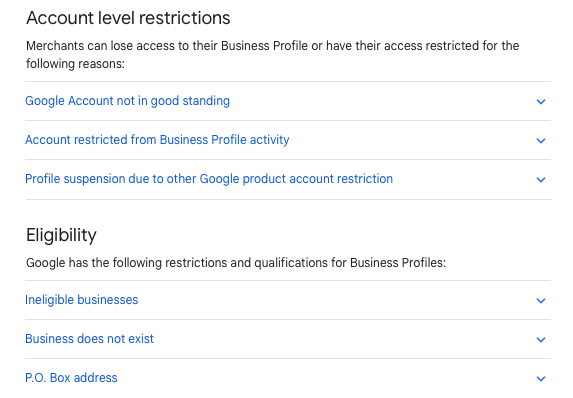 In addition to reasons for suspension, Google is also being explicit about why specific content was removed or won't be published. If your profile is anything other than fully verified, content won't publish. Two other reasons given are: the content is duplicative or there was a "submission error."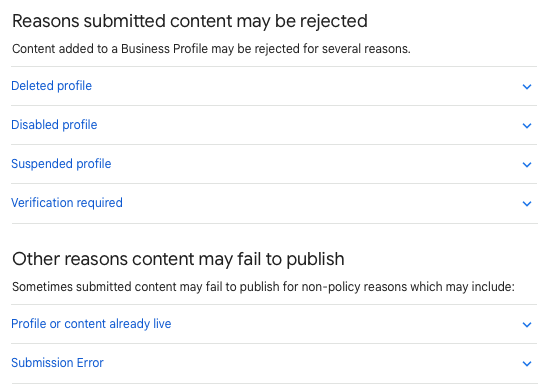 Our take:
It's not clear why Google is becoming more transparent but, if so, it can only help better navigate the vagaries of often confusing, unstated rules.
There is a lot of subtle detail in these documents and you should read them carefully.
Indeed, the devil is in the details. If "submission errors" are not distinguished from other reasons it will remain a shit show.
Video Verification Fails – at 99%
Google is now using a process for GBP verification it refers to as video verification. This new(ish) method is often used instead of, or in addition to, the traditional phone call/postcard pin verification. Yet this process fails frequently when it's 99% complete. Many businesses try over and over again but never get to 100%. In typical Google fashion users are left to wonder exactly why it failed. These frustrated people end up in the forums, where Product Experts are of little help because of Google's silence. Originally thought to be a bug or file size issue, it now seems to be a "feature." These verification failures are likely listings not already well known to Google via a trusted data supplier and the business has not provided enough proof to convince the automated system of its legitimacy. Alternatively, it might be an AI pipeline failure.
Prior to attempting the verification a business should be sure they have previously created a presence on the internet by getting listed at DataAxle (InfoUSA) and the BBB, and having an indexed website. These are signals that the business exists. Regarding the video, keep it under 2 minutes; those longer than 5 minutes won't be processed. Make sure to provide visual proofs in a continuous recording of the location, business name and category and that you manage the business. Colan Nielsen does a great job detailing the basic steps. And if you need to "think outside of the Google box" read Phil Rozek's how you might "fudge" the process.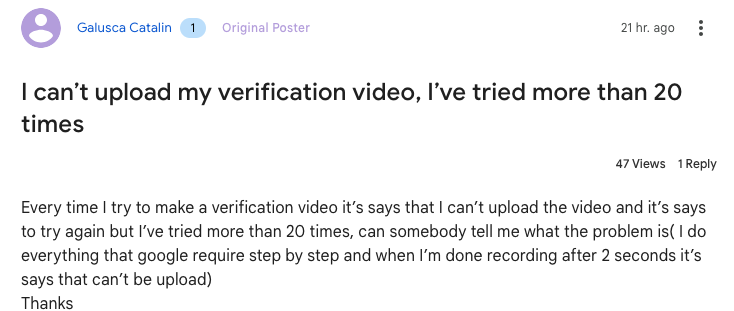 Our take:
Google is once again making it hard for new businesses to figure out their arcane and often unstated requirements.
More egregious is Google's lack of communication and a process for legitimate newbies to understand what is needed.
As a last resort, businesses can reach out to GBP support and request a live video call for verification. This option is not well publicized and may not always be available.
Review Solicitation Not 'Deception'
Yelp continues to fight a losing battle against review solicitation. This past week on Twitter Alex Friedman's post encouraging positive reviews for a server (Kristina) at the De Nada Cantina in Austin went viral. Friedman said the waitress would receive a $15 gift card for each positive review that mentioned her (the server). The tweet helped bring in new reviews – from around the world. Friedman noted that she "cried with joy" at helping the waitress buy diapers. However, Yelp's Luther Lowe responded that a red badge of shame had been assigned to the business and reviews were now being filtered. Armchair activists accused Yelp of being anti-worker. Local SEOs wondered about the "legality" of the process involved, while Yelp boldly and wrongly proclaimed that "soliciting reviews ... is ultimately an attempt to deceive consumers."

I don't care how well-meaning the end goal is. Soliciting reviews – especially from people who haven't even experienced the business – is ultimately an attempt to deceive consumers.

The business now has an alert on its Yelp listing giving some context. https://t.co/JoKzdfuzKj pic.twitter.com/siKsDSHoAc

— Luther Lowe (@lutherlowe) July 26, 2023
Our take:
It is legit (and smart) for a business to encourage employees to remind customers about reviews. It's fine to compensate Kristina for her efforts.
Yelp is right in filtering reviews of those who haven't been to the business. But rather than debating on Twitter and posting a review, there are real issues of living wages that people should be addressing.
Research has shown that soliciting reviews generates a more accurate picture of a business. Legit review solicitation is not "consumer deception."
Recent Analysis
Near Memo episode 121: Google loses product search start share, GBP numbers hijacked, Yelp scolds businesses for soliciting reviews.
Short Takes
Listen to our latest podcast.

How can we make this better? Email us with suggestions and recommendations.