Is a Yahoo Comeback Possible?
This week Yahoo acquired a company called The Factual. It's essentially a news-ranking algorithm that rates the credibility of sources. In my brief experience with the site I found it problematic but it may help Yahoo further customize news. Yahoo remains the top news site online, and the sixth most visited site overall in the US. The company, which was acquired in 2021 by private equity firm Apollo Global Management for $5 billion, has four large properties: News, Mail, Finance and Sports. It also has a roughly 3% search market share. Last year Apollo hired former Ask and Tinder CEO Jim Lanzone to run Yahoo. It also appointed six new board members. The endgame for Apollo is a Yahoo IPO in five years. But how much freedom does Lanzone have to make acquisitions or do anything really interesting or out of the box?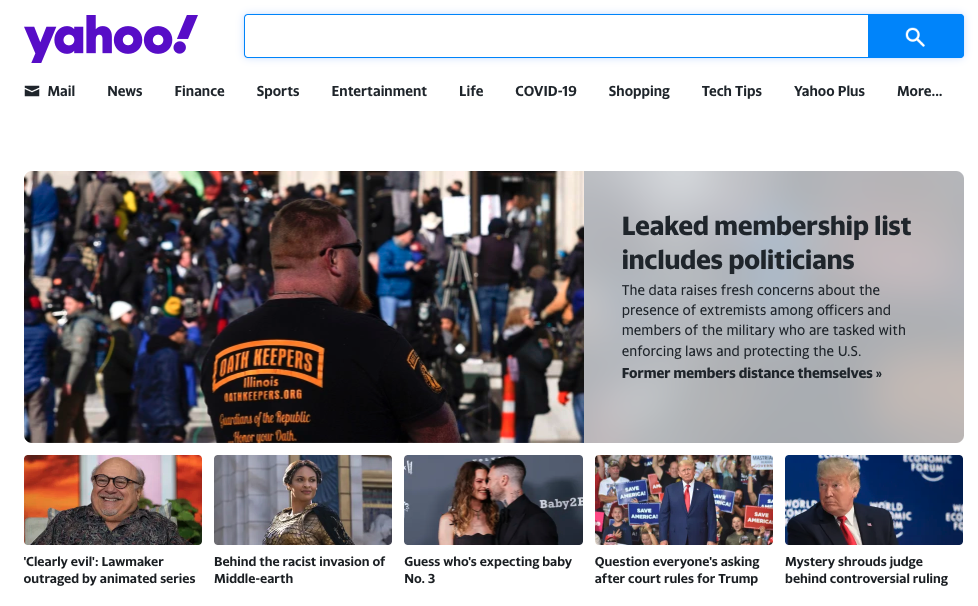 Our take:
When Yahoo sold, Yahoo Small Business stayed behind at Verizon and was rebranded. Strangely, Verizon let the Yahoo SMB domains go.
Yahoo has done a few things on the ad side, but it needs something more impactful on the consumer side to become interesting again.  
Search will likely coast but there's potential opportunity there; social and shopping too. The company should also revive the Yahoo Directory.
Rings of Power and Reviews Crisis
Amazon's billion-dollar fantasy TV series, The Rings of Power, has been review-bombed by haters and trolls. (Many though not all negative reviews are about the show's diversity casting.) That prompted Amazon to suspend or delay audience reviews on Prime Video and IMDB, which Amazon owns. Reviews are reportedly being held 72 hours "to help weed out trolls and to ensure each review is legitimate" (good idea). Rotten Tomatoes also shows a big discrepancy between critics' and audience scores. But this incident is emblematic of a broader review moderation crisis unfolding. Trust in online reviews has been eroding for a some time (see, here, here). And despite continued review reliance, a large majority of consumers now believe they are "sometimes or often fake." The platforms have each addressed review fraud in different ways, though all claim to be diligently pursing it. Regardless, more needs to be done.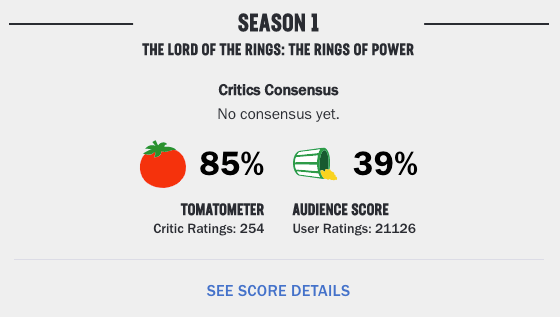 Our take:
Google's product review update, HCU and intensified AI review filtering (with false positives) are designed to address spam, low quality content.
Stronger and more nuanced moderation approaches are required. New signals, verifications, holds, smarter algorithms and humans are all needed to maintain the integrity of the system.
Section 230 has shielded platforms from liability, so they've been slow to act. But they're starting to see declining content trust as a growing business problem (see Google vs. TikTok and "authenticity").
Freelancers Now 36% of Workforce
In my TikTok feed you'll find pitches from so-called creators, random "multi-millionaires," Amazon affiliate marketers and real-estate gurus offering financial freedom so you can "break free from corporate slavery." These messages are undoubtedly having a psychological impact on TikTok's primarily 18 - 34 year old audience. Regardless of how many heed these gurus' calls, more people in the US are not working for "the man." New research from McKinsey shows the American workforce is becoming increasingly independent: "36 percent of employed survey respondents say they labor as independent workers, up from our estimate of 27 percent in 2016." This is a major change with long-term societal implications. Some contractors are doing well but millions are not, often exploited by their 1099 bosses. Freelancers and gig workers tend to be younger or immigrants, though 33% of those making $150K+ are independent.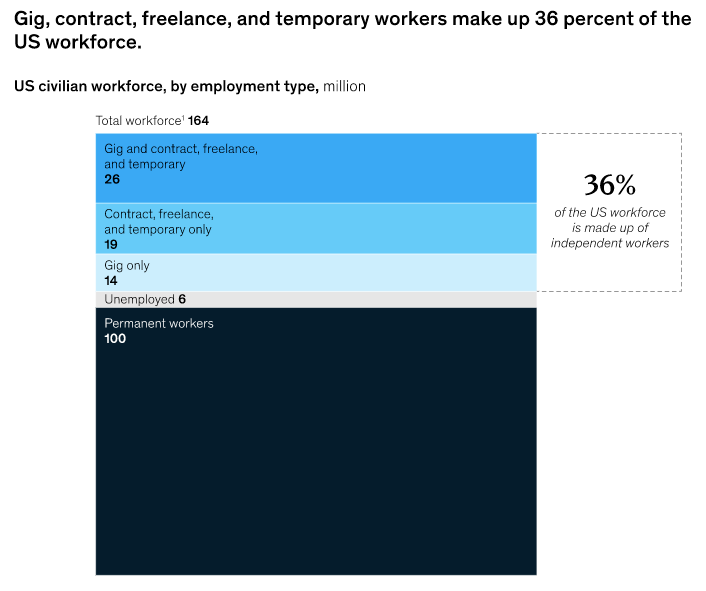 Our take:
If the McKinsey data can be generalized, it would mean something like 53 million Americans are now independent workers.
Many contract workers value flexibility but ~48% do it because they need the (extra) money. Often these jobs are low-paying, w/o benefits.
Many companies will now have fewer FTEs in favor of the flexibility of contractors. Google itself has more contractors than employees.
Recent Analysis
Short Takes
Listen to our latest podcast.

How can we make this better? Email us with suggestions and recommendations.