It's Meta Time or the End of Days
We're late to the meta-party. I'm sure you've read 20 articles and 10x more tweets discussing or ridiculing Facebook's Google-emulating holding company name change: Meta. There are many motivations behind the rebranding -- scandal cleansing is but one. Here are two good articles on Meta and Mark Zuckerberg's thinking: Stratechery, NYT. To Facebook's credit, Meta is a very ambitious vision. But what we need to worry about is that the company seeking to create and control the metaverse fails basic ethics tests. It's revealing and perhaps not ironic that "metaverse" came out of the 1992 dystopian novel Snow Crash.
Our take:
One of Facebook's motivations is to become an independent platform not dependent Android and especially Apple.
Zuckerberg essentially wants to be build an entirely new internet paradigm that supersedes the current internet.
Some version of what Zuckerberg is describing is coming – too many resources are flowing into AR/VR. The question is: will the metaverse make us nostalgic for the simpler time of "the internet."
Potentially 200M Google Reviews Fake
How many reviews on Google are fake? The answer is: just under 11%. That's according to a new analysis by Uberall and The Transparency Company (I'm the author of the report). The research looked at four million reviews across Google, Facebook, Yelp and Tripadvisor in 19 categories and 19 US cities (top DMAs). The analysis used sophisticated techniques to spot fake reviews, including machine learning, NLP and IP location, among several others. Of the four leading US review sites (not including Amazon), Google had the most fakes (10.7%), followed by Yelp (7.1%), Tripadvisor (5.2%) and Facebook (4.9%). Separately, Tripadvisor released its own report saying that 3.6% of its reviews – over 1 million – were inauthentic. Even though the Google average was 10.7% across categories, there were verticals with much more fraud: moving companies (22.3%), plumbers (21.4%), locksmiths (20.3%), digital marketing agencies (15.3%) and a few others.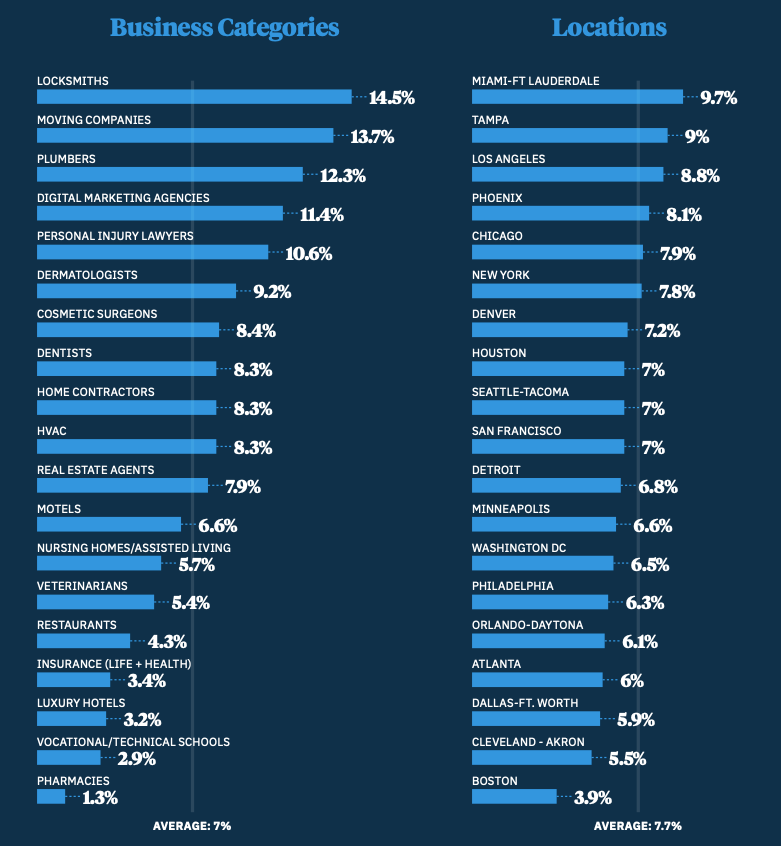 Our take:
The biggest source of review fraud was businesses generating or buying fake reviews for themselves (for better ranking and conversions).
Some people have said, "I'm surprised the number wasn't higher for Google." But that 10.7% (if extrapolated) could be 200 million reviews.
The platforms have the capacity to do better enforcement and expunge much more review spam/fraud than they are.
GMB Leads Eclipse Organic Search
Google My Business is now driving more leads to local businesses – those with storefronts or that do business in specific markets – than conventional Google organic search results. This was confirmed by recent customer data from SterlingSky. Owner/CEO Joy Hawkins explained, "Google My Business drives substantially more leads than any other lead source for small businesses," adding that "the organic section of Google also still drives a good number of leads and should not be ignored." In addition, Google explicitly says that organic rankings factor into GMB rankings. So organic search should not definitely not be neglected. But it's clear that for certain categories of businesses GMB is going to be a much more fruitful place to invest and a more reliable source of new customers.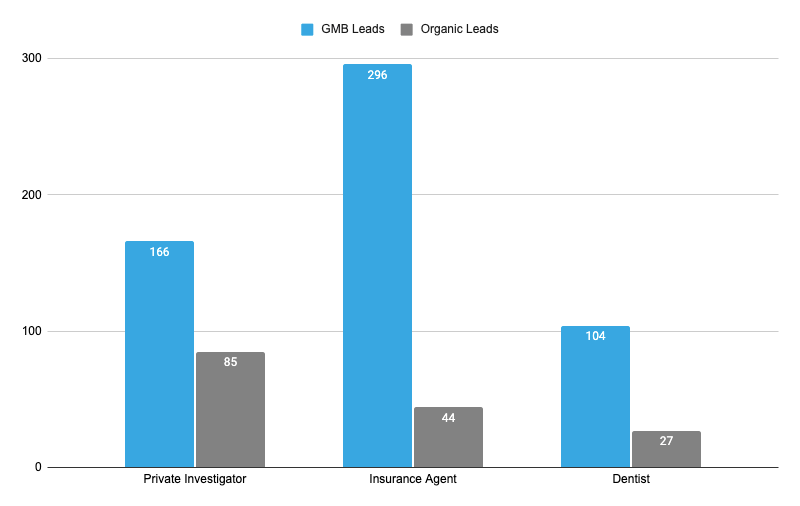 Our take:
These results may not hold for 100% of local businesses. Specifically, service area businesses (SABs) have never been well served by GMB.
As Mike points out in episode 39 of the Near Memo, businesses need a credible website. But they don't necessarily need tons of SEO to rank.
Most SMBs are focused on social, less on GMB/SEO. But neglecting GMB (not claiming, not responding to reviews) is a big missed opportunity.
Short Takes
Listen to our latest podcast.

How can we make this better? Email us with suggestions and recommendations.