Snap Takes Location-AR Global
Snapchat is opening up AR experiences tied to places. In 2019, the company introduced Landmarkers, enabling users to tie AR creations to 30 specific historical places. The was expanded in 2020 with Local Lenses, and now is being blown up globally and locally with Custom Landmarkers. Custom Landmarkers, as the name suggests, enable any user to create location-based AR "from statues to storefronts." How does one learn about them? Custom Landmarkers will be discoverable using Snapcodes (similar to a QR code) at the site or via the creator's profile. There are artistic, educational and informational applications of Custom Landmarkers. In terms of marketing, however, they offer an intriguing opportunity for brands, retailers and maybe even SMBs.
Our take:
As TikTok, Instagram and Snapchat battle for users, AR increasingly becomes the company's differentiator.
While VR continues to struggle with mainstream indifference, AR is poised for much faster adoption.
Snapchat has been slowly pushing into e-commerce; we may see creative combinations of Local Lenses and commerce in the near future.  
Meta Sues Fake Reviews Vendor
Facebook parent Meta announced it was suing an individual whose company provided fake positive reviews to "to artificially increase their Customer Feedback Score" on the site. The lawsuit was filed in federal court in California. Meta sends out surveys to people who buy products after ad clicks for customer feedback. That feedback translates into a score. If a company's score is too low Facebook may "take a number of enforcement measures, which could include ad restrictions, financial penalties or disabling accounts." The defendant in this case, Chad Taylor Cowan, "used a network of fraudulent and hired Facebook user accounts to provide fake customer reviews to artificially increase Customer Feedback Scores, drown out and minimize negative reviews." There's evidence that the prevalence of fake reviews on multiple platforms is starting to undermine consumer trust.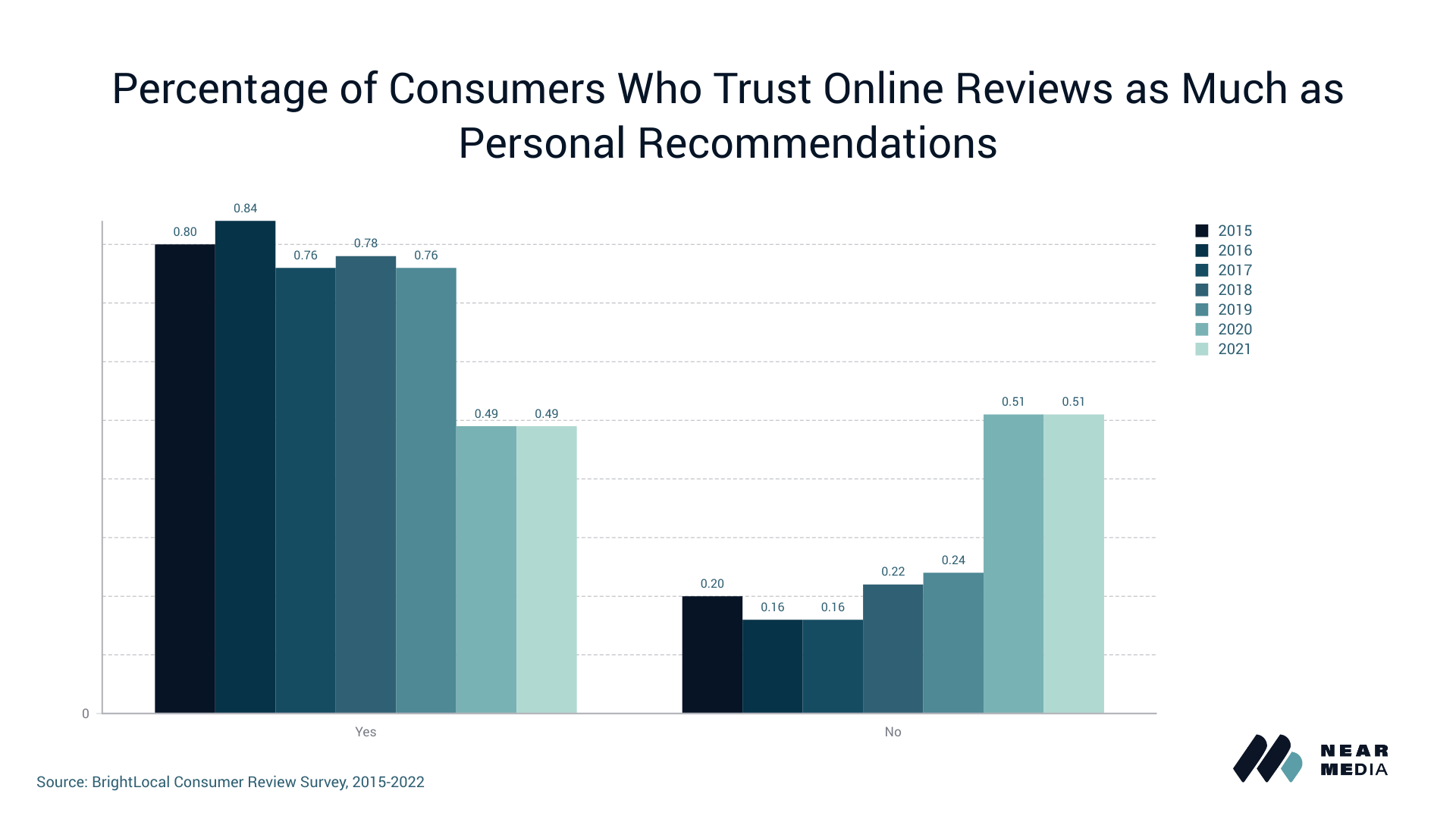 Our take:
All the major platforms take periodic legal action against fraudsters. Amazon did this recently with two review vendors.
These actions are both genuine and a form of theater, to show critics and regulators they're concerned about content integrity.
Facebook had the least review fraud of four major platforms in a Transparency Company-Uberall study. Overall, however, people's trust in reviews is declining, as the chart above illustrates.
Food Delivery: DoorDash vs. Uber Eats
The nearly $30 billion food delivery market in the US is coming down to a battle between two companies: DoorDash and Uber Eats. Together they control 81% of the market, up from 66% in 2019. GrubHub is number three but may not survive over time. Consumer Intelligence Research Partners (CIRP) found that DoorDash had the largest marketshare (~50%), while Uber Eats had greater usage frequency. Uber Eats has maintained a consistent share since 2019 (31%); DoorDash has grown largely at the expense of Grubhub and Postmates (owned by Uber). Part of DoorDash's success has been its Prime-like loyalty program DashPass. Uber offers a similar program. In both cases order frequency is greater for pass members than for regular users.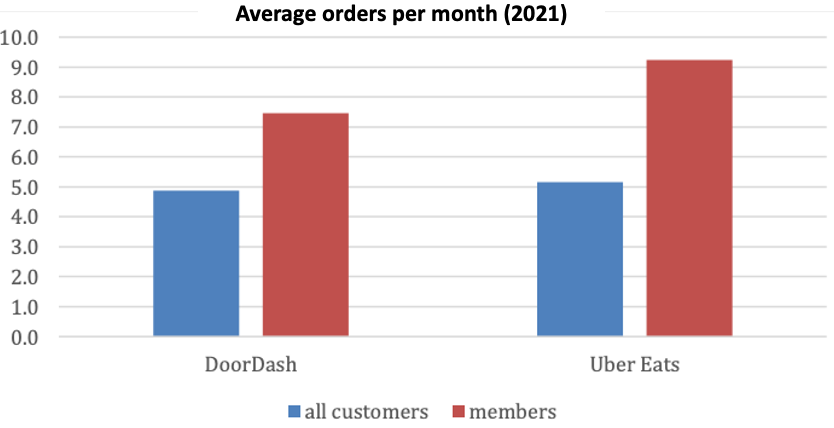 Our take:
DoorDash's strong Q4 earnings have been generalized by pundits to argue that food delivery is here to stay. Our response is "yes, but..."
The "but" is: the market will only support a few competitors at national scale. Delivery demand may also decline as COVID wanes. Significant consumer costs/fees could also stall growth over time.
Uber and DoorDash have difficult relationships with restaurants. DoorDash is trying to change that with programs such as SMB lending.
Short Takes
Listen to our latest podcast.

How can we make this better? Email us with suggestions and recommendations.