Google: 'Smaller Stores' vs. 'Nearby'  
I don't use Google Shopping very often. I therefore missed the addition of a "smaller stores" filter. It may have been added last year but was recently (re)discovered. It's one of several filters consumers can use to narrow results. The inclusion criteria for smaller stores aren't clear. But it's an intriguing way to direct spending toward SMBs – potentially. For the time being, "smaller stores" and "available nearby" appear to be mutually exclusive. Both can be selected but Google Shopping seems to privilege nearby results over smaller stores in my testing. All nearby results are from larger retailers. That's chiefly because very few SMBs have real-time inventory enabled. All the smaller stores I observed in my searches were e-commerce sellers.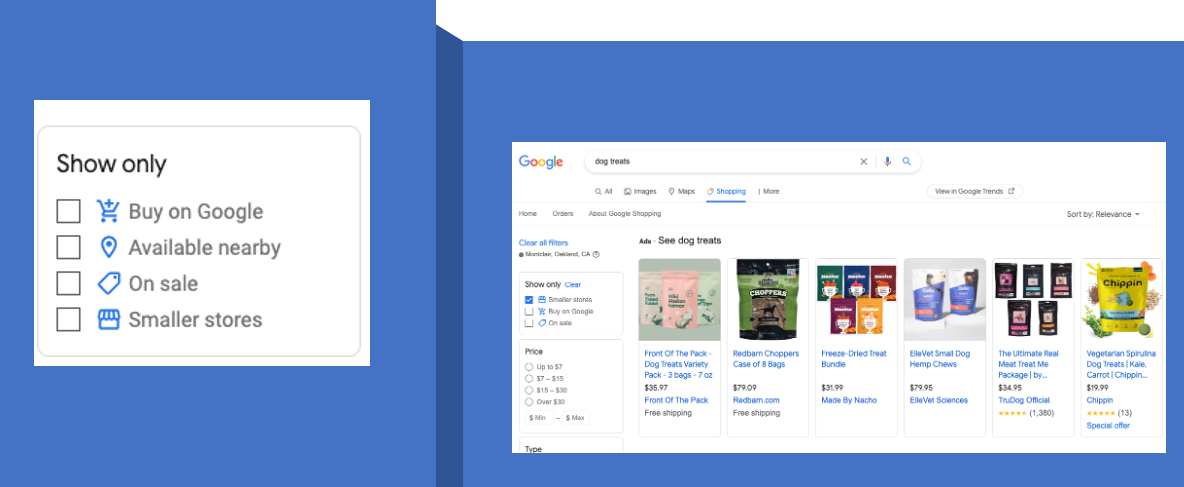 Our take:
Surveys repeatedly show that consumers want to "shop locally" and support SMBs. Those aren't always the same as a practical matter.
People mostly support SMBs when it's convenient. Shopify found 50% of shoppers wanted to shop SMBs but only 36% actually did.
Google could eventually create something powerful with the combination of smaller stores and available inventory nearby. But will they?
People Don't Like 'Forced App Installs'
On a recent airport trip, I parked in a private lot. Upon arrival I discovered I was required to have the company's mobile app. Fortunately, I had already installed it. But the coerciveness of this move was striking. A new survey (n=?) from Heady.io shows consumers don't like this frequent "required app" behavior. Almost 70% of respondents expressed high frustration levels when required to install apps to complete a desired action. Yelp used to do this to mobile web searchers. Since abandoning the heavy handed approach, Yelp has seen mobile traffic gains, its only meaningful area of user growth. When confronted with "forced installation" some users will comply, according to the survey, but others will bounce. Required installations often result in later app deletions. Another finding: App Store searchers are more committed and reliable than users who download from digital advertising, which makes sense.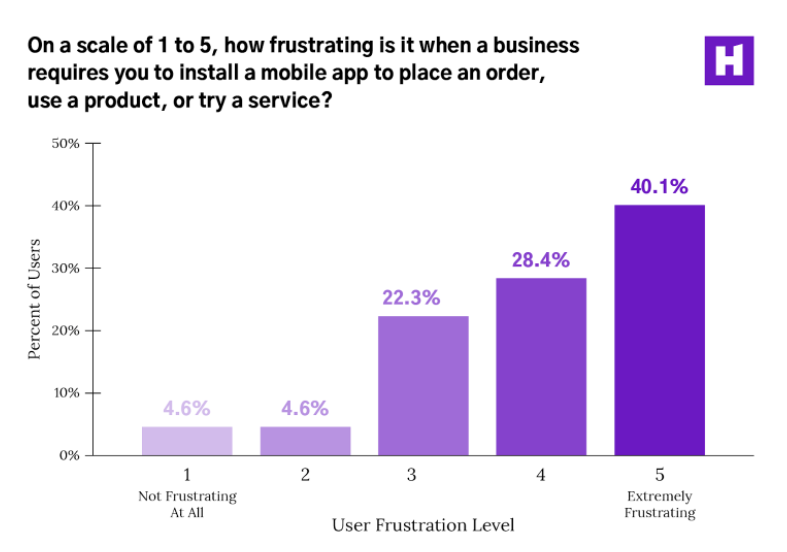 Our take:
The Heady.io write-up pitches using Apple's App Clips, which bring some app functionality to the mobile web and don't require installation.
Many companies don't "get" that apps are generally embraced by existing, loyal customers. Apps don't create loyalty by themselves.
Compelling users to take an unintended action (i.e., app downloading) is wasteful and generates customer churn.  
Smaller SMBs Are Sales-Phobic
Here's another interesting piece of small business survey research from consultancy Bredin. The company recently polled 500 SMBs and asked whether they preferred to work with sales reps when researching a product or service. When segmented by company size, the sample is small but Bredin found significant variation in responses. Medium businesses (between 100 and 500 employees) were most receptive to working with salespeople. Those with fewer than 20 people were the most sales-averse. Only 14% of the smallest SMBs were "sales positive." The interesting thing is that larger businesses, which are best equipped to do their own research, tend to be more open to sales conversations. Smaller businesses with fewer resources seek to avoid sales reps.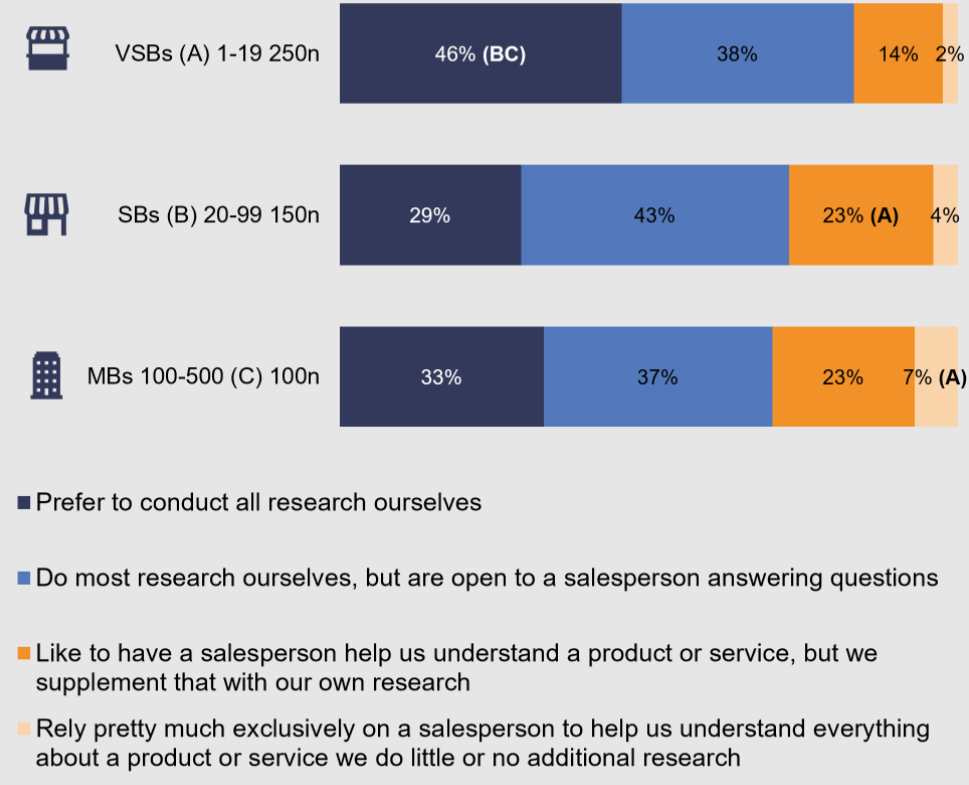 Our take:
There are significant strategy, pricing and marketing implications in these findings. The vast majority of the SMB market is sub-20 employees.
This and other studies argue for a freemium and product-lead growth strategy.
During the pandemic Yelp got rid of a large chunk of its salesforce and has seen improved results. (This is not necessarily the norm, however.)
Recent Analysis
Short Takes
Listen to our latest podcast.

How can we make this better? Email us with suggestions and recommendations.