Apple's WWDC Highlights
Apple's developer conference, WWDC, happened this week. With the exception of a new MacBook Air, the announcements focused on software. We were struck by Continuity Camera, which lets you use your iPhone as a laptop webcam, Messages changes (editing, undo send, mark unread), CarPlay (which looks more like CarOS), Spotlight search and Apple Pay Later (BNPL). Apple Pay Later allows users to make installment payments (no fees, interest) over six weeks. It works wherever Apple Pay is accepted. This will force changes in BNPL strategies because younger iPhone users will default to it: Apple is more trusted than BNPL companies and much closer to the consumer. And while we didn't get a search engine, Spotlight and Siri boasted several improvements. Apple is relocating search to the bottom of the Home Screen, "making it easy to open apps, find contacts, or get information from the web." It should gain more usage.
Our take:
Spotlight offers "federated search," combining results on the device, structured results, websites and web search options. Apple's default search engine remains Google, for which it pays $15B.
There's no data (we're aware of) on how much usage Spotlight has or how widely Siri is used as an alternative to Google.
With iOS 16, a search field will reside on the home screen. This will make it faster to use than opening Safari or the Google app. Some percentage of fact-based queries should therefore migrate to Spotlight.
Search Best New Acquisition Channel
In a previous survey of consumers, Digital Commerce 360 (n=1,015 US adults) found that email was the single most effective retail-marketing channel in terms of generating online sales. Now a companion survey of 73 retailers finds that search (paid, product listings and content marketing) is the most effective new customer acquisition channel. In terms of overall effectiveness, however, these retailers cited email; search was number two. It's interesting to see that Facebook shows up at number 5, with Amazon ads at number 7. And "Marketplace ads other than Amazon," was more effective than Facebook or Amazon. Mobile ads are regarded as fairly ineffective and streaming is dead last. TikTok occupies the penultimate position of shame. Isolating social media, the most effective sites were: Facebook, Instagram, YouTube and LinkedIn in that order. Twitter and Snapchat were in last place, after TikTok. One caveat: these retailers said "analyzing marketing efforts" was their biggest challenge.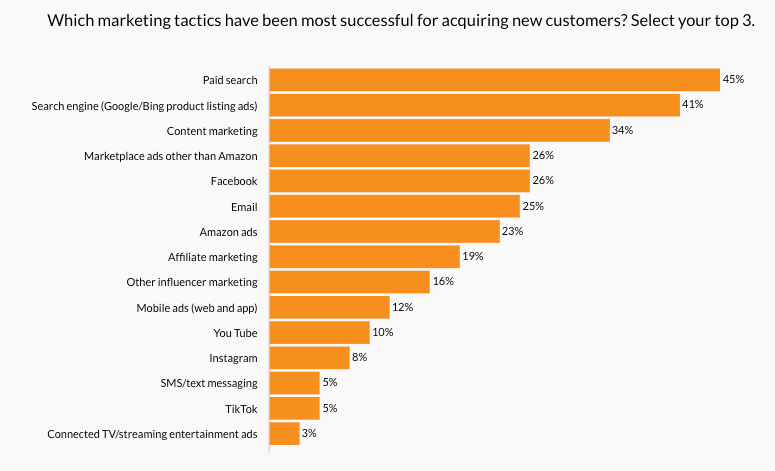 Our take:
In response to the reduction in available data and tracking, the top two responses were: "still assessing" and "haven't changed strategy."  
The age-old appeal of search marketing is that it's trackable, doesn't require personal data/privacy safe and carries high purchase intent.
The big tactical takeaways are: social for awareness, search for acquisition, email for subsequent sales/retention.
Print Media: 20 Years of Pain
It's no surprise to anyone reading this that most traditional media have seen steady usage and revenue erosion as a consequence of the growth of the internet. US Census Bureau revenue data reflect that in stark terms. Since 2000, print newspaper circulation was effectively cut in half – so was industry revenue: declining from $46.2 billion (2002) to $22.1 billion (2020). That's still a big industry, though a shadow of its former self. Print magazines saw a similar revenue decline, from $40.2 billion (2002) to $23.9 billion (2020). Directory and Mailing List Publishers (not "Lisa"), which includes the yellow pages industry, went from ~$17 billion in revenue in 2002 to just over $4 billion today – a roughly 75% decline. Only video rentals shows a greater revenue drop.  

Our take:
Print will revenue will never recover. But there is renewed interest in traditional media as digital ad rates/CPCs have become expensive.
Surveys have found dissatisfaction with digital-ads ROI, while TV, radio and print have outperformed digital vs. costs. Retail catalogs are also highly effective in influencing purchases.
Traditional media and digital can work well together. For example, OOH and other traditional ads were found to effectively drive search activity.
Recent Analysis
Short Takes
Listen to our latest podcast.

How can we make this better? Email us with suggestions and recommendations.