Yep It, Says Ahrefs
Last week we discovered Yep, a new search engine from Ahrefs (that's right). It reportedly cost $60 million to build and has its own index (rather than using Google or Bing APIs). Yep joins DuckDuckGo, Neeva, You.com, Brave Search and the incumbents (Bing, Yahoo, Ask) in going up against Google. Beyond privacy, Yep hopes to differentiate by sharing ad revenue with "creators" (ads have yet to launch). The Yep SERP looks mostly like old Google: ten blue links. There are also buttons in the middle that can run the same query on Google, Bing or DuckDuckGo. In terms of local, Yep appears to rely entirely on third party directories; it has no version of a Local Pack. DuckDuckGo and Neeva (via Yelp) both offer local listings. Yep is a good brand and the move audacious/ambitious. However, its current form, there's little reason to Yep it.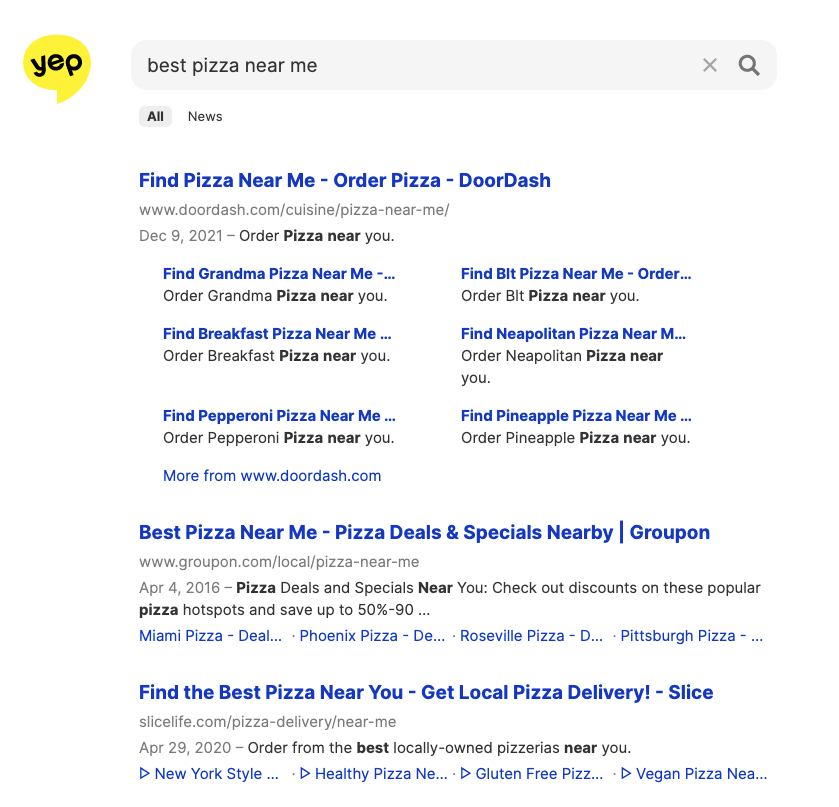 Our take:
There are two reasons not to use Google: too many ads and privacy.
The list of search ankle-biters is growing. This is healthy, but there's still there's too much similarity, to one another and Google.
There was a rumor that Apple might introduce a new search engine or search experience at its developer conference today, but we're skeptical.  
Tech Workers OK with Surveillance
Amazon ruthlessly tracks warehouse worker productivity, seeking to punish and expel those considered "time wasters." Often presented under the guise of "productivity monitoring," employee surveillance in general appears to be increasing, especially in a work from home (WFH) context. With few exceptions employers are legally allowed to monitor employees; workers have few privacy rights in the US. Many employees may be unaware of monitoring and companies are not required to disclose surveillance. A survey (n=750) from Morning Consult asserts, the majority of tech workers would quit if employers recorded audio/video through worker computers. Yet the survey also shows that high percentages would be fine with keystroke tracking or screenshot capture (41%). More than 70% of respondents said they weren't subject to surveillance today.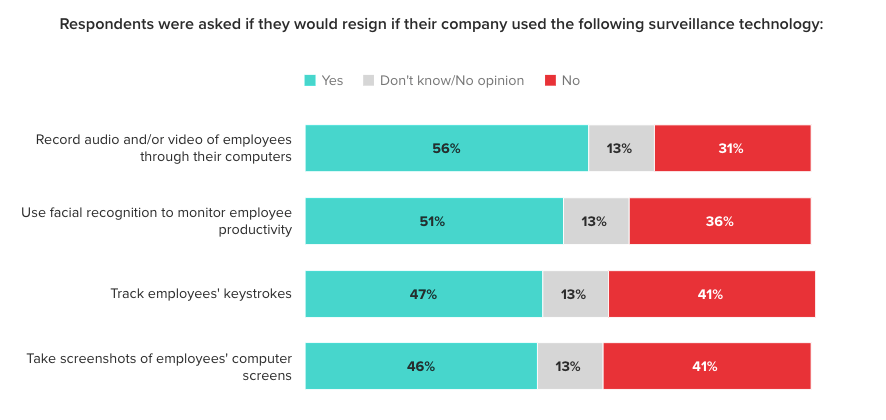 Our take:
Employers' concerns about WFH productivity and a lack of trust will result in more spying on workers. According to Gartner, 60% of companies with 1K+ workers were using surveillance tech in 2021.
Most Morning Consult respondents were pretty complacent about employer surveillance, especially when "don't know" is included.
Dystopia awaits: If we accept consumer data-mining and surveillance in our work lives, corporate surveillance will be everywhere before long.
Race to Pass Antitrust Bills
Even though there's bi-partisan support for antitrust regulation in Congress, the window of opportunity appears to be closing. It's widely expected that Republicans will control the next Congress, which could kill momentum. There are two main bills at stake: The American Innovation and Choice Online Act (AICO) and the Open App Markets Act (OMA). There's also an opportunity for federal privacy legislation but that's less clear. AICO would prohibit "self-preferencing" and other "discriminatory behavior" by large platforms (e.g., Google Maps at the top of the SERP). OMA is designed to open up app stores to more competition. The lobbying effort by Amazon, Google, et al has become "the most intense political campaign by corporate America in recent history," says the Financial Times. Also, some Democrats don't support the bills, which will need 60 Senate votes to make it through. It'll be a nail biter.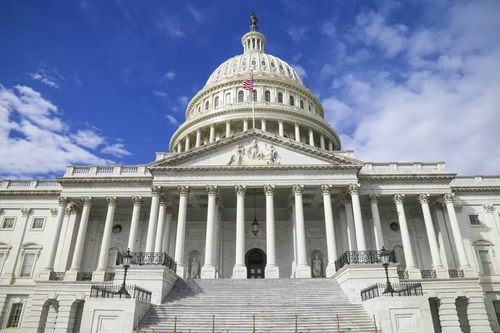 Our take:
Amazon argues 1) Prime might have to end, 2) 1.8 million jobs would be at risk, 3) minority communities would be hurt if AICO goes through.  
These bills only apply to major platforms. Google and Amazon is particular would be impacted. Google's SERP would likely change.
There will be "unintended consequences." But reform is needed. If one or both of these bills makes it into law, litigation will follow.
Recent Analysis
Short Takes
Listen to our latest podcast.

How can we make this better? Email us with suggestions and recommendations.