Google's Local Algo Update Fallout
Google recently confirmed that it completed a local algorithm update, between November 30 and December 8. Many local SEOs reported "significant" ranking changes. Joy Hawkins at SterlingSky characterized it as "the biggest change I have seen to the local SERPs" since 2017. According to Joy's preliminary research there are two primary impacts: proximity and business-name keyword stuffing. On the first one, Google appears to be more heavily weighting actual proximity than in the past, which may be tied to recent local pack UI changes and the resizing of the map. On the second impact: "Businesses with keyword-rich names that dominated an entire market, that never should have, are seeing huge drops," observes Joy.
Our take:
Does WordPress Power Half the Web?
According to W3Techs, WordPress is the CMS of choice 43.1% of all websites globally, up from 39.1% last year. Among non-hand coded sites, its share is 64.7%. WordPress' share appears to be so big that it effectively has a veto over things like Google FLoC, which the company tentatively opposed earlier this year. In contrast, an earlier survey by Hubspot of 1,500 marketers (most medium-sized firms) found WordPress adoption to be 22%. That discrepancy is curious. In the Hubspot survey, after WordPress came Adobe Experience Manager (16%), Wix (15%), "Other" (14%), Squarspace (13%). The remaining 42% included Hubspot, Drupal and two others.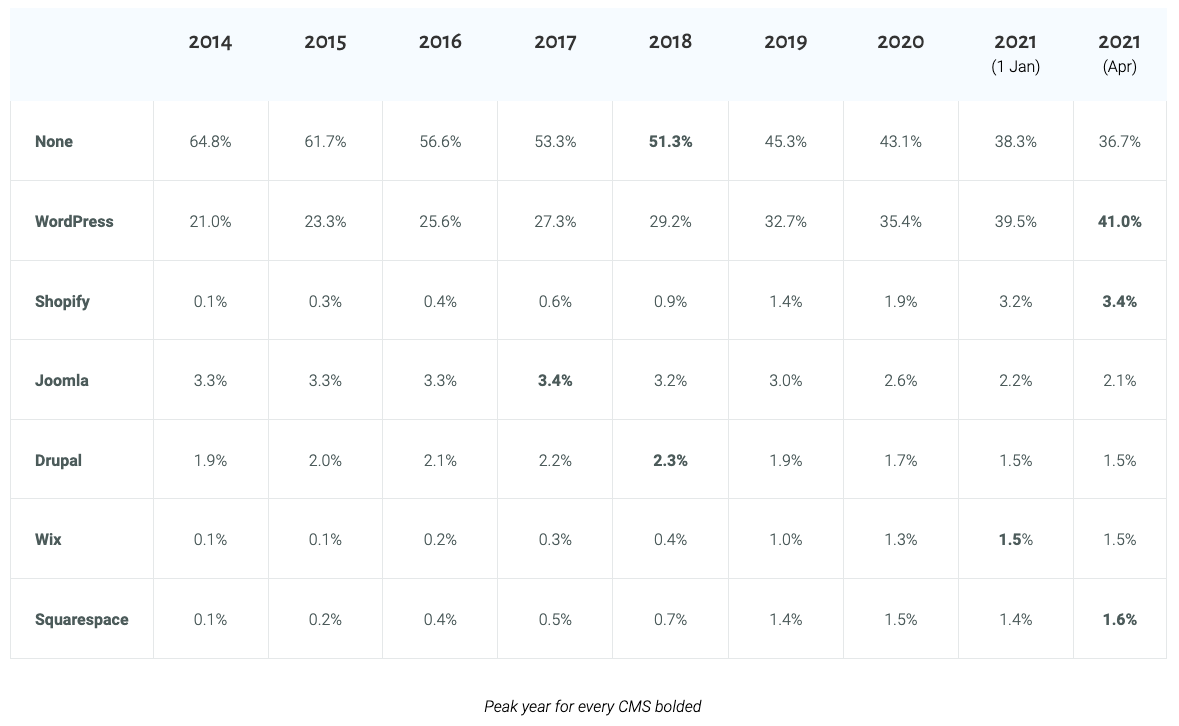 Our take:
Major Retailers 'Leaking' Sales to Amazon
It used to be called "showrooming." Shoppers visit a traditional store, examine what they want to buy and then buy it online for less. That's still going on and Amazon is the biggest beneficiary, regularly stealing a percentage of sales from Walmart, Target and Costco – the three largest US retailers not named Amazon. That's according to data from Numerator. The top three reasons consumers are buying on Amazon instead of Walmart or Target are: shipping is easier, product not carried, lower prices. An earlier, 2021 Uberall survey found similar reasons for Amazon loyalty: 1) fast/free shipping, 2) product selection, 3) lower prices. But just behind lower prices is "I trust Amazon," not captured in the Numerator survey. However, according to Numerator, lowering prices and carrying more products would help retailers better compete with Amazon.

Our take:
Short Takes
Note: This will be our last edition of 2021. We'll be back next year with some new ideas. In the interim, email us with suggestions and recommendations. And have a great holiday!
Listen to our latest podcast.