Bleak Milestone: 800K Dead from COVID
Later this week the US will hit 50M cases and 800,000 dead from COVID, likely an undercount of the real mortality figure. The global death toll is officially 5.3 million but it's probably more than 3X that number according to an analysis by The Economist. Nearly 75% of those who've died in the US are over 65. Though we're still living with the pandemic and haven't entirely resumed "normal life," many groups have returned to most of their pre-pandemic activities. And a disturbingly large number of people continue to maintain that COVID is a product of a government conspiracy or a hoax altogether. The preventable deaths will continue but increasing numbers of people are "done with COVID."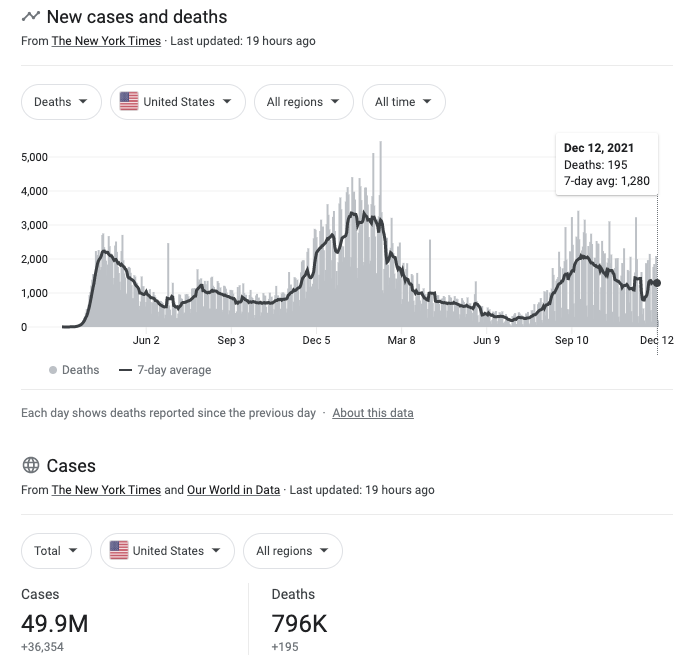 Our take:
It's important to recognize the scale of the human tragedy, a substantial amount of which could have been prevented.
The pandemic has left a range of economic and social impacts. Work/employment, healthcare, movies, shopping, payments and education are among segments significantly changed by COVID.
COVID didn't fundamentally alter consumer behavior; it greatly accelerated those already present and gaining momentum.
Will Eroding Trust Impact Google?  
Over the past few years, Google's reputation has taken a beating as a monopolist, purveyor of "surveillance capitalism" and general consumer privacy violator. The company is conscious of this and is apparently concerned. A week or so ago, David Mihm spotted the screens below on a Google SERP. The company is asking about consumer trust and perceptions of whether "Google Search respects my privacy." We have no idea what kind of response Google received. But according a recent survey from YouGov, slightly more people "completely distrust" Google than "completely trust it." Yet many more distrust TikTok, Facebook and Twitter than distrust Google. Almost half of US adults (48%) would like to see Google broken up vs. 21% who would not; 32% aren't sure. Break-up opinion is similar for Amazon, higher for Facebook.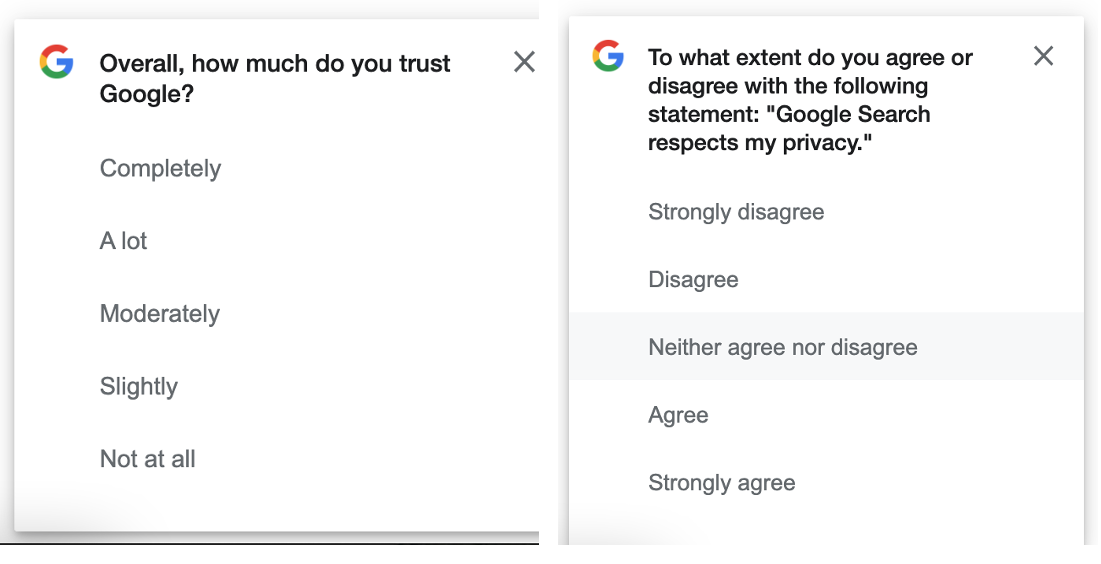 Our take:
We've seen a growing public outcry over Facebook's behavior but it hasn't impacted usage – though perhaps engagement has dropped.
Amazon is more trusted than Google, which could be contributing to a migration of shopping search away from Google (at the margins).
Because many don't see an alternative to Google in general search, the company is unlikely to see major leakage from any trust crisis.
Report: Review Volume, Retail Sentiment Down
Reputation.com last week released a report that examined 3.7 million retailer reviews in the US and UK. The study benchmarks top US and UK retailers in terms of consumer sentiment, online visibility and consumer engagement. Bath & Body Works was the winning US retailer, while Bensons For Beds topped the UK list. Overall, Reputation found that review volume is up 12% this year but down 22% from 2019. The company also discovered that, despite the increase in reviews, consumer sentiment is generally down, owing to a range of factors: product availability, affordability and customer service. Most of these are tied to macro-economic forces including inflation, supply chain issues and labor shortages. Finally, Reputation reported that engagement with Google/GBP was generally up vs. a year ago, with more views and directions clicks, though website clicks (up during the height of COVID) were down.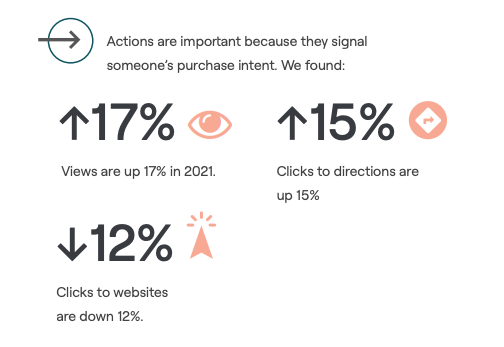 Our take:
The report offers traditional advice: respond to reviews, pay attention to customer feedback. It counsels retailers generally to be attentive/responsive.
The most useful part of the report discusses "the voice of the employee." It argues retailers should socially listen to employees as well.
Retailer reputation is partly a function of employee satisfaction and customer service. Happier employees perform, reflected back in reviews.
Recent Analysis
Short Takes
Listen to our latest podcast.

How can we make this better? Email us with suggestions and recommendations.