Google's Local Pack Refresh
During a previous Near Memo we discussed how Google's local results were in need of an upgrade. Google has now apparently made one, albeit cosmetic. On the desktop the map has been moved to a right-aligned position. The three listings are much more visually prominent, with images on the left beside the listings. Barry Schwartz at Search Engine Land speculates this may result in traffic changes. (It's quite possible.) I have not be able to generate the new UI on my own. It will be interesting to see how Google treats ads in this new interface – notice there are no ads above the organic result (below). Typically there are LSAs, Google Ads or both above the local pack. And there's frequently an ad in the local pack itself.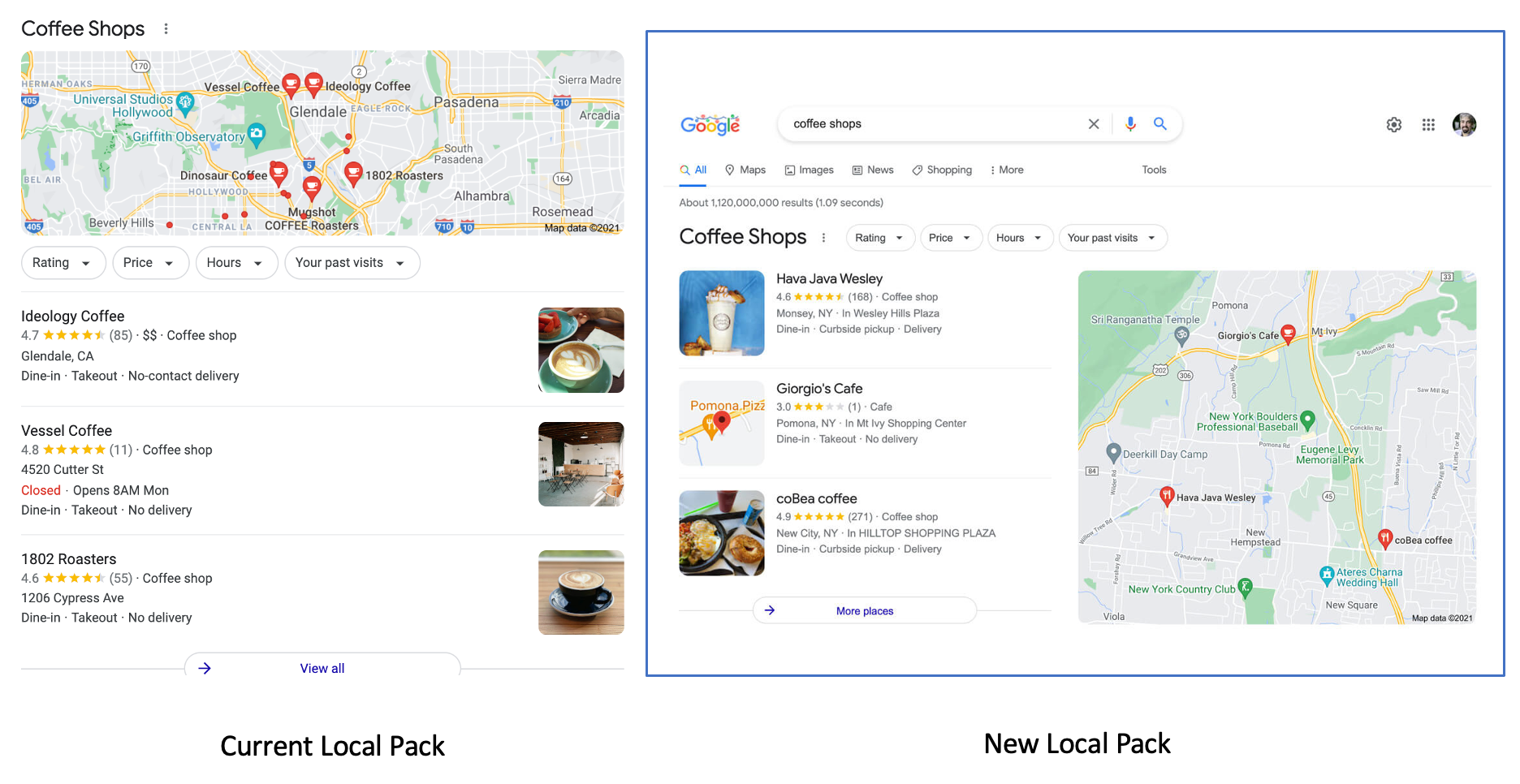 Our take:
Because of mobile screen size, it's unlikely that Google will mirror the desktop. The map could go below the 3-pack, would look strange.
This change once again emphasizes the importance of images in GBP and search. Businesses (unfortunately) can't pin a thumbnail image.
Google Maps has lots of functionality, much of buried. The experience is at once incomplete and bloated. It needs a more complete overhaul.  
SMBs Go All-in on Social Media
According to Deutsche Bank, ~75% of Facebook's 10+ million advertisers are SMBs (the percentage may even be larger). Last year Facebook generated more than $84 billion in global ad revenue. If Deutsche Bank is correct, more than $60 billion of Facebook's ad revenue was from SMBs. Just the latest in a series of surveys to show this, Sprout Social's new report (form) reflects SMBs' deep commitment to social media. SMB here is 1-199 headcount. The survey data was collected by Harris; the report discusses social media attitudes and usage among consumers and businesses. Sprout Social is a social media management platform. One would expect their reports to be bullish. But other data reflect similar attitudes. Roughly 80% of these SMB respondents said that social media investments were "very important/absolutely essential." And vast majority (86%) expect to increase social media spending over the next three years.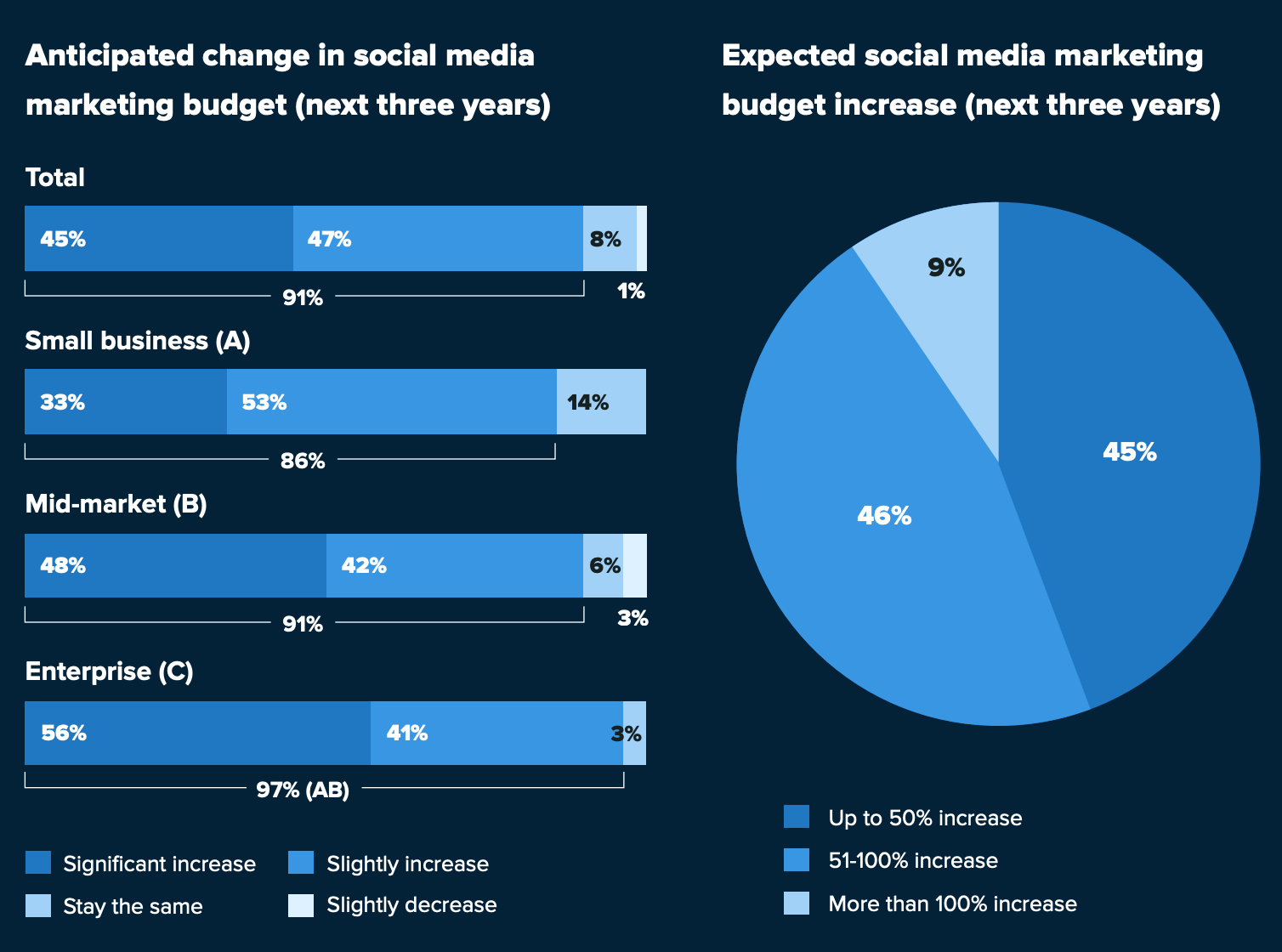 Our take:
More than 75% of the SMB respondents said they're confident about their social strategies.
One potential criticism: the business survey sample is small, only 250 respondents, not all of which were SMBs.
While social media is a top three marketing channel in most SMB surveys – much higher than organic/local SEO – not all surveys reflect the same confidence in social media.
Survey: 16% of Americans Gig
A Pew Research survey of more than 10,000 US adults finds that "16% of Americans have ever earned money via an online gig platform." This includes ride-sharing, delivery services, performing household task and shopping. Younger adults (under 30), lower income individuals and Hispanic adults are more likely to be reliant upon gig work compared with other groups. Pew found that 31% of current/recent gig workers depend on it as a full-time job, while a substantial minority of lower-income gig workers do. Most (roughly two-thirds) say they're satisfied with the availability of work and the pay; only half are satisfied with benefits. Between 35% and 37% have felt unsafe or been subjected to customer mistreatment. Respondents have complex views about whether there should be more regulation and whether gig workers should be treated as employees. (Europe wants to make all gig workers into employees.)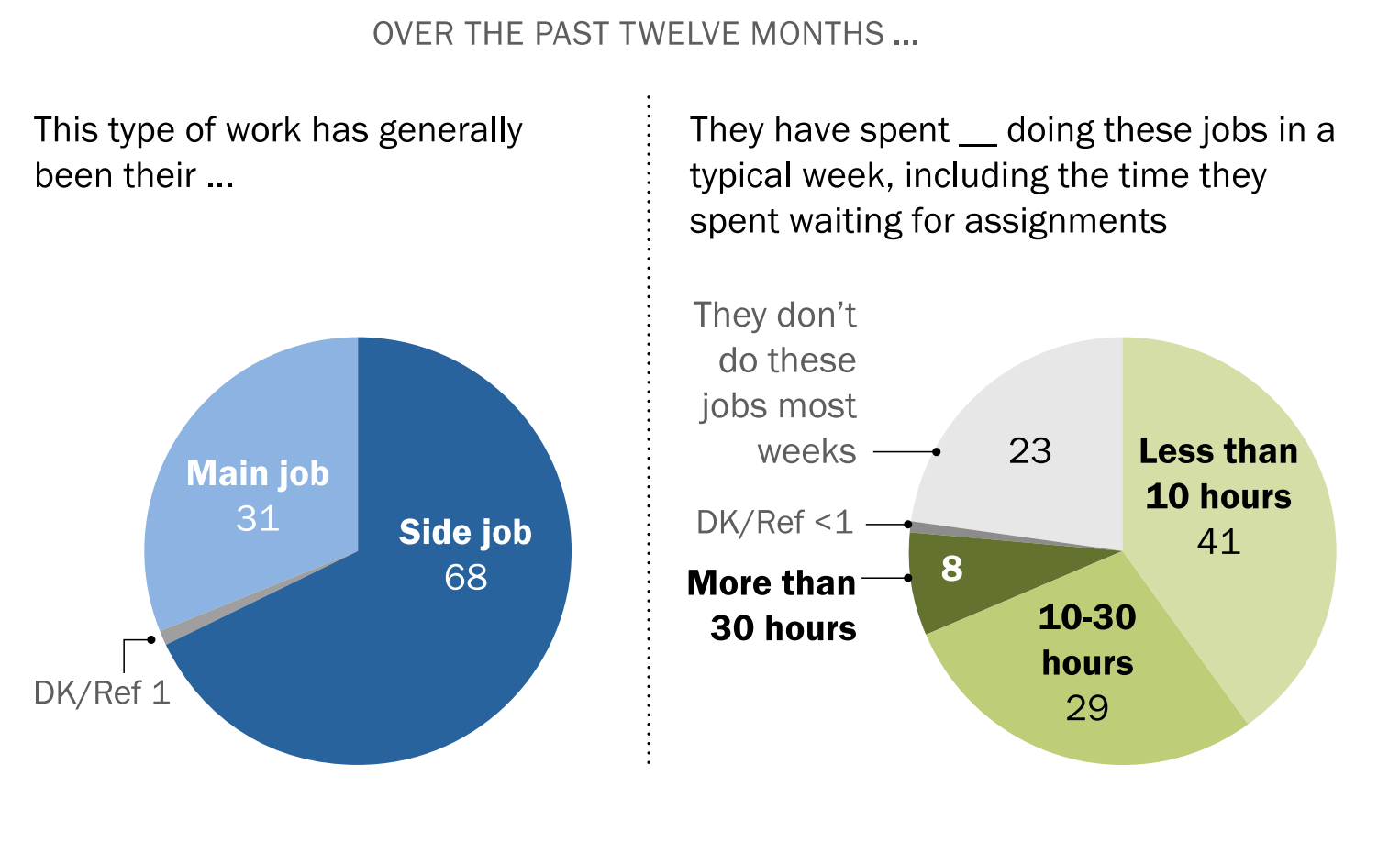 Our take:
The survey found that 65% of gig workers see themselves as contractors, 28% view themselves as employees. Political affiliation impacts that perception.
57% of the public believes gig workers need more legal protections against exploitation. Yet 53% don't want more government regulation.
The survey reflects the complexity of issues surrounding gig work, as well as worker and public ambivalence about stronger regulatory action.
Recent Analysis
Short Takes
Listen to our latest podcast.

How can we make this better? Email us with suggestions and recommendations.