GBP: 3 Videos Now in Default View
We reported several weeks ago that Google was starting to display a single video on Google Business Profiles in mobile search results. In short order Google has upped the number of videos, in the default view, from one to three. This gives a fluid and dynamic feel to profiles that have uploaded more than one video. And Google is allowing videos much longer than their stated 30 second limit; the actual limit seems to be a file size of more than 75 mb (almost 20 minutes, if compressed). As seen in the screen capture below, they are also allowing a significant amount of text to be included which is not the case with still images. GBP video treatment seems to vary by category. We know images increase conversions, so we can assume Google is now emphasizing video because consumers are responding positively. Google is also hoping to appear more relevant to the TikTok crowd.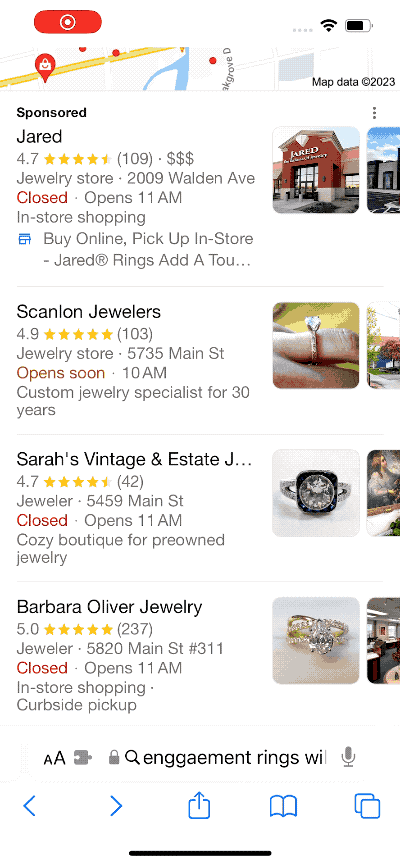 Our take:
The rapid rollout of GBP video indicates Google is testing different layouts. Be prepared to experiment with horizontal and vertical video.
Optimal length and content is TBD but shorter is probably better (<60 seconds). If you include text be sure it's easily readable and dynamic, as in the excellent example above.
Google's AI image understanding applies equally to video, which should be category relevant without phone numbers or URLs to avoid filtering.
SAB Ranking Hijinks  
There's always been tension between Google Maps' goal to map the world and GBP's mission to highlight local businesses while protecting privacy. The embodiment of that is how Google handles service area businesses (SABs). SABs have caused a world of trouble for Google (e.g., the Kansas bug where SABs were showing at the center of the US rather than in their local markets). It's also well known that SABs don't rank as well as physical storefronts. Confirming this, SterlingSky recently did a test, hiding and showing business addresses. They found a significant ranking decline when the address was removed. Joy Hawkins noted, in the Local Search Forum, the impact was largely on implicit local-intent terms ("plumber") rather than explicit local queries ("plumber, Olean NY"). Darren Shaw of Whitespark also found an obvious bug impacting SAB visibility. If an SAB moves and hides its new address, it won't show in search results for the new location. Google will rank the business based on the originally verified (old) address. As Darren points out, service area designations have zero impact on visibility. Apparently, according to Jason Brown, the only way to fix this currently is to create a new profile and show the address – or hope that Google fixes it.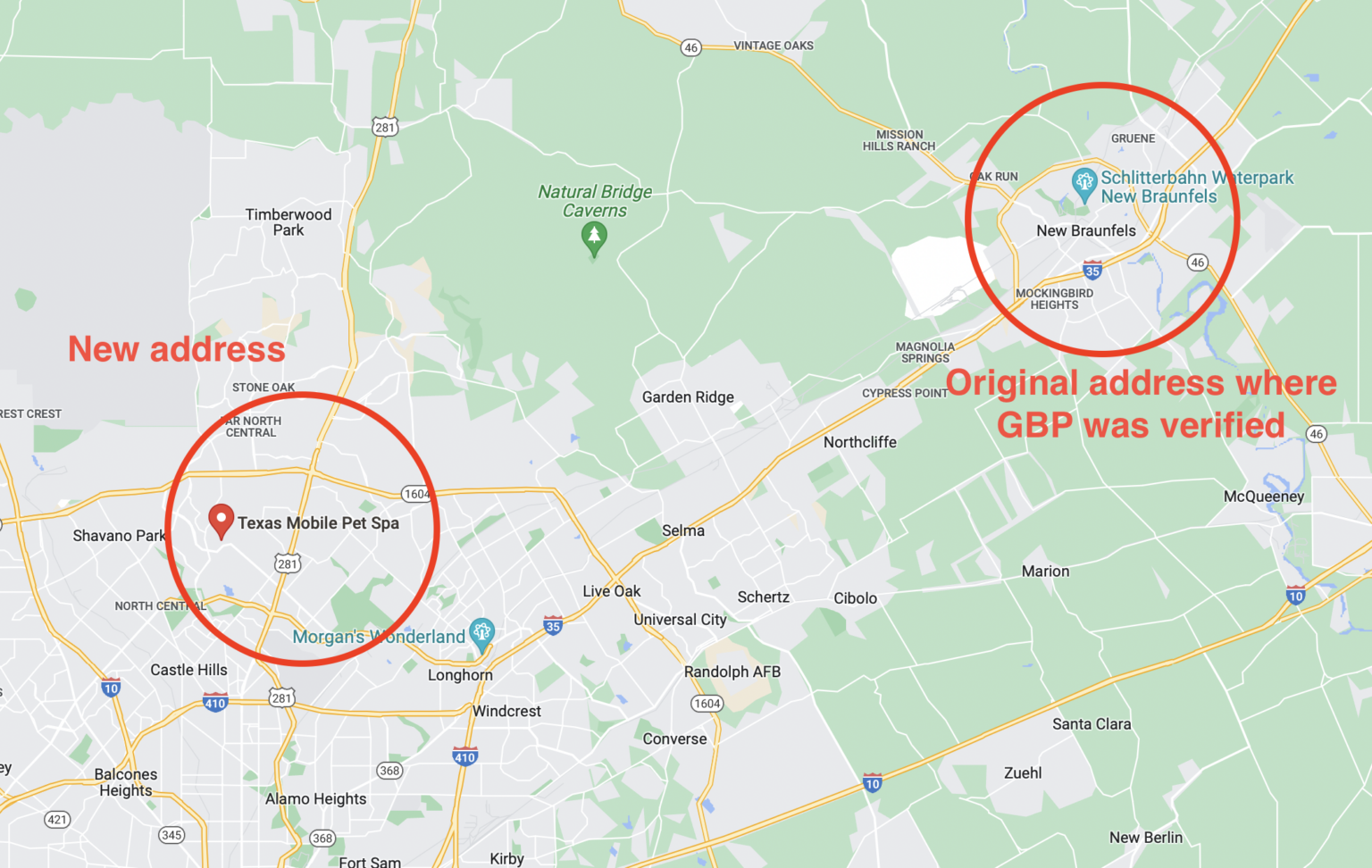 Our take:
A huge problem is that SABs, not wanting to be penalized, will choose to show their address – leading to a spate of suspensions.
Google has long promised to improve SAB ranking equity but has not. The service area feature, which might have been a solution, is strictly performative.
The Kansas bug and other SAB ranking issues suggest there's a back-end issue with how Google handles address information, which somehow reduces the relevance of the listing on the front end, reducing visibility.
Political Google Review Spam
Oh joy, campaign season is here and political polarization is quickly making its way onto politicians' Google Business Profiles (e.g., Congressional office locations) in the form of spam reviews. As one Google Business Profile forum poster recently noted: "There is zero value in people leaving reviews for politicians, especially with today's climate. These reviews are off-topic, rants and insults. They do nothing but allow people to be mean and vent or support the political figure." The individual provides links to the Google profiles of Adam Schiff, Jim Jordon and Marjorie Taylor Greene bestie Lauren Boebert. Dueling reviews on each profile alternate between personal attacks and obsequious praise, often reflected in a split of five star and one star reviews. This is now probably happening on the profiles of nearly every high-visibility politician in the US.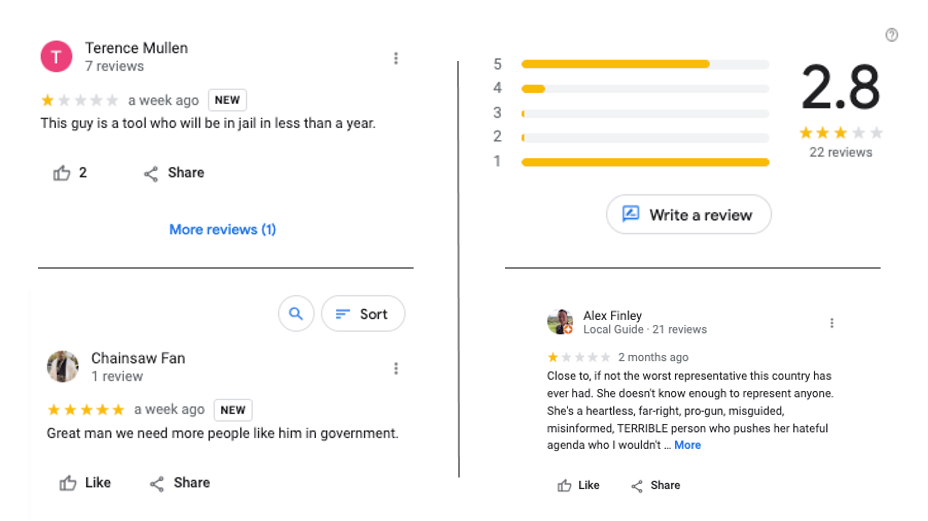 Our take:
Recent Analysis
Short Takes
Listen to our latest podcast.

How can we make this better? Email us with suggestions and recommendations.