BingGPT: Will People Care?
The BingGPT vs. Google Bard story is everywhere. I understand why; it's the first really exciting thing to happen in search for a long time and it fires our collective imaginations. AI integration also represents the beginning of a fundamental change in what search is and will become. Because of ChatGPT's immense popularity, Microsoft's thoughtful integration of AI into Bing and Google's weak Bard introduction, people now assume that Microsoft is in a much stronger competitive position. This is how the market reacted: investors dumped Google, causing a $100 billion drop in its market cap. More than any true assessment, it represents investor nerves and market volatility. But what we don't yet know is how "ordinary users" will react. Popular YouTuber Marques Brownlee tried to answer that question, with a Twitter poll asking: Which would you rather use, today's Google or Bing + ChatGPT? Though non-scientific, the poll had more than 300K responses on February 7. Google Won.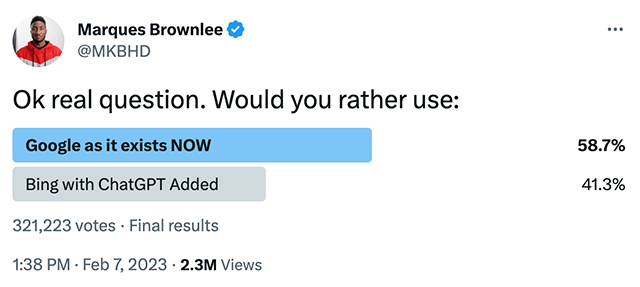 Our take:
We shouldn't assume that all people will see search + chat as compelling. Yet most people haven't experienced it.  
As we said previously, Microsoft doesn't need to overtake Google to win. Even a few points of Bing growth will be very significant.
Though not representative of the population, the poll suggests Microsoft is likely to see converts: compare the above to Bing's current share.
Google OKs AI Content (with Disclosures)
There had been some ambiguity around Google's position on AI content. Previously, its guidelines warned against automated content creation. However, recognizing the inevitability of AI-content, Google is clarifying that AI is OK, what matters is quality and publisher intent. Up against growing criticism of search quality, Google has more aggressively been pushing for higher quality content with its spam updates, Helpful Content Update and new E-E-A-T guidelines. The company now says it's less about content-creation methodology than why the content is being created – is it for people or to rank? Google wants "original, high-quality, people-first content demonstrating qualities E-E-A-T." Google also strongly suggests, though doesn't say explicitly, that AI-generated content should carry disclosures accordingly. SEO Lily Ray offers good advice on using AI for SEO; our recent podcast also discusses AI and local SEO.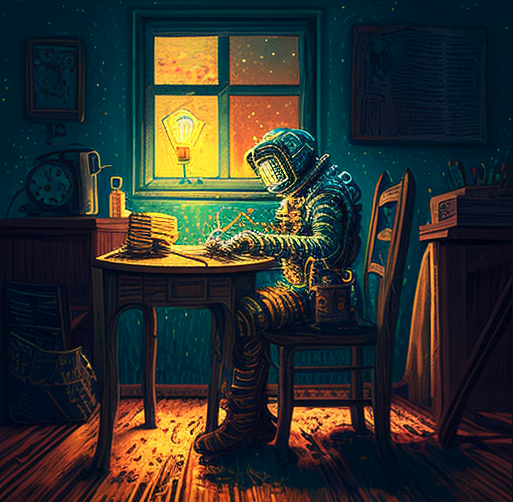 Our take:
There have been several embarrassing errors and inaccuracies in AI-generated content, by CNET and most recently Men's Journal.
Publishers don't want bylines to say "AI" because that would diminish content credibility, hence ambiguous "staff" and "editors" bylines.
Nobody will stop creating content for ranking purposes. And a flood of AI-generated copy is coming. The answer is careful human oversight.
Google Maps AI, AR Revolution
Overshadowed by the Bard vs. BingGPT intrigue were Google's AI and AR mapping upgrades that went live on Wednesday. They were previously announced at Google's I/O developer conference but rolled out in several cities. During the Paris event, Google again showcased Maps' "Immersive View" and AR "Live View" with GBP information: local visual search using the camera. These features are not universally available, and we'll have to see whether and how people interact with them, but they're pretty compelling. AR for local, indoor navigation, indoor photography and video tours date back more than a decade. But they were often limited, glitchy or awkward. Google is the only company to put all this together. Users can now descend from a 360 aerial view of a building, to an AR-enhanced neighborhood overview to an indoor restaurant tour. It's impressive stuff that was promised by the tech industry years ago. Google has now delivered.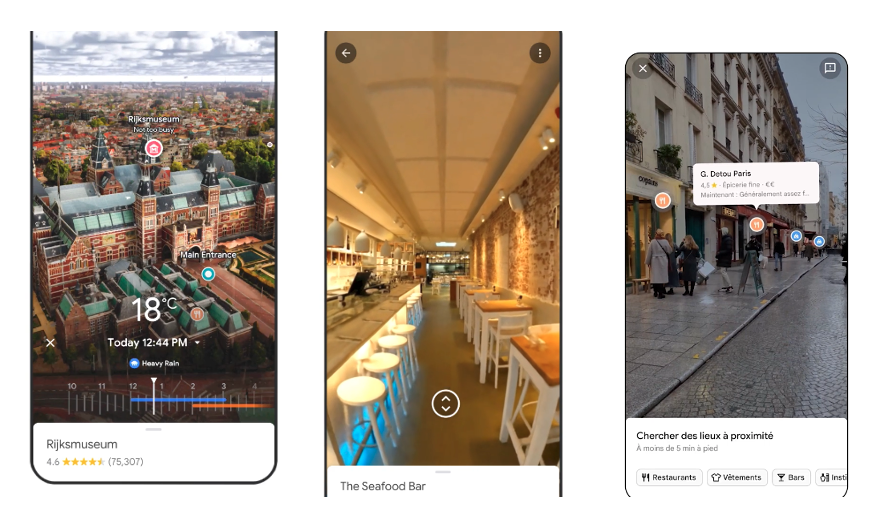 Our take:
One could argue that Google Maps is now a stronger product than Google search.
It's where the full range of Google's massive local dataset, computer vision and AI capabilities are now on full display.  
The GBP AR and interior photography may also help stem some of the Gen Z defections to TikTok and Instagram for local search.
Recent Analysis
Short Takes
This newsletter content is 100% human-generated.
Listen to our latest podcast.

How can we make this better? Email us with suggestions and recommendations.