Google Teases Bard
This Wednesday in Paris, Google will preview its answer to ChatGPT (Bard) at an event entitled "Search, Maps and Beyond." In many ways this has been forced on Google by competitors and the rapid adoption of ChatGPT. Playing defense, Google appears to have adopted a Neeva-style AI-search integration, which turns the AI result into a giant snippet – but without Neeva's source citations. Based on LaMDA and other AI tech, Google promises a SERP that combines the best of AI and the web. Bard is currently available to "trusted users" and will open up more generally in a few weeks. Bard potentially exacerbates Google's zero-click problem, which is arguably a form of "self-preferencing." Yet people like the directness and simplicity of AI responses: "answers not links." There are other potential AI-SERPs that could be significantly different from what Neeva and Google are now showing (Perplexity.ai points toward that). And Bing's forthcoming GPT-4 integration could also yield a very different-looking SERP. (LocalSEO Guide offers a provocative take on what "AI for Local" might look like on Google.)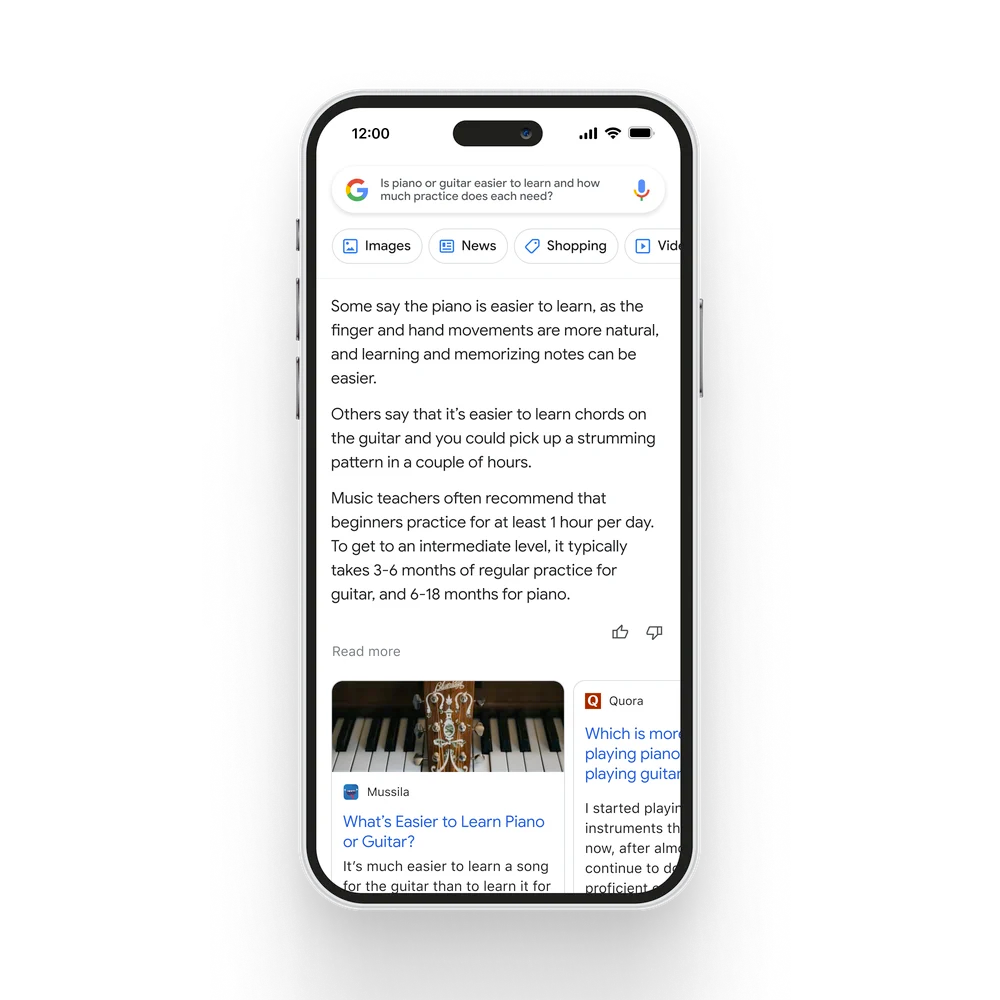 Our take:
AI Chat integration into the SERP will likely impact SEO.
We don't think Google's consumer share will be "disrupted in two years," as some have argued. But a different-looking SERP could impact ads.
The advent of ChatGPT has injected new energy and innovation into a search market that was mostly stagnant.
Yelp Review Moderation on Facebook  
Yelp said that last year 21 million new reviews were added to the site, representing growth of 3% YoY (54% of total reviews on the site are four-stars or above). By comparison, Google said it blocked or removed more than 95 million reviews in 2021 alone. However, Yelp's review moderation appears to reach beyond its own borders. In the company's recently released Trust & Safety Report, Yelp says it routinely informs other sites (e.g., Facebook, Twitter) about "groups, posts or individuals participating in online review exchanges." Yelp says those third-party platforms "took action ... on approximately 77% of our reports." (Google isn't on the list.) Facebook and Instagram did so about 86% of the time. The most common reasons Yelp cited for removing reviews were: 1) no direct experience of the business, 2) owner/employee/competitor generated, 3) threats, hate speech. Spam in the review was another major factor.  Roughly 75% of contributed reviews survive moderation, Yelp says.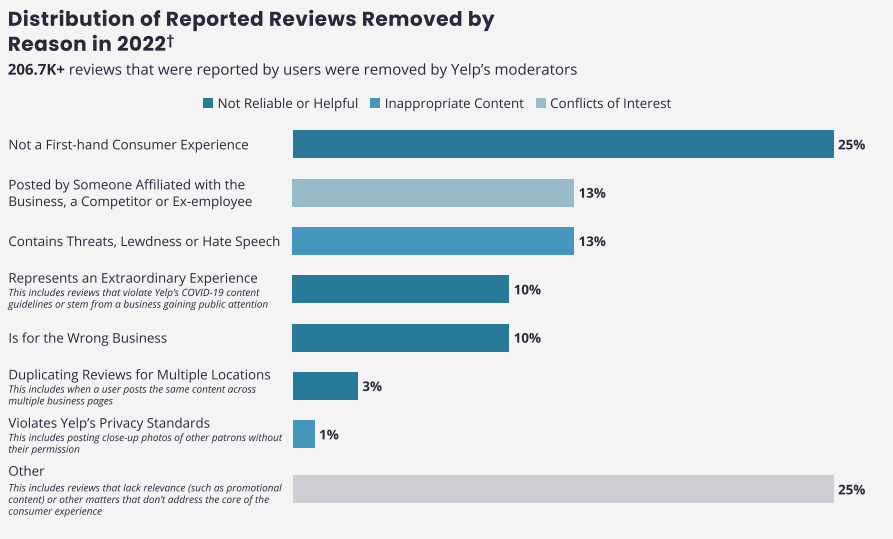 Our take:
The report is a mix of data and PR, seeking to present Yelp as the most vigilant of the local review platforms. It's effective in that regard.  
In the 2021 Uberall-Transparency Company review fraud report, roughly 11% of Google's reviews were suspicious vs. 7% of Yelp's.
Review integrity and trust are competitive advantages. It's surprising Yelp hasn't tried to market review credibility vs. Google and others.
De-Influencers: Rise of the Haters
TikTok's parent Byte Dance generated roughly $29B in ad revenue globally last year, according to estimates, with TikTok contributing roughly $10B. As TikTok's audience grows and, as more spend migrates (paid and organic), it becomes an increasingly important platform for awareness and (local) commerce. This is especially true for younger audiences and those trying to reach them. You've read/heard about the impact of going viral on the app, now come the de-influencers (WSJ). These are users debunking popular products and their claims. Those on the receiving end of their ire would call them "haters." Often these individuals are motivated out of an ethical desire to steer people away from products that don't deliver. While it's unlikely that TikTok will ever use its already infamous "heating button" to artificially boost de-influencer videos, user engagement could amplify them and cause havoc for brands and businesses.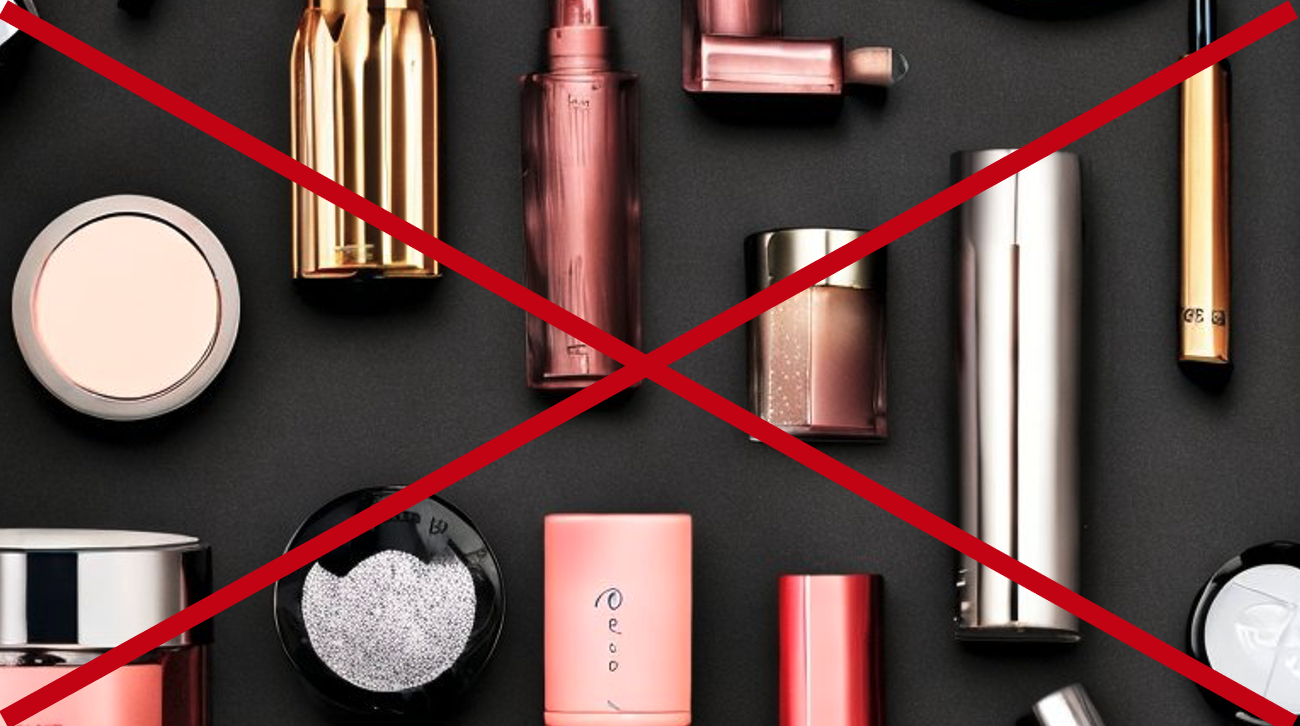 Our take:
It's not clear how big or long-lasting this trend will be. And in one sense it's not very different from past social media brand snafus.
A de-influencer viral video could cause significant reputational harm. The best defense is ethics, product integrity and good customer service.
This could be especially devastating to a local business, much more than a negative text review. (Will "fake reviews" find their way to TikTok?)
Recent Analysis
Short Takes
As always, this newsletter was created and written by humans.
Listen to our latest podcast.

How can we make this better? Email us with suggestions and recommendations.