Facebook's Q4 'Wipeout': Dip or Beginning of the End?
This week Meta reported disappointing earnings (though revenue was strong) and weak Q1 guidance. This took investors by surprise, given the earlier performance of Apple, Google and Microsoft. It partly blamed Apple for the miss. The company said it would see $10 billion less (best guess) in 2022 ad revenue because of App Tracking Transparency. (Facebook's 2021 ad revenue was roughly $115 billion.) Nervous investors dumped the stock sending it down ~25%. That translated into a $200 billion-plus "wipeout," the largest market value collapse in history. Facebook also lost a million daily active users for the first time, though it added users outside North America. And it reported that Reality Labs, its metaverse unit, lost $10.2 billion. Lots of schadenfreude on Twitter with people gloating the company got what it deserved. The question now: is this merely a blip/dip (buying opportunity) or "the beginning of the end?"
Our take:
While some hope it's "the beginning of the end," Instagram and WhatsApp remain strong, so does FB in developing countries (e.g., India).
Less clear: whether the company's metaverse vision can be realized. Lack of user trust and heavy competition suggest choppy sailing ahead.
Search is a more durable ad model than display/behavioral targeting in this new privacy era (i.e., Google vs. Facebook results).
Review Moderation Theater: Google vs. Yelp
On the heels of the FTC's flurry of activity surrounding review gating and negative review suppression, Google and Yelp published posts designed to instill confidence in their review moderation and spam-fighting methodologies. Yelp's Trust & Safety Report said it received nearly 20 million reviews in 2021; 22% were filtered and another 6% were removed for policy violations. For its part, Google discussed machine learning in review moderation. Google previously said it removed 55 million policy-violating reviews in 2021. As we discuss in this week's Near Memo (episode 50) Yelp's approach is flawed and penalizes many legitimate positive reviews, while Google is mostly engaged in a cynical PR exercise, responding to the FTC's would-be crackdown. The Uberall-Transparency Company investigation of four million reviews last year found, 10.7% of US Google reviews were likely fake, while it was 7.1% on Yelp.
Our take:
Google clearly has the resources to improve review spam fighting, but its efforts to date (despite claims to the contrary) have been tepid and uneven.
Yelp's approach is overbroad. The imprecise review filter likely exacerbates the problem Yelp is trying to address: review solicitation.
Trust in online brands is declining. That includes reviews. The platforms don't yet recognize this as the existential crisis that it is.
Amazon's Ad Business: $31 Billion in 2021
Amazon announced Q4 and full-year earnings yesterday. It beat analyst expectations (earnings, not revenue), driven in part by ~$12B in gains from the company's Rivian Automotive investment. Amazon net income in Q4 was $14.3 billion. Net sales for 2021 were up 22% to nearly $470 billion. But perhaps more noteworthy: Amazon disclosed the value of its ad business for the first time. The company made $9.7 billion in ad revenue in Q4 and $31.2 billion in 2021. As GeekWire points out, "Amazon's advertising arm is eight times as large as Snapchat's entire business, and nearly seven times as large as Twitter." In addition, as part of its Q4 earnings release, Amazon said it's raising the price of Prime from $119 to $139 per year. While some users may defect, the increase is unlikely to drive large numbers of subscribers away (survey pdf).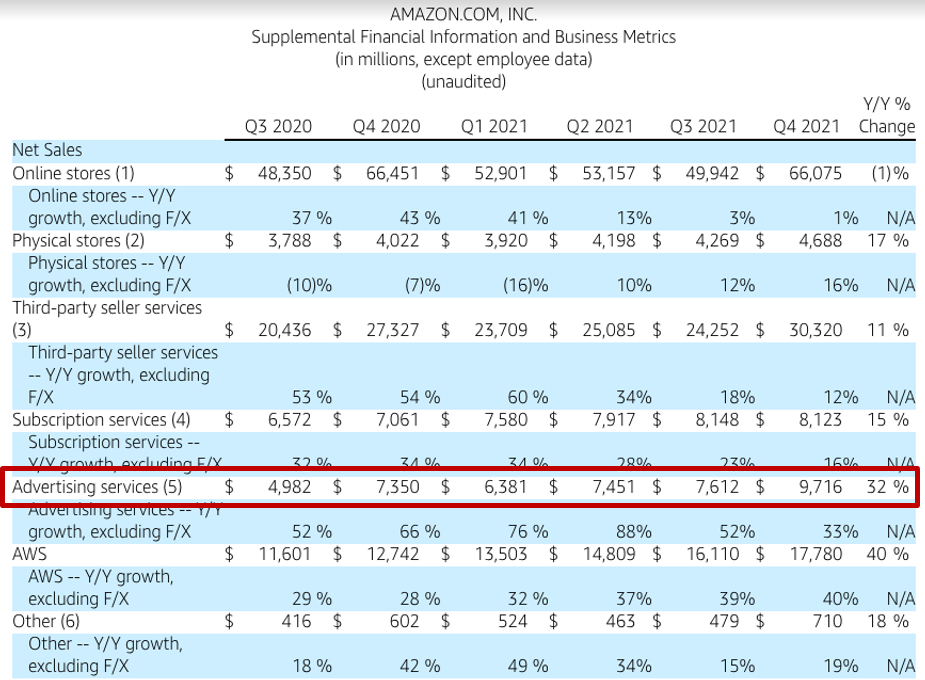 Our take:
By comparison to Amazon's $31 billion, Google's 2021 ad revenue was just over $200 billion. Facebook's was roughly $115 billion.
Amazon's ad revenue will continue to grow, perhaps more at the expense of Google than Facebook. But growth is decelerating somewhat.
Prime subscribers spend 2X - 4X vs. non-subscribers. There's probably a limit to the price hikes, which we haven't hit yet.
Recent Analysis
Short Takes
Listen to our latest podcast.

How can we make this better? Email us with suggestions and recommendations.