Holiday Spending Grows, E-commerce 21%
Despite a resurgent pandemic, US consumers still shopped a lot in the run up to Xmas. According to data from MasterCard, total holiday retail spending grew 8.5% year-over-year, while e-commerce notched 11.0% growth. In-store shopping grew 8.1% and might have gone higher but for Omicron. Compared with the same period in 2019, online shopping was up 61.4%. Overall, e-commerce captured 21% of total retail spending during the period from November 1 - December 24, 2021. And total US retail holiday spending was up nearly 11% compared to 2019.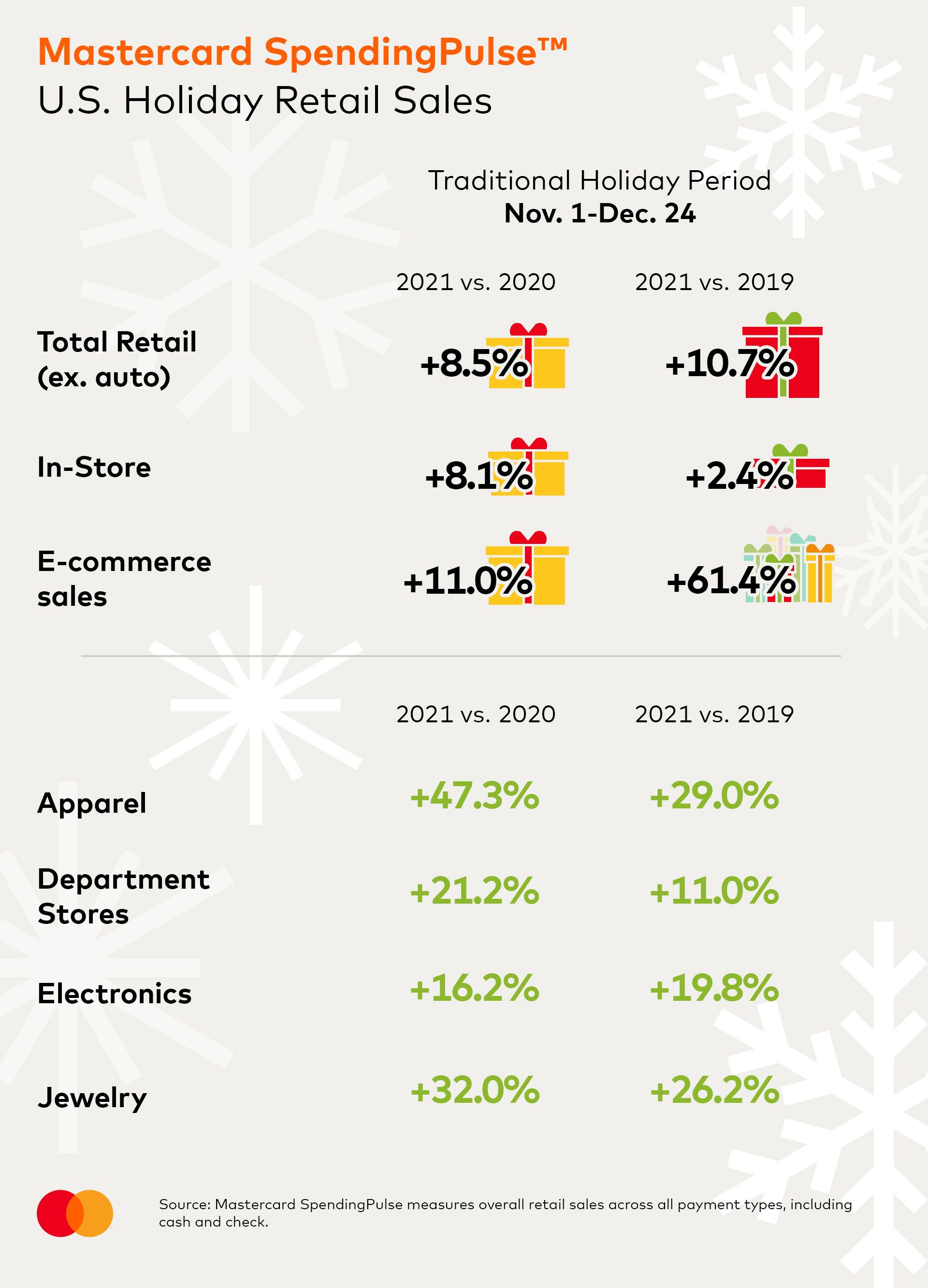 Our take:
Stores remain strategic but nearly all shoppers are now hybrid consumers, equally willing to shop online or off.
The future of offline retail is increasingly showrooming, with stores providing multiple forms of support to e-commerce.
Separately, Walmart captured 25% of all click-and-collect orders in 2021 – the most of any single retailer.  
H&M Enters the Metaverse
At one time Google Earth and Microsoft Virtual Earth (pre Bing Maps) toyed with the idea that they could become 3D platforms for all kinds of integrated activities including real-estate search, virtual billboards and online shopping. This was roughly 16 years ago. It foreshadowed the metaverse; so did Second Life but that's another discussion. Indeed, Niantic Labs CEO John Hanke, who ran Google Maps/Earth moved on to develop AR games Ingress, Pokemon Go and now an AR platform. The notion that consumers would browse virtual stores in a virtual 3D environment was intriguing but far-fetched 16 years ago. However, retailer H&M has now opened a "concept VR store" on streaming and VR platform Ceek. At first consumers will only be able to purchase digital goods but later they will be able to buy actual clothes for home delivery.
Our take:
Virtual 3D shopping should be viable but will depend on mainstream VR adoption by consumers. This is still a "big if."
Facebook's Oculus app was the most popular iOS download on Xmas, suggesting some VR momentum but that could fade quickly.
A big question is what shape "the metaverse" will take: interoperable open system, fragmented apps or dominated by two or three companies.  
Americans: Tech Companies Spying on Us
Another survey finds Americans (mostly) don't trust the tech companies they rely upon every day. A recent poll by The Washington Post in November (n=1,122) asked about trust, use of personal data and online advertising. Amazon was the most trusted company: 53% trusted it "a great deal" or "a good amount." That was the only company with more than a 50% score. Facebook (72%), TikTok (63%) and Instagram (60%) were the least trusted companies on the list. Apple, Google and Microsoft were in the middle. Almost three-fourths (72%) believe their phones and other connected devices "listen to them" without consent. Strictly speaking, "listening" is not happening. But the larger point about being monitored is. Finally, only 27% percent said that targeted ads are helpful; 82% found them annoying and 74% found them invasive.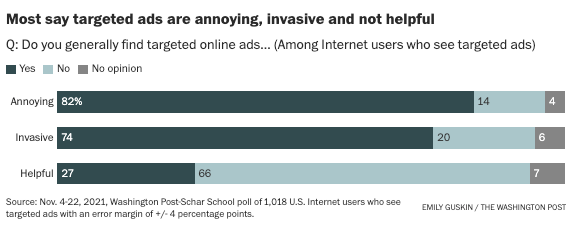 Our take:
The findings about ads (not the first like this) dispel the myth that Americans really value and want "personalized advertising."
With few exceptions people are now dependent on companies and products that they fundamentally don't trust.
Witness TikTok, the most popular 2021 domain globally, but the second least trusted company, after Facebook.
Recent Analysis
Short Takes
Listen to our latest podcast.

How can we make this better? Email us with suggestions and recommendations.