Product Search Shifting
Driven by Prime loyalty, Amazon has been the dominant product search site for most consumers, followed by Google. While that remains true, there's some interesting movement according to a new survey of 1,000 US adults from Jungle Scout. The survey found that Amazon and Google were down 4% and 7% respectively as product search starting points, compared with a year ago. At the same time, social media sites – YouTube, Facebook, Instagram, TikTok – grew a collective 14%, with TikTok showing the single largest gain (6%). Pinterest was flat. What's also interesting (and counterintuitive) is that men use social media for product search more often than women. Men were more likely to use social sites by at least 10 points in every case, with the exception of Pinterest where usage was nearly even by gender. The social sites where people were most likely to buy products directly are Facebook and YouTube.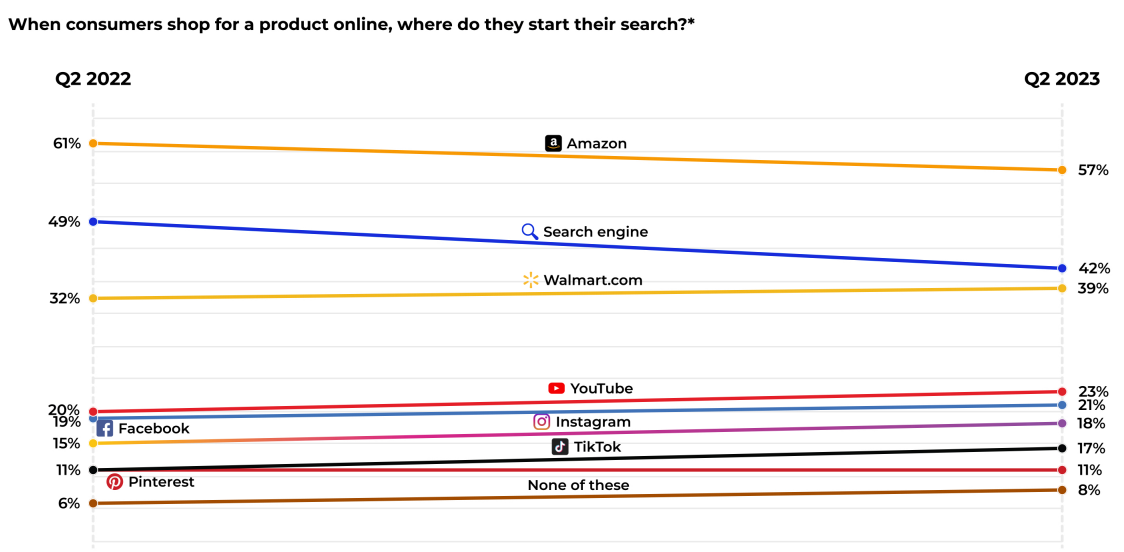 Our take:
There's no report hypothesis for why Amazon and Google slipped. TikTok's increasing popularity and visibility is a partial explanation.
Another survey found only 29% said Prime Day met their expectations. And 29% might not renew Prime memberships. This may reflect increasing dissatisfaction. Also trust is declining for Amazon reviews.
Google has invested enormously in product search and Shopping Ads as a way to claw back share from Amazon. It may not be working.
AI Leaderboard: ChatGPT 4 Ahead
ChatGPT is the most well-known consumer-facing AI platform. Coming in at number two and three (nearly a tie) are Google's Bard and BingGPT, according to recent research. But there are now 10 or more AI search tools. Soon there may be more as developers build on top of Meta's new free platform Llama 2. That's a problem for lesser known entrants; too much choice will reinforce existing behaviors (read: Google). But which of these platforms/tools performs best? In lieu of a rigorous side-by-side test on hundreds of queries, browser extension Chat Hub (Chrome, Edge) offers a direct comparison of up to four bots. Poe also allows access to multiple bots in one place but no side-by-side capability. Now comes this comparison of the top AI tools using Elo ratings, a competitive chess player ranking system. Google's PaLM 2 is represented in the chart below but Bard is not. ChatGPT4 is the leader, followed by Claude. PaLM 2 is in the middle of the pack.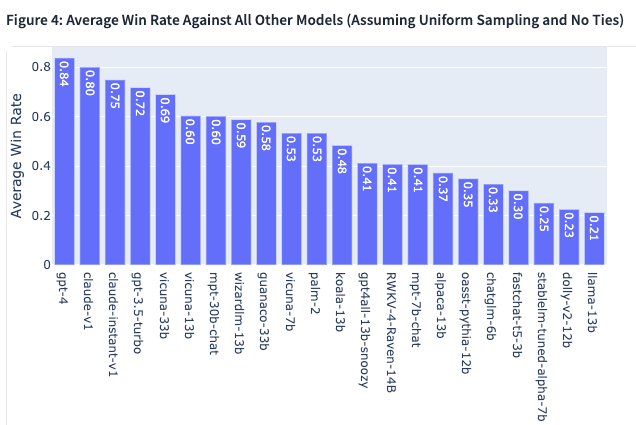 Our take:
It's not clear how reliable the underlying methodology is, but it appears to be the first such head-to-head comparison of this many sites.
B2B integration and adoption of AI tools is accelerating. However, the B2C outlook for "horizontal AI" as a Google alternative is now less clear.
Most people so far are not substituting ChatGPT, BingGPT or Bard for Google – and they may not.
Collapse of the Funnel
Most brand marketers focus on customer acquisition as a primary objective, which seems rational and obvious. But they typically see acquisition as the end of a process rather than the beginning. The dominant notion of "the funnel" is some version of: awareness, consideration, action/transaction. And while many marketers discuss post-transaction engagement (reviews, service, loyalty), there's less attention generally paid to those experiences. Service is still often seen as a "cost center" and not about brand building. However, a new report from Edelman, based on a multi-country survey, upends much of that traditional thinking. The report provides a more expansive and nuanced view of how consumers, especially Gen Z, think about brands. How the brand conducts itself in the world and what happens post-purchase are critical factors in engagement, loyalty and advocacy. The brand relationship is more than just the product experience; it's more holistic. Edelman found major consumer research often happens after the transaction, rather than before. And brand trust is a critical factor in loyalty, advocacy and growth – very different than the performance marketing mindset.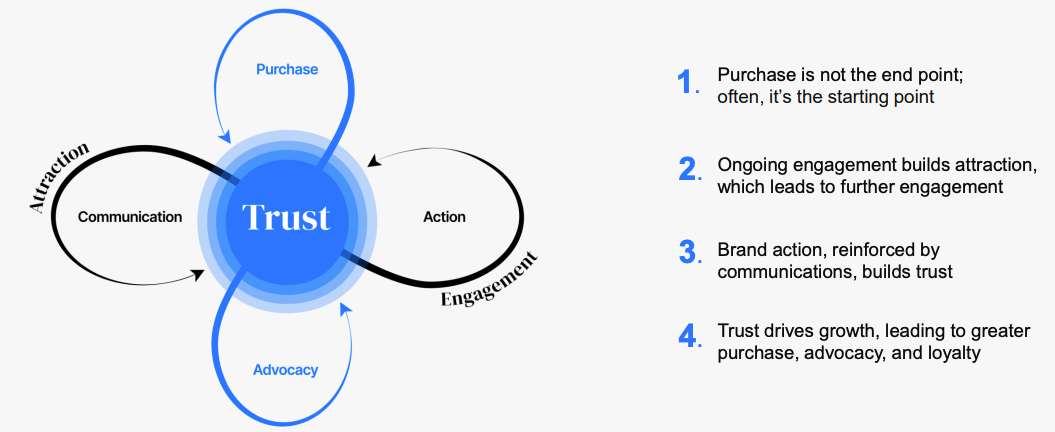 Our take:
Most (78%) survey respondents agreed with: "I uncover things that attract me and make me loyal to a brand after my first purchase" and 50% did most of their brand research after their purchase.
Brand trust is a largely a post-purchase development with multiple facets. Once trusted, loyalty and advocacy follow.
Marketers think about brand marketing as "top of the funnel." They need to think much more expansively about it – even beyond direct CX.
Recent Analysis
ICYMI: Missing Google Reviews: A Step-by-Step Recovery Guide by Mike Blumenthal.
Short Takes
Listen to our latest podcast.

How can we make this better? Email us with suggestions and recommendations.