Will You Use You.com?
On the heels of Neeva, another search engine has launched: You.com. It appeared in public beta on Tuesday together with $20 million in funding from VCs and Salesforce CEO Marc Benioff. There are a few selling points: a different UI, privacy, no ads (for now) and customization features, which require you to sign up. Results are pulled together from multiple sources. Yelp, Tripadvisor and Reddit are prominent local information sources – as is Google. You.com's maps and "places" data come from Google. You can also run your query on Google with a click. The UI segregates results by source, although multiple sources are contained in "web results." There's an emphasis on horizontal scrolling, equivalent to the Google carousel experience. In general, it's much more scannable than Google's general organic results. Neeva's UI is similar to Google's, by comparison.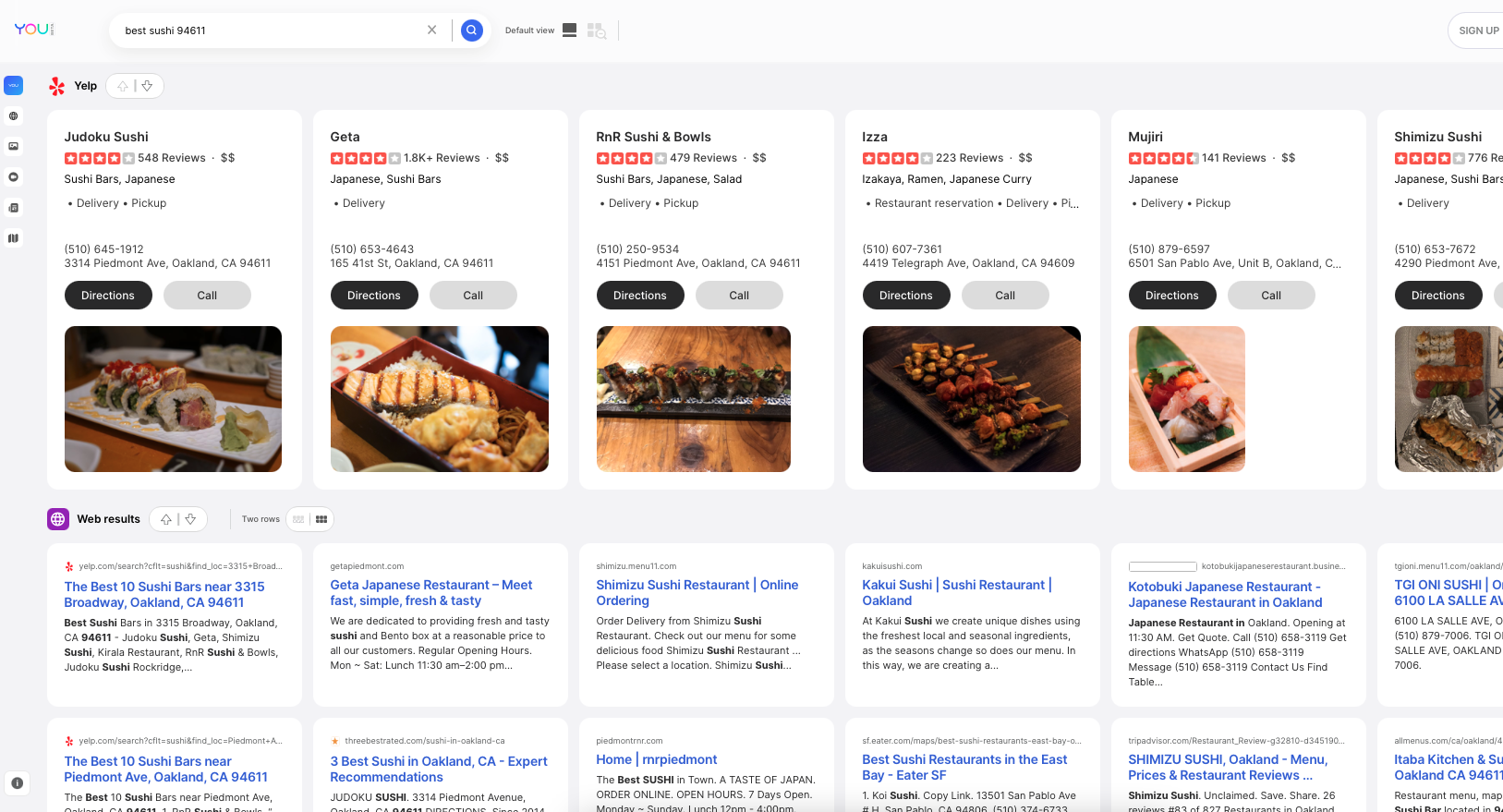 Our take:
There are several interesting things about You.com. Among them, the company is experimenting SERP design. (You might not like but at least it's different.)
Any search engine that too closely resembles Google is doomed to fail. It will simply be seen as an imitator. Differentiation is tough, privacy is not enough.
The market and investors are opening up to Google alternatives (a little). That didn't exist a couple of years ago. Part of it has to do with antitrust momentum.
Yelp's New Instagram-Inspired Feed  
Yelp has introduced a new scrollable homepage feed featuring local restaurants. It's not live for me yet, but you can see what it looks like in the .gif below. It's currently available on iOS devices in "150 metros across more than 25 U.S. states." The feed features Popular Dishes, images from consumers, "and updates directly from restaurants." Yelp says the feed is contextualized, based on user proximity to a business, content recency and reviews. Clicking on an image will take users to the restaurant's profile. Yelp Connect subscribers will see added benefits: "their posts will gain greater visibility than ever before as users will now easily discover these Connect posts right on their home feed." There's also an Instagram-like heart icon that will report likes back to the restaurant.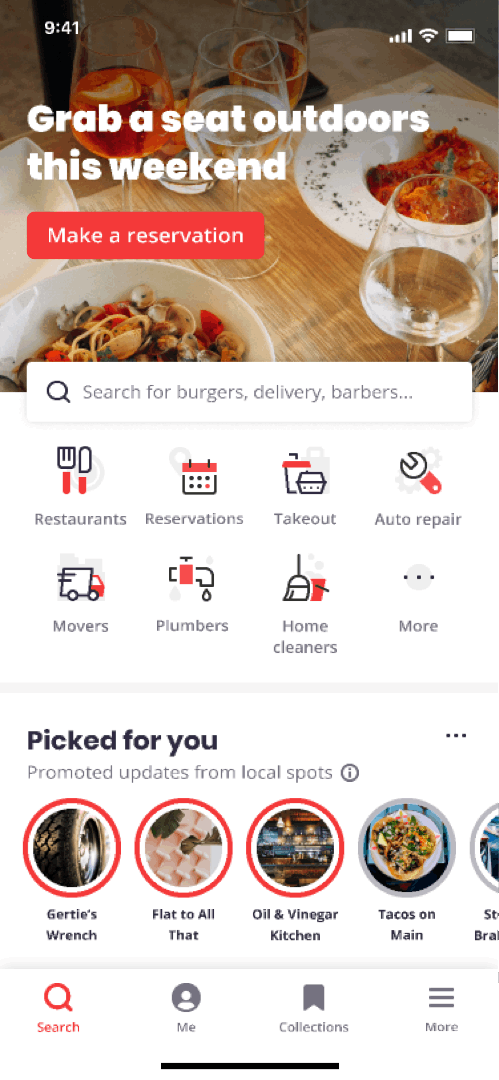 Our take:
This is a good move for Yelp that is likely to boost user frequency and engagement, and benefit local restaurants accordingly.  
Buying into Yelp Connect appears to be the only way to influence the feed from a marketing point of view. No word on ads in the feed.
Yelp says testing of the new home page experience increased engagement "with businesses' Connect posts by as much as 30%."
Implications of Google's EU Court Loss
The EU's General Court in Luxembourg has upheld (.pdf) antitrust regulators' nearly $3 billion fine from 2017, involving Google Shopping search. It's a major victory for the European Commission (EC) and a corresponding loss for Google. Google still has an appeal to Europe's highest court, which it will likely take. The main issue in the case was whether Google should be permitted to "favor its own content" in search results "at the expense" of third parties and competitors. The court agreed with regulators that Google had abused its market position by serving its own Shopping Ads (at the time) at the top of the SERP. Since 2017, Google has worked with the EC to implement a fix while appealing the fine. The new ruling is significant, even if Google appeals.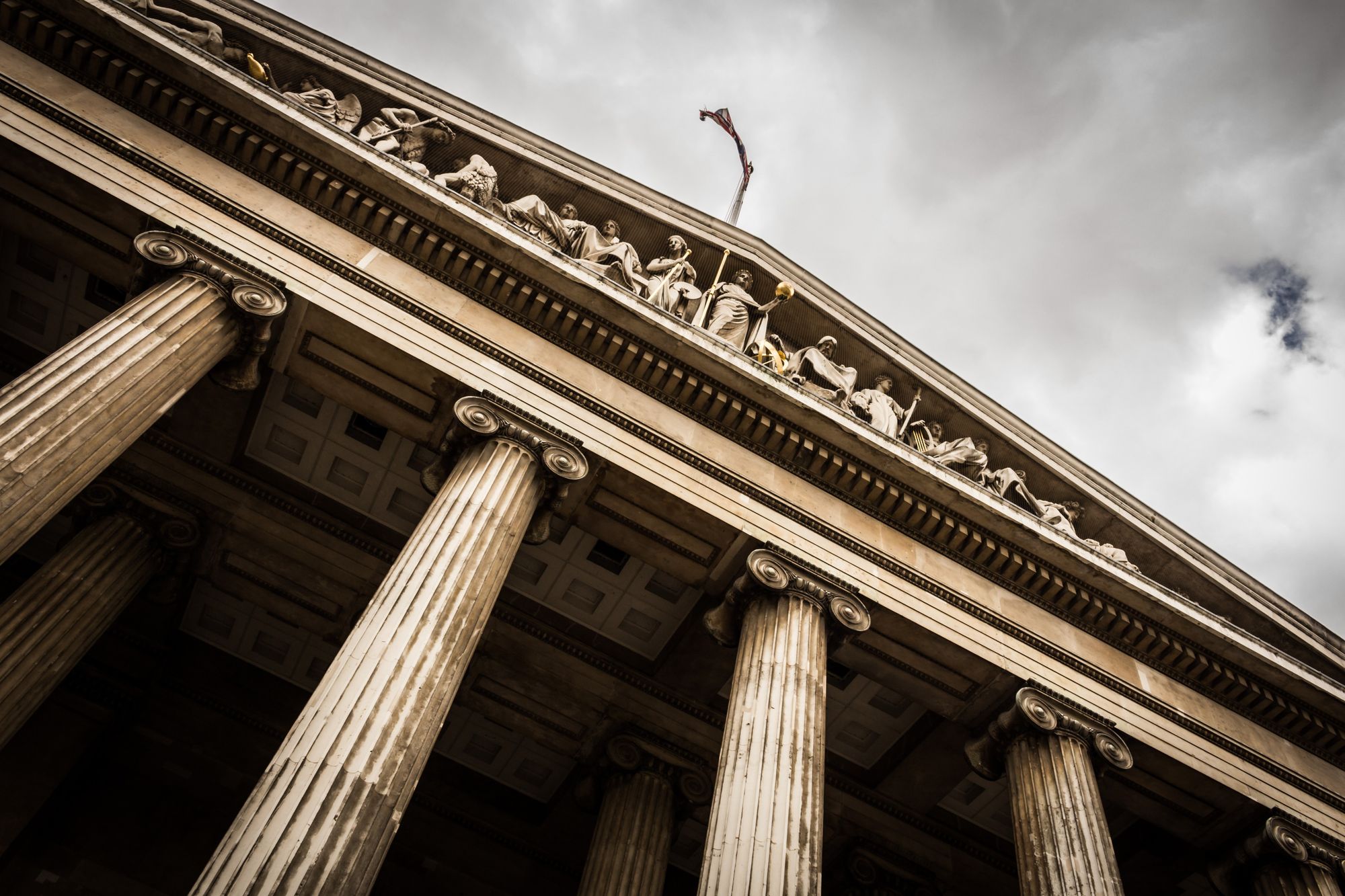 Our take:
The court's decision emboldens EU competition chief Vestager and her team to go after Google even more aggressively on more fronts.
Shopping is just one of several vertical categories that could be impacted (e.g., local, travel), and might require a reworking of SERPs.
US lawmakers may see this as a template for themselves. Regardless, there are now multiple attacks on Google's control over the SERP.  
Recent Analysis
Short Takes
Listen to our latest podcast.

How can we make this better? Email us with suggestions and recommendations.