Search Movement Afoot
There's some evidence that Bing has grown usage modestly since the introduction of BingGPT. However its share vs. Google appears largely unchanged according to other data. I posted an identical survey on Twitter and LinkedIn, asking people whether they were starting to use alternatives to Google. The combined number of respondents was 345, as of today. Most of these people are "industry insiders" and not reflective of the population as a whole. I also don't have previous data to compare. Nonetheless, 32% said they were using other sites along with Google (24%) or had entirely "moved on" from Google (8%). One commenter on LinkedIn remarked, "I have been using Perplexity.ai for about two months. It is brilliant. I estimate my usage of Google is down 80%." This survey was prompted by my own shifting behavior, which favors Google but now includes BingGPT, Perplexity, Neeva, DuckDuckGo and TikTok. So while Google remains the default search engine of choice – if we were asking "regular people" Google's number would probably be even higher – there does appear to be some movement afoot.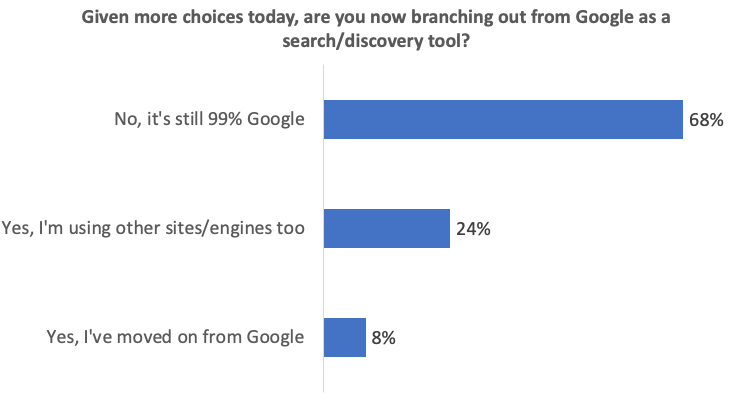 Our take:
The search market was stagnant for years; now it feels as though there's more choice than even in the recent past.
ChatGPT has contributed to the sense that Google's results aren't always superior, though dissatisfaction has existed for some time.
The rise of ChatGPT and AI may ultimately help Google defend against current antitrust cases pending in various jurisdictions.
Going Viral Won't (Really) Help SEO
One would intuitively think that "going viral" and the corresponding backlink bonanza would dramatically boost SEO – apparently not. That's the conclusion of Ahrefs' Patrick Stox, who performed a keyword and traffic analysis of a number of high-profile "viral" success stories. Despite the increased visibility and enhanced link profiles, ranking for non-branded terms was not significantly improved. The highlighted case studies were: Four Seasons Total Landscaping, Gravity Payments (the $70K CEO dude) and Layoffs.fyi. All of these sites received significant media coverage and tons of links accordingly. They ranked for branded traffic, which went mostly to the homepage. But that didn't translate into visibility for category queries. So there was a benefit from the digital PR but it wasn't as significant as might have been expected. Stox says, "Digital PR campaigns are [  ]  fun and interesting. I just question the effectiveness of doing this after looking at dozens of example sites."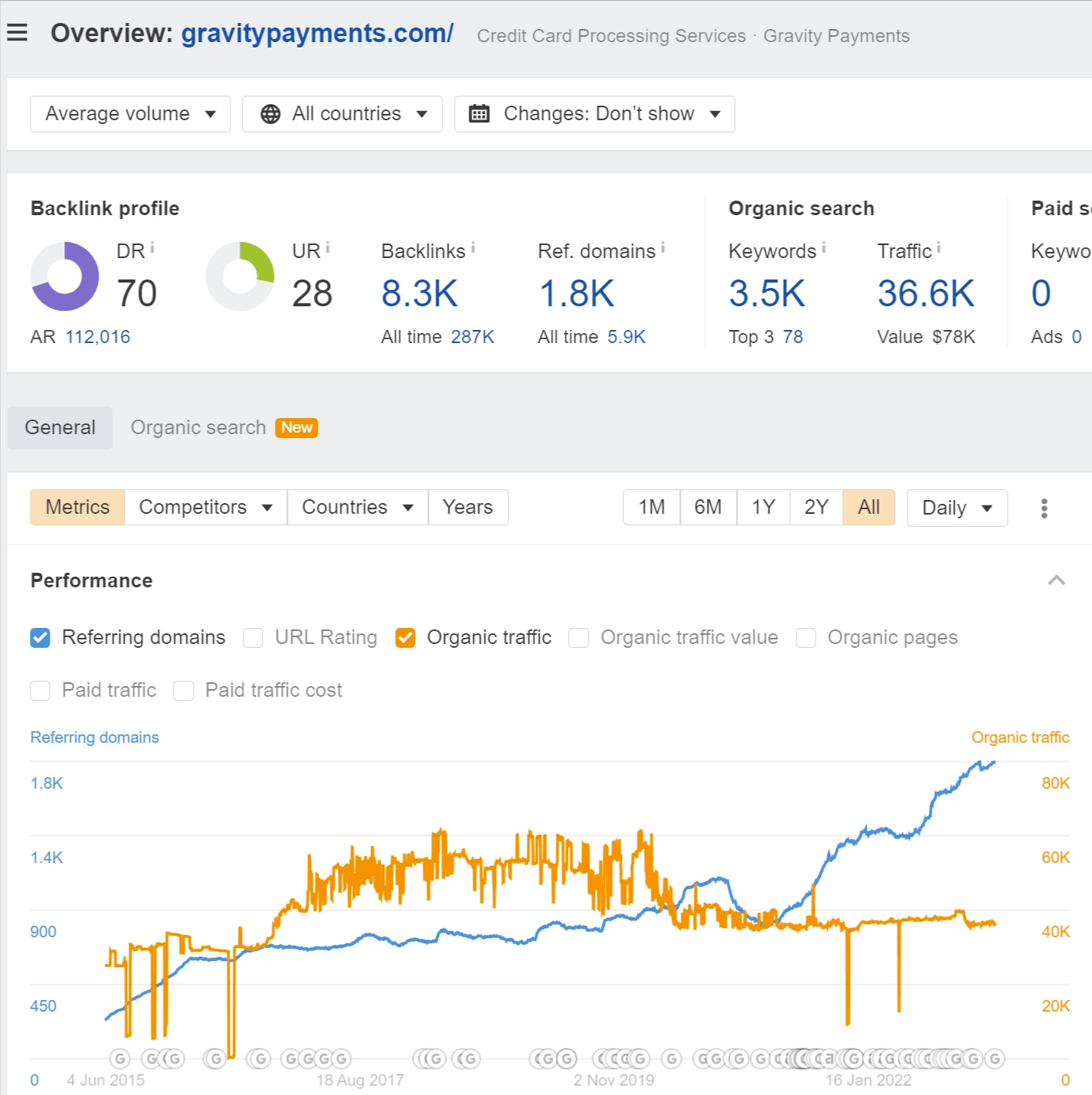 Our take:
Stox argues that traditional local link building is not as sexy as PR and media coverage and so many SEOs want to skip it.
Media coverage can build awareness and generate business. However, Stox observes the Four Seasons coverage only brought in 3 new clients.
Coverage and links in these examples were mostly unrelated to the services offered. So one might also argue it was the wrong kind of traffic.
Amazon May Buy AMC  
Amazon bought Whole Foods and its more than 400 physical stores in 2017 for roughly $14 billion. The move surprised many analysts and rocked the grocery industry. In the nearly six years since, Amazon has learned lots about the grocery business and generated some in-store innovations but hasn't moved the market share needle. Now Amazon is reportedly considering buying the distressed AMC movie exhibition chain of roughly 600 theaters. AMC's current market cap is about $2.1 billion, which is a trivial sum for Amazon. There may be an antitrust issue, given that Amazon acquired MGM and is also a movie studio in its own right. And the potential purchase is counter-intuitive, given the decline of box office receipts and streaming competition, as well as Amazon's recent closure of many of its physical business locations. However, there's speculation that Amazon could use theater locations to promote Amazon Prime movies, cross-sell grocery delivery, for local distribution/returns and to capture data on "200 million moviegoing customers."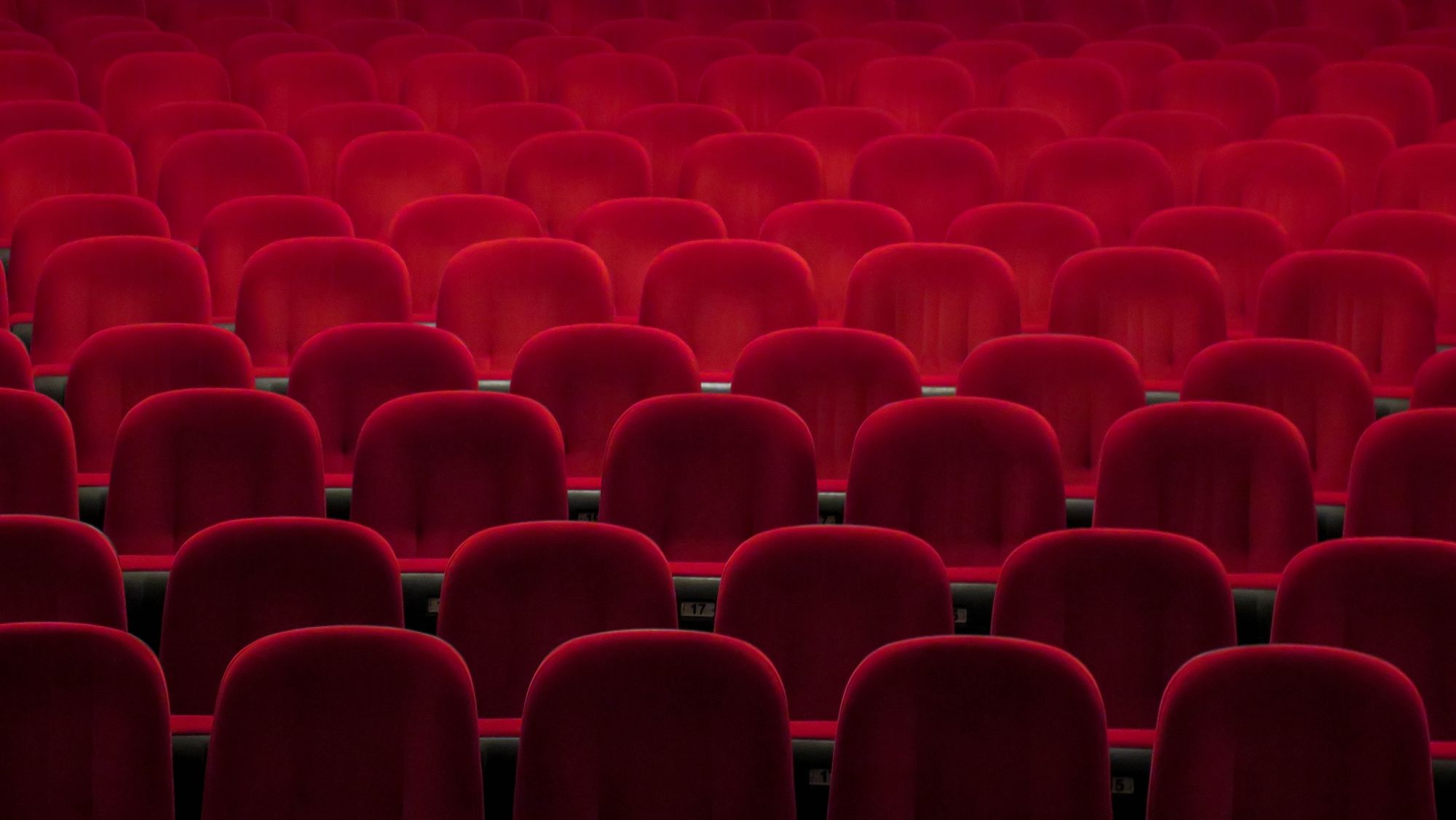 Our take:
The report suggests Bezos is behind this. But he's no longer CEO and would likely butt heads with Andy Jassy's cost-cutting strategy.
It would be good to see the theater chain survive, although it wouldn't happen without location closures.
Amazon could potentially re-invent the theatergoing CX – although it hasn't really done that with Whole Foods.
Recent Analysis
Short Takes
Listen to our latest podcast.

How can we make this better? Email us with suggestions and recommendations.