Yahoo Ready to Climb 'Search Mountain'
Yahoo really is going to reinvest in search. The company has been teasing this on Twitter over the past couple of weeks. In honor of that I created a poll that asked people to weigh-in on Yahoo's chances. It's still in process but after more than 600 votes, a plurality of users (56%) appear mostly positive, while 44% expressed skepticism about Yahoo's search prospects. Reacting to the poll, Yahoo CEO Jim Lazone tweeted, "Greg, I think you and Barry [Schwartz] know - there are always new ways around the mountain. No reason to go straight at it. But we're excited to start exploring again…and will be patient figuring it all out." Lazone is a smart guy with a long history in search, as the CEO of Ask.com. He clearly understands the challenges of competing with Google.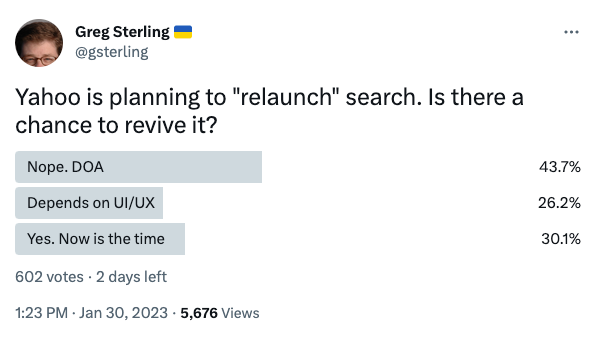 Our take:
Even as Google search is more and more sophisticated (NLU, AI), users appear more open to alternatives than in many years.
TikTok, OpenAI (and others) as well as distrust of reviews/SERP content are creating new search/discovery opportunities and competition.
I've argued for a revival of the Yahoo Directory (or a 2.0 version). That would be tricky to pull off. But people want fewer, more credible answers.
Can AI Save Customer Service?
Drift-like chatbot customer service on websites basically blows, to use the vernacular. Other than basic questions (e.g., hours), these cost-saving alternatives to humans don't really help very much. Next-generation AI chatbots could change all that, if properly trained. There is a meaningful opportunity for companies to reconcile the need to deliver better CX with the desire to reduce human customer service costs (read: phone). Machine learning is already in the background in many chat scenarios, but it can go much further to help answer non-structured questions. In fact, this capability could replace something like Google Q&A. We previously pointed out there's a big AI opportunity to help SMBs deliver better online answers. There's also an opportunity to "reinvigorate" voice assistants with AI chat. Adoption and use of voice assistants, voice search and smart speakers has essentially stalled because their capabilities have not sufficiently advanced.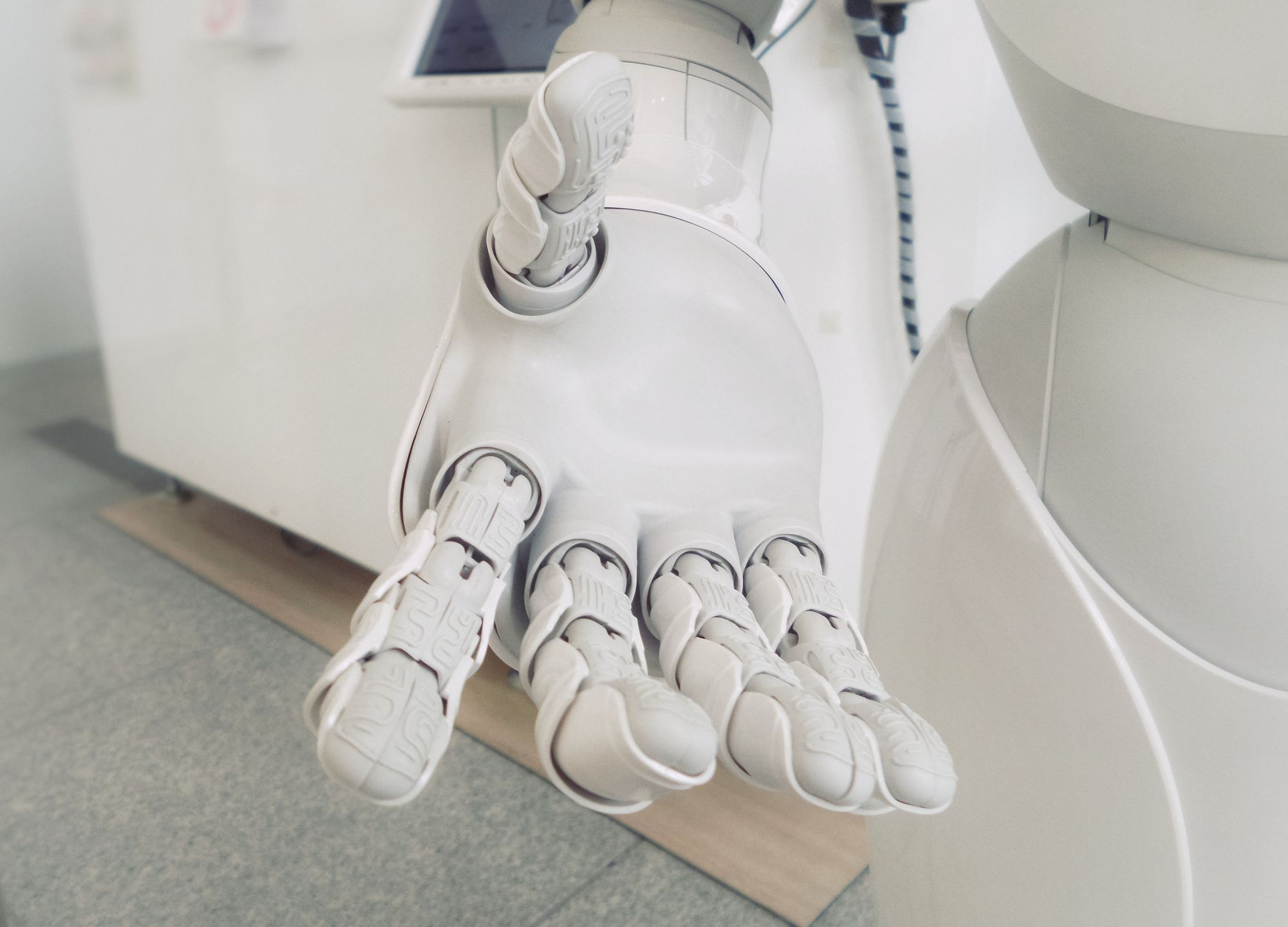 Our take:
Customer service is a major application for AI chat. There are risks but web-based chat 2.0 should be much better than today's version.
All voice assistants can also get much better and become more conversational and helpful – delivering on their early promise.
We're also hopeful that a new generation of AI-powered startups will help SMBs become more effective and competitive online.
Local: Hearts vs. Wallets
During the pandemic there was a paradoxical development. Consumers consistently told pollsters they wanted to shop locally and support SMBs. But e-commerce also grew by triple digits. Online buying has cooled dramatically since then. Yet consumers still often choose to shop online even though they philosophically support buying locally/SMB. A new report from digital marketplace platform Mirakl (form) argues shoppers globally are shifting away from in-store buying with statistics like, "54% of consumers find better value online than in-store" and "75% of shoppers will shop products online the next time they need them." At the same time data compiled by the US Chamber of Commerce says, "75% of consumers planning to shop more locally over the next year" (2022) and "56% of consumers are patronizing neighborhood stores or buying locally sourced products." There's lots more conflicting data like this.

Our take:
There are three drivers of e-commerce: convenience, price and product availability. Local store inventory is still not visible enough online.
Shopping locally and online aren't mutually exclusive. Click and collect is an example of both (though SMBs don't typically offer it). People speak aspirationally but price/convenience often trump values.  
Local retailers and SMBs need to do still more to cater to "lazy shoppers." They have to make online discovery easier. Local businesses can also win with better service, quality and personality.
Recent Analysis
Short Takes
Listen to our latest podcast.

How can we make this better? Email us with suggestions and recommendations.