AI-Generated (Fake) Reviews
TripAdvisor's top-rated restaurant in Montreal doesn't actually exist. Its creation was a prank by a Canadian comedian to prove that review platforms don't effectively police their content. Following multiple news articles, TripAdvisor has taken down the listing. This episode is a metaphor for the larger problem of fake listings and reviews. Review fraud is a growing problem, which Google is finally starting to more aggressively tackle – largely because of forthcoming EU penalties for online misinformation. But AI is about to make the problem considerably worse. One can quickly generate passable review text using ChatGPT and a URL (see below). APIs and AI tools will soon make it possible to automate fake review creation, to then be embellished by workers in offshore review farms. The scale of the problem will get much worse, for products and services. It's an existential crisis in the making for review platforms.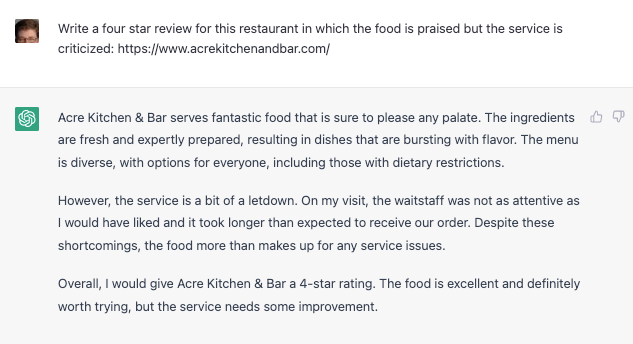 Our take:
AI can and is being used to detect fake reviews. But it's an imperfect instrument, which will need to get sharper and more precise.
Online reviews have lost credibility amid historically lax policing efforts by the platforms. AI-generated reviews will likely make it worse.
Yelp probably does the best job with content moderation, albeit on a smaller review corpus than Google's. But content moderation (trust) will become a competitive differentiator going forward.
Local Inventory vs. E-commerce
Comscore is touting a new milestone: US online retail spending crossed $1 trillion in 2022. That is a milestone indeed; however total spending was about $6.8 trillion (US gov't.), making e-commerce still only about 15% of US retail (some manipulate the numbers to get to about 20%). Google's shopping strategy vs. Amazon involves being channel agnostic, showing users both online and local inventory – where it exists. But the potential of local inventory to drive consumers into stores (or use click and collect) is much bigger than people understand. Inability to find products is often what sends people to Amazon. According to consumer survey data from DigitalCommerce360, product availability and local store proximity drive conversions. In other words, people looking for specific products will buy them online and pick them up locally if that's an option and if the data are online.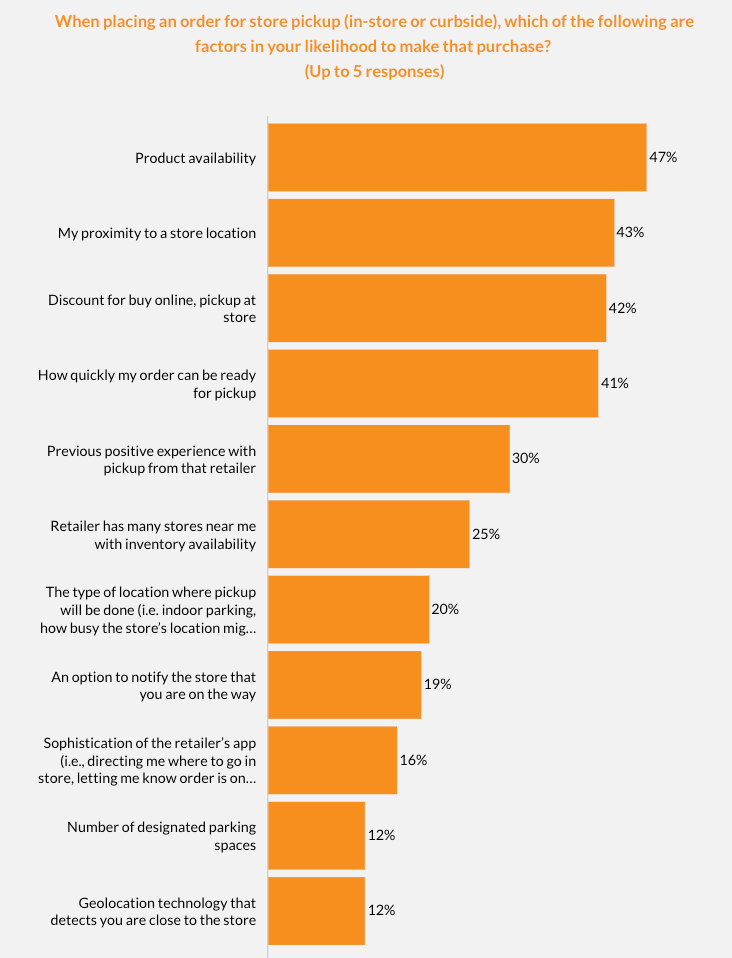 Our take:
Price, product availability and convenience are the main drivers of e-commerce. In-store inventory has simply been too hard to find.
After many false starts, there are multiple companies working on exposing local inventory (e.g., Near.st, LastMileRetail, Lucky Labs and Google's Pointy).
AI should be instrumental in improving the online visibility of in-store products, which will further impact how consumers shop online.
The Year of Reduced Expectations
Google, Facebook and Apple announced mixed or negative earnings this week. Amazon did better. The advertiser pullback hurt Google, which came in below expectations but still collected $76B in Q4 and $283B in full-year revenue. Consumer belt-tightening hurt Apple, which posted a massive $117B in revenue, but still down 5% YoY. Amazon beat expectations; its ad business grew 19% to $11.6B. Meta's ad sales were down, but revenue of $32.2B also beat expectations. The stock gained 20% in a single day, as Mark Zuckerberg promised more discipline, calling 2023 the "Year of Efficiency." With the exception of Apple, efficiency and cost-cutting (read: layoffs) were a theme. In both Google and Amazon's cases, cost cutting has also meant elimination of innovative projects. The stock market is an expectations game. If revenues are down but better than predicted, as in Meta's case, your market cap goes up. If you announce layoffs, your market cap goes up. All these companies are making insane amounts of money but investors want still more.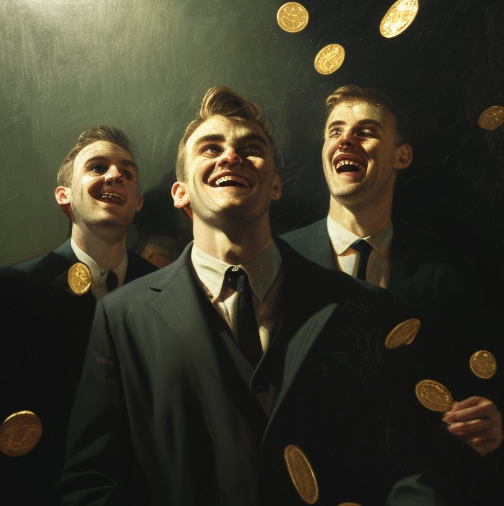 Our take:
Google's $283B 2022 compares with Goldman Sachs' $47.4B in 2022 revenue. Big tech companies are still money machines.
While there was excessive hiring during the pandemic, the ~200K tech-sector layoffs are mostly a performance for investors (VCs/Wall Street).
Google and Meta tried to insulate themselves from short-term Wall Street thinking. Yet investors have cheered the newly tempered ambitions.
Short Takes
As always, this newsletter was entirely written by a human.
Listen to our latest podcast.

How can we make this better? Email us with suggestions and recommendations.