Users Want Review Transparency
The state of reviews is fraught. Reviews remain highly influential but consumers are more skeptical and generating fewer of them now. In addition, Google is using AI moderation to nuke more of them (ahead of an EU crackdown). A new survey from Yelp finds that consumers (77%) are reading more reviews than before. (They read at least five reviews before making a decision.) Yet only 28% are on guard for fake reviews. People who think they might have seen a fake review turn to still more reviews to gather additional information about the business. However, 71% said they'd shun a business if they saw "fake or compensated online reviews." Specifically, people who see fake reviews say: they ignore the business (34%), find another business (27%) or report the fraud (24%). Moreover, 85% say they trust reviews with text over stars only.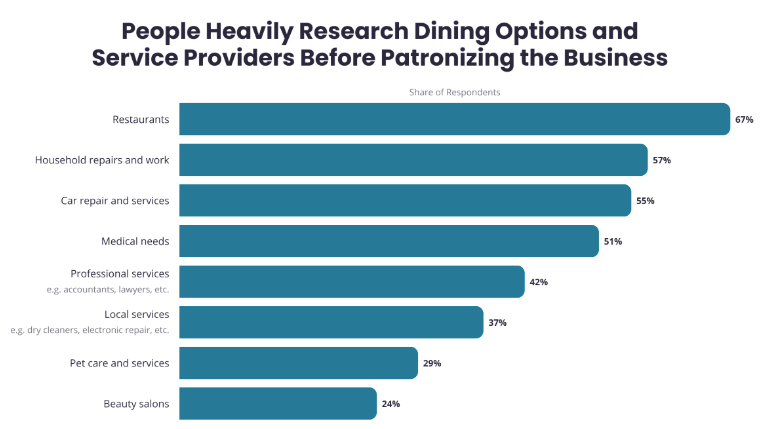 Our take:
One takeaway: people see more reviews as the antidote to fake reviews, because they have few actual alternatives (but see: experts, TikTok).
The survey also found that people want to see all reviews to assess veracity themselves, including filtered or "not recommended" reviews.
The paradox in the market is: people rely on reviews more than ever but are also more distrustful and concerned about fraud.
Google Ads: CPL Up, Conversions Down
Google Ads is the most widely used PPC platform and still performs well. However, it's getting more expensive. That's not news. But a recent benchmarking report from Wordstream gives us lots of specifics. Average CPC has gone up slightly (2%) and CTR has remained stable (YoY). However, more importantly, cost per lead is up and conversions are down. While it varies by industry, CPL is up an average of 19% and conversions are down 14%. The most obvious explanation is inflation and consumer caution. As the chart below indicates, the average CTR is 6.3%, CPC is $2.96, conversion rate is 7.26% and CPL is $40.74. Again, all these vary widely by vertical. For example, Arts & Entertainment has the highest CTR of 23 industries studied (16.3%) and the lowest CPC ($0.85), while lawyers has a CTR of 4.7% and the highest CPC of $8.46. Fashion has the lowest conversion rate (1.2%), while Physicians & Surgeons has the highest, with 13.9%.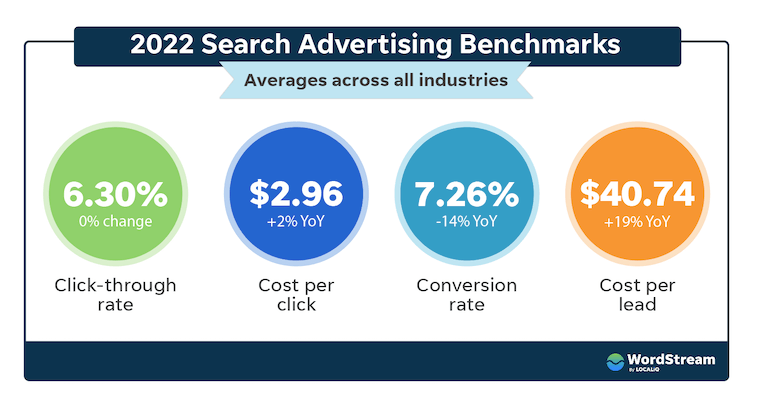 Our take:
In Q3, Google saw its slowest revenue growth in a decade. Some companies have pulled back or deemphasized paid search.
If you evaluated campaigns by looking only at CPC and CTR, you might be deceived into thinking nothing was "wrong."
There are tactical (funnel and keyword) implications in these findings. Plus, organic and social content strategies are more important than ever.
Behind the Battle over Twitter
A four-day workweek experiment involving 33 companies, mostly in the US and Ireland, was just pronounced a "resounding success." It represents the culmination of what might be called the worker empathy or worker empowerment movement, coming out of COVID. Remote work is also a major piece of that. Indeed, WFH has become an employer-employee battleground as COVID has declined. While many CEOs wanted/want their workers to return but struggle to enforce that, their champion has arrived in the form of Elon Musk, who told his workers return or quit. The growth of employee power, driven in part by worker shortages, has caused resentment among bosses who are skeptical of employees and don't think they're productive at home. Accordingly, Musk's autocratic management style has many fans in Silicon Valley and beyond. There are echos of old-school battles between labor and management.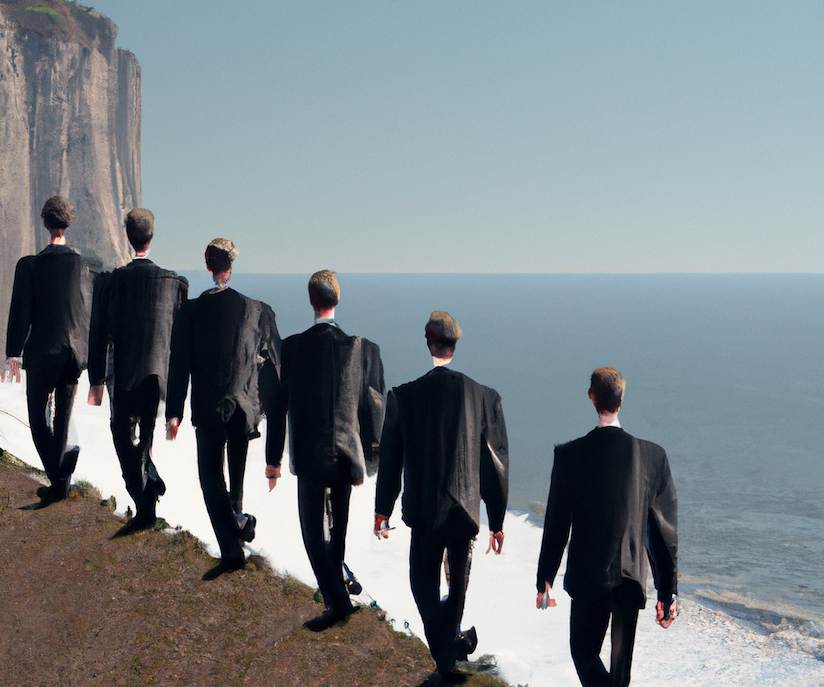 Our take:
Musk has defied the conventional HBR wisdom and is being celebrated as "bold and creative." His management style is disastrous.
Part of the reason many people are rooting for Twitter to fail is that they don't want to see him "get away with it." The subtext is about power.
Musk's employee disrespect is wrong on its face and from a utilitarian POV. Yet if Twitter survives, he will be "vindicated."
Short Takes
Listen to our latest podcast.

How can we make this better? Email us with suggestions and recommendations.