Musk Looking for Way Out
To say that Elon Musk's short tenure as Twitter CEO has been disastrous is an understatement. We could recount the "parade of horribles" but you know them, yet other CEOs still admire Musk. His capricious decisions and erratic, unprincipled content moderation have alienated the public at large and especially advertisers – many of whom now see Twitter as toxic or "too risky" for their brands. Under enormous and increasing financial pressure, it's almost as though Musk is having a public breakdown in real-time. Before reinstating trolls, disinformation purveyors and hate-speech mongers Musk's modus operandi has been to conduct a poll and then proclaim "vox populi" to justify decisions he's already made. In that context, he polled Twitter users this weekend about whether he should "step down as head of Twitter." After 17.5 million votes, 57.5% said he should leave. This was probably not the response he was expecting, but perhaps it's the one he was hoping for.  
Our take:
It's not clear whether Musk will abide by the vote and hand off the CEO role to someone else. He seems to want to, but who would take the job?
Driven by hubris, Musk announced he was buying Twitter on a whim then tried to get out of the deal and couldn't. Now he's trying another way.
In less than two months Musk has nearly destroyed Twitter, his personal reputation and Telsa's brand. He will need to bail as Telsa CEO too.
Marketers Wary of AI Content
Notwithstanding the impressive debut of OpenAI's ChatGPT, AI content creation is in its infancy. A new report from Aira called "The Future of AI in Content Marketing" surveyed 150 digital marketers (geographies unclear) to assess the state of AI usage in content creation. What they found was ambivalence and some resistance. Just over a third (37%) of respondents said they were currently using AI tools for content creation. Nearly 50% said they spent at least 50 hours per month creating content and 32% spent more than 100 hours. The most common use cases for AI content tools were existing content optimization and writing long and short-form copy. Jasper was the most commonly used tool; however the survey was conducted before ChatGPT's release. The main reason given for not using AI was quality: "I don't believe AI-generated content is of a high enough quality" (69%). But more than half (56.3%) said they were considering or planned to use AI next year. Though many are ambivalent, it's clear that market forces will all-but-compel adoption going forward.  
Use cases for AI content tools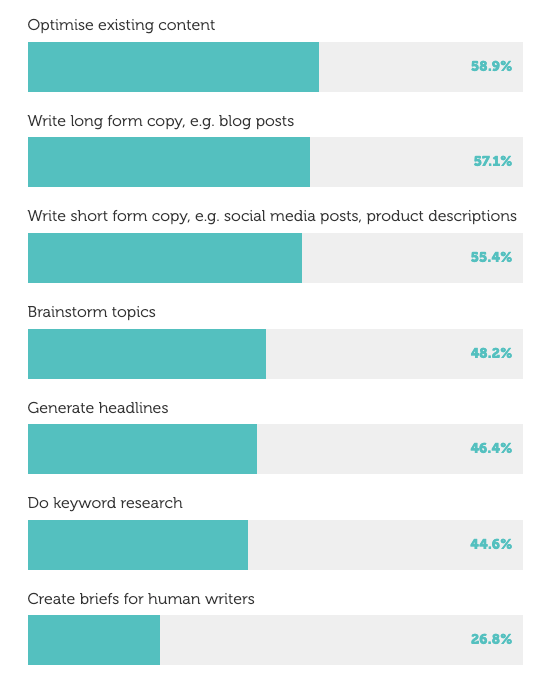 Our take:
As quality improves more will adopt AI. Roughly half of respondents thought it would take 2 - 5 years for quality to be good enough.
71% said, eventually, AI content would be "indistinguishable" from human-created content. That might take 5 - 10 years.
70% said that Google could spot AI content. Accordingly, 63% thought AI content would "negatively impact SEO."
Survey: SMBs Embrace TikTok
Beyond layoffs, the two tech stories that dominated the news this year were AI and TikTok. TikTok's popularity has affected Google, YouTube, Meta and Amazon, which have tried to counter or emulate it. To date there hasn't been a great deal of local content on the platform but that may change, especially for SMBs. There are some spectacular SMB success stories and a new survey suggests more SMBs will be promoting themselves on TikTok next year. Recently, Clarify Capital polled 500 small businesses (headcount not disclosed) and found that "98% said they were interested in selling their products on TikTok." These appear to be product sellers more than service businesses. And it's unclear how many are already on TikTok. But ~76% believe that it will become a shopping destination to rival Amazon and Google. The large majority (80%) planned to invest more in e-commerce in 2023 and 76% said they would spend more on TikTok SEO in 2023. The latter finding suggests many of these respondents are already on the platform.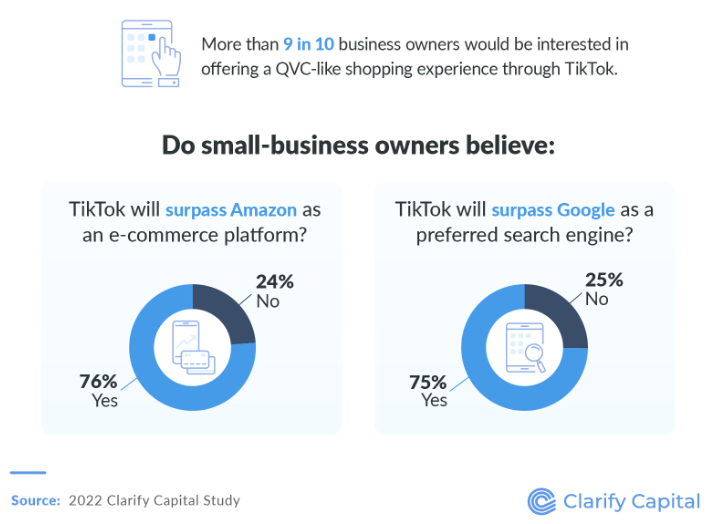 Our take:
TikTok is simple to join but hard to master. It's not unlike YouTube years ago: SMBs know they should be there but face inertia/obstacles.
Even though nearly everything on TikTok is self-promotional, straight up selling doesn't work. Over time, "going viral" will be harder.
As with everything in the SMB marketing world, agencies will emerge to help business owners get on TikTok and drive sales.
Recent Analysis
Short Takes
Listen to our latest podcast.

How can we make this better? Email us with suggestions and recommendations.