Google: Local and Digital Now Joined at the Hip
In a blog post Google confirms what nearly everyone in local has known for years: the web drives trillions of dollars in real-world (buying) behavior. Mobile devices and, now, BOPIS/click and collect have simply made that more obvious. During COVID, people intensively used the internet to plan shopping trips for greater efficiency. For example Google says, "Searches for 'who has' + 'in stock' have grown by more than 8,000% year over." It offers additional stats and concludes by saying, "Every month in 2020, Google helped drive over two billion direct connections, including phone calls, requests for directions, messages, bookings and reviews for U.S. businesses."
Our take:
Google Maps is the nexus between the digital and physical – now awkwardly called "phyigital" by some. Google has no competitor in this.
The company seeks to mediate the online-to-offline economy (O2O). Indeed, it even wants to become a kind of infrastructure for O2O.
Google's advice is bland but accurate: "If you run a business with physical stores ... make sure your customers can easily find you online."
Apple's Opt-in Tracking Policy Weeks Away
Apple's "app tracking transparency" (ATT) rules, coinciding with the rollout of iOS 14.5, will launch this month. They require publishers and developers to obtain consent to use Apple's IDFA, impacting data available for targeting and attribution. The notices have already started appearing. I've seen two: WSJ and Macy's. ATT is part of a number of Apple privacy initiatives, including tracking prevention on Safari and "privacy nutrition labels" for apps. Regarding the latter, Google has finally included them for its iOS apps. And in related news, Killi, an opt-in data marketplace, introduced Unveil, which allows millions of consumers to view and edit the data collected about them.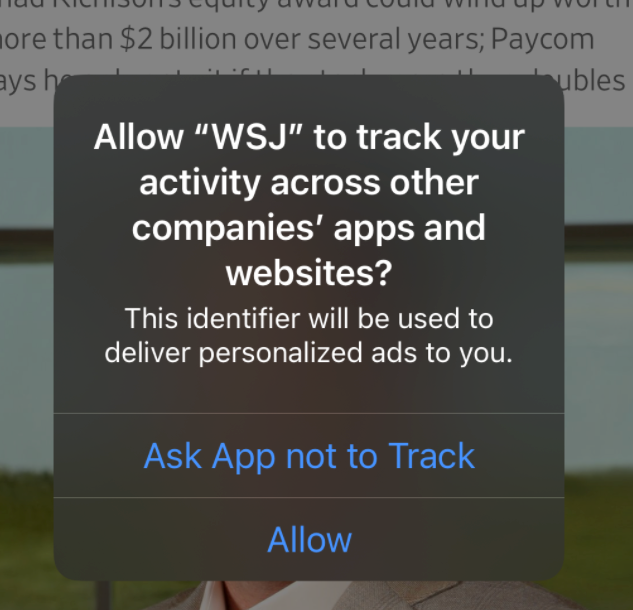 Our take:
A recent survey suggests more than 70% of users will not opt-in, but that remains to be seen. Attitudes and behavior often differ.
Unlike GDPR or CCPA, which can be cumbersome for consumers to use, Apple's opt-in screens are simple; many will thus block tracking.
It's going to be extremely challenging to make the opt-in case to consumers, placing more importance on first-party data efforts.
Yahoo Answers Shutting Down
With a Yahoo Answers-like FAQ page, Yahoo announced its Answers product would close up shop on May 4. Answers was launched in 2005. At the time Google had a pre-existing, paid service coincidentally called Google Answers. However, Yahoo's product was free and Google Answers ended a year later. While Yahoo Answers wasn't the first Q&A product, it was the most enduring – until now. It took the idea of online forums and scaled that across thousands of topics. Answers was a core product along with Yahoo Directory and Yahoo Groups. Yahoo saw human knowledge as both a complement and alternative to search. But quality was uneven. Quora is its arguable successor.
Our take:
Yahoo Answers often ranked highly in search results and became part of many SEO strategies early on, but that declined over time.
There were many past, unsuccessful efforts, including by Facebook, to create "knowledge engines" or "answer engines" powered by people. YouTube plays that role to some degree in a how-to search context.
There's more noise online than ever; human-generated answers remains a compelling idea. But nobody can seem to get the model right.
Short Takes
Listen to our latest podcast episode.

Please let us know what you think. Email gsterling@nearmedia.co with suggestions and recommendations.