Google is inserting itself into curbside pickup grocery transactions with Fred Meyer pilot – and potentially other retail categories in the future.
Indoor Live View AR walking directions for malls and airports could reignite interest and investment in indoor mapping.
Using its many technical and content assets, Google Maps is positioning itself as the digital UI for the real world.  
From its inception more than 15 years ago, Google Maps has evolved from a tool for basic point-to-point navigation into a digital representation of the physical world, and more recently into a platform that increasingly drives transactions and commerce. And this morning Google announced new features that, in the company's words, "redefine what a map can be."
Here are the main announcements:
Integration of curbside pickup into Maps
An indoor version of Live View AR directions
Weather and air quality ratings
More eco-friendly routing and driving alternatives
Curbside pickup integration
Google revealed that searches for curbside pickup in Maps are up 9,000% over last year. Accordingly, the company is now incorporating more details about grocery pickup and delivery services into Maps and Search: "delivery providers, pickup and delivery windows, fees, and order minimums." Instacart and Albertsons are the first partners. This is US only for now.

Beyond this, Google is integrating curbside pickup more deeply into Maps. Starting with a pilot this summer at Fred Meyer grocery stores (owned by Kroger) in Portland, Google is seeking to become an integral part of the curbside pickup experience.
Fred Meyer already has curbside pickup. What Google is doing is enabling users to add a grocery order to Maps, which will trigger an AI-driven notification about when it's time to leave for the store. Google then shares the user's ETA with the store. Once at the designated pickup location on site, users check in on Maps and the Fred Meyer employee brings out the groceries.
The benefit to the store is improved efficiency and a better user experience, by reducing delays. The benefit for the consumer is similar. For Google, the consumer integrates this frequent activity into Maps, reinforcing usage and loyalty. But there's a question about whether this adds enough value for the consumer to drive adoption.
Google says that it wants to expand this capability to other grocery retailers and retail categories. It's starting with grocery because it's such an established use case now. The company was vague on whether this would ultimately extend to small retailers that have curbside pickup. It would be logistically challenging for Google to roll this out to SMBs but the company has thought about it.
Amazon and Whole Foods are lurking around the margins of this decision.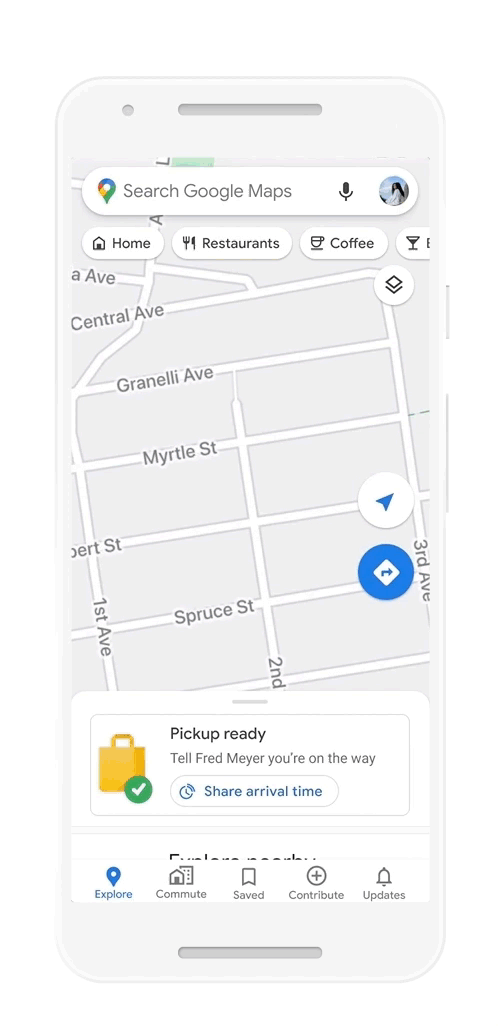 Indoor Live View
Live View is Google's augmented-reality-assisted walking directions, which launched in 2019. Though it can sometimes be challenging to use, Live View is an amazing technical accomplishment. Google says, Live View "uses AI to scan tens of billions of Street View images to understand your orientation." It's now doing something similar for indoor locations, albeit in a limited rollout.
Google has launched indoor Live View directions (iOS, Android) with Westfield malls in LA, San Francisco, San Jose, Seattle Newark and Long Island. The company said that it will begin offering Live View in some airports, additional malls and transit hubs (think large train stations), starting with Tokyo and Zurich.
Years ago, when beacons were first introduced there was enormous hype and discussion about the potential for indoor location and all the helpful and potential commercial use cases. (I started a conference around all this.) The full promise of indoor location never fully materialized. This may reignite that discussion and a new round of investment in indoor mapping. The advertising and promotional use cases of indoor Live View are fairly obvious.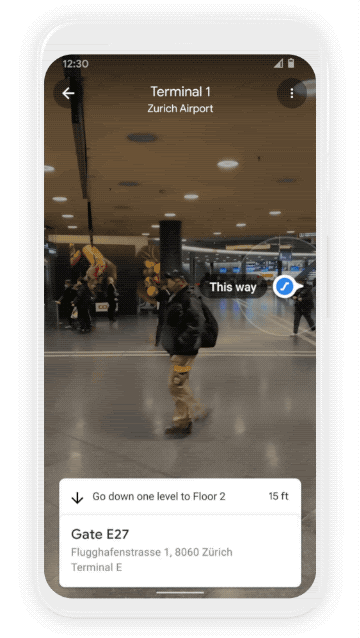 Weather and eco-friendly routing
The inclusion of weather and air quality information about your destination is obviously useful. The case of eco-friendly routing is more interesting. This is apparently a response to users seeking ways to reduce the emissions impact of their transit and travel.
Google will provide eco-friendly routes in driving navigation, through a third party partnership, and optimize the routing for reduced fuel consumption. It will also try to maintain a comparable ETA. But Maps will give users the option to use normal routing if a faster ETA if desired. Google said it's also going to provide "low emissions zone alerts" to drivers when routes take them into these areas, which are increasing in cities worldwide. Google is also presenting new routing views to make it easier to compare and choose alternatives to driving.
Thus the Map is helping people try to live up to their stated preferences for lower carbon-impact travel and transportation. That's very interesting from a behavioral standpoint.
Google Maps: the UI for the O2O economy
We take digital mapping now so for granted we fail to appreciate the massive technical accomplishments "under the hood." Google is increasingly using AI, its trove of Street View images and other data to expand the platform and what it can do. (Google is getting increasing amounts of local information and data from images.) Apple Maps is good and getting much better but it doesn't compare to Google Maps in terms of the volumes of information and functionality available.
What I've called the O2O economy is many times larger than e-commerce. There are now few transactions that aren't touched or initiated by an online search or lookup. And Google is trying to put Maps (and Search) at the center of all of that economic activity.