Swyft Wants to 'Democratize' Same-Day Delivery
Swyft has created a "B2B managed-marketplace solving for affordability in last-mile logistics." Its objective is to bring Amazon-like same-day delivery to more retailers – to "democratize" access. It isn't building a network of delivery vehicles, it's tapping into third-party couriers and giving them software to make their operations more efficient. The company just raised $17.5 million. Its founders include people who previously were at Amazon, Shopify and Lyft. Swyft will work with both SMBs and larger retailers. A different startup, Nearby, is doing something similar but more comprehensive for SMBs: e-commerce enablement and fulfillment.
Our take:
More companies are taking cues from the Amazon playbook. Best Buy announced its own membership program with many perks.
It's only a matter of time before somebody (e.g., Shopify) tries to roll up SMBs collectively and offer Prime-like loyalty benefits for that market.
Fast and free shipping is Amazon Prime's primary draw. If that can be duplicated more people will diversify their online shopping.
The Bifurcated Recovery: SMB Edition
There are numerous signs that the US economy is gaining momentum and will see very strong growth this year. There are other indications, however, that the recovery's benefits won't be equally distributed. Some small businesses are doing well (finance, real estate, insurance) while others expect a longer recovery. A recent survey of more than 10,000 SMBs by Alignable reports that recovery for companies in events management, travel and hospitality, entertainment and photography/video won't come until 2022 or later. A separate "digital transformation" survey from Skynova discovered the "digital priorities" of smaller companies were: improving the customer experience, sales and marketing, developing new products and services.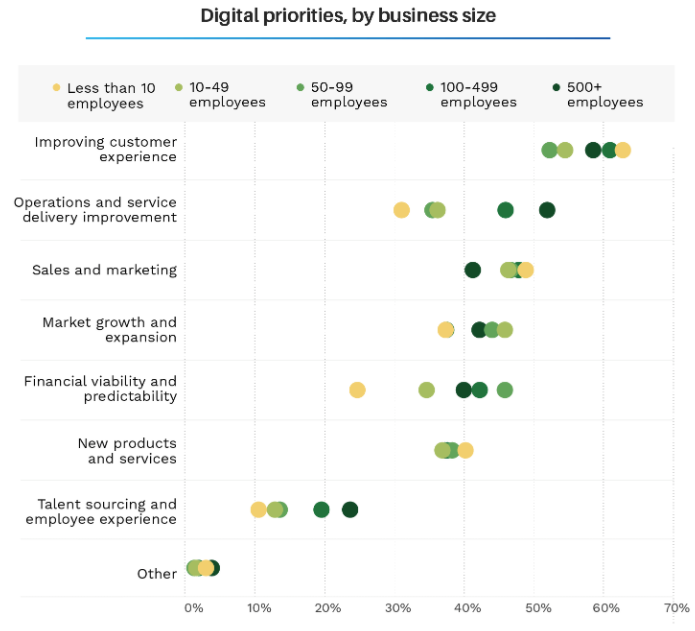 Our take:
Minority and women-owned businesses in the Alignable survey were more likely to say they expect a delayed recovery.
It's striking the Skynova survey found improving the customer experience was the top SMB "digital priority."
Typically we'd expect to see "new customers/sales" as the top priority. But improving the CX means they're starting to get it.
Apple vs. Google: Which Brand Is Gen Z's Most Loved?
A semi-annual survey of more than 7,000 teens (average age 16) by Piper Sandler explores brand preferences. Nike is the top fashion brand; Amazon wins for e-commerce; Snapchat is number one for social media, very closely followed by TikTok and then Instagram, which has lost share. Apple dominates smartphone ownership (88%), with 90% saying their next phone will also be an iPhone. Apple Pay is also popular, second to Venmo and ahead of PayPal. YouTube appears but Google is largely absent from the top-level findings. By contrast, a Morning Consult brand ranking by Gen Z adults (18-21) found something very different: Google was the top brand; Apple isn't in the top 25. Morning Consult used a number of criteria to determine rankings.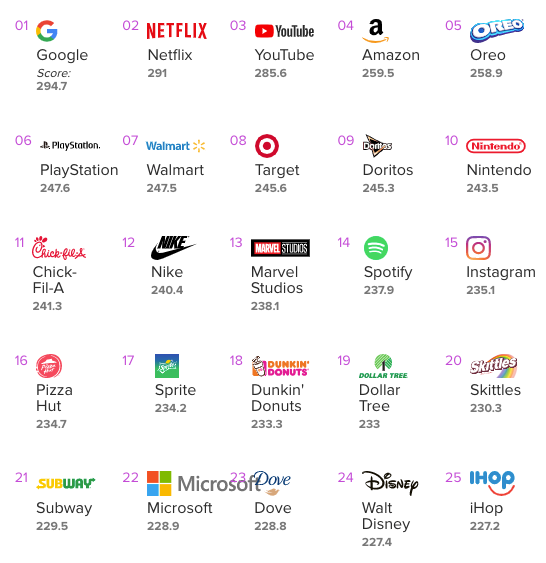 Our take:
These surveys are very different. But their contrasting findings about the relative popularity of Apple and Google are still striking.
That iPhones are owned by ~90% of teens but Apple isn't in the top 25 among people just 2 - 3 years older is: a) mysterious or b) reveals survey flaws.
Millennials are now the largest US demographic group. But these Gen Z data have clear revenue implications for those mentioned and missing.
Short Takes
Listen to our latest podcast episode.

Please let us know what you think. Email gsterling@nearmedia.co with suggestions and recommendations.