Google SGE Usage Decline?
When Google SGE launched I was super excited (as they say) because I believe that the SERP is broken. But now I mostly don't use it and even find it a nuisance. Most of the time SGE doesn't improve results and it's slow. Of course, we don't know how it will evolve before Google (theoretically) opens it up to all users. But it seems pretty clear that Google is doing something akin to performing for investors, rather than reinventing search, as promised. Bard and SGE were quickly released after the meteoric rise of ChatGPT, the BingGPT reveal and a bunch of critical press coverage. The trajectory of my own experience prompted me to ask people on Twitter about whether they were using SGE more or less today. The result, though from a small sample (121), was illuminating. Most people (49%) are using it less, while only 9% are using it more; another 9% say they're using it about the same amount. The final group (33%) say they don't have access. While Google is incredibly serious about AI in its ad products, algorithms and other back-end systems, it's profoundly ambivalent about it in consumer search.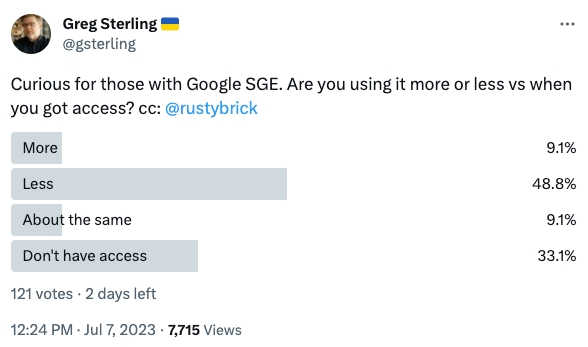 Our take:
Google should turn the SGE into the new Local Pack and answer box, and build it into something genuinely useful.
On the consumer side Google is being forced to "innovate," though it may pull back SGE if the GPT threat subsides.
Indeed, there's some evidence that the novelty and excitement around AI-driven Google alternatives has cooled.
Threads Is Twitter's Karma
Threads officially launched on July 5. On Monday July 10, Mark Zuckerberg announced it had reached 100 million users. Previously ChatGPT held the record for fastest consumer adoption: 100 million users in two months. It doesn't hurt that Threads piggybacks on Instagram's billion-plus installed user base. But Threads' growth is still remarkable. And it reflects pent-up demand for a genuine alternative to Twitter, which has sacrificed credibility and goodwill on the alter of Musk's ego, weird embrace of extremists and product decisions. Threads is Twitter's karma; Musk literally brought this on himself. There's evidence that Twitter's traffic has already meaningfully suffered since Threads' launch. Whether because of its novelty, membership or design, Threads users also appear more engaged. Even Twitter employees are jumping to Threads. Many advertisers also abandoned Twitter following the rise of brand safety concerns and are now looking to Threads as a potential replacement. If Musk gave up daily control and let Linda Yaccarino implement reforms, the site might stop the bleeding. But that's unlikely.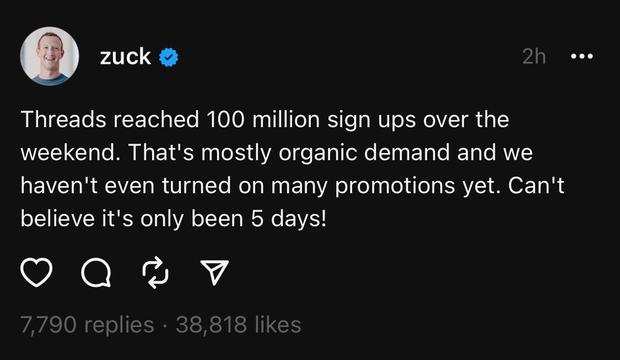 Our take:
Twitter's "volatility" has been a huge gift to Meta, which is now reaping PR benefits and changing the narrative for the company.
Instagram's Mosseri says "the goal isn't to replace Twitter ... [but to be] a less angry place for conversations." But many users do want a Twitter replacement and many angry people are now migrating over.
Threads' ultimate success isn't guaranteed. But it may soon equal Twitters' DAUs (238 million). Twitter won't die; it won't recover either.
Blasé Prime Day  
We seem to have grown blasé about Prime Day. At one time there was wall to wall tech coverage about Prime Day sales momentum. Now I'm seeing very little. Of course, there's a ton of "here are the best deals" consumer-facing articles (mostly driven by publications that get affiliate revenue) but little industry coverage. It's clear that Amazon will move a lot of merchandise this year, some analysts expect 10% YoY sales growth. But it's not the event it once was. As of right now (per Numerator): AOV is $59.02 vs. $51.18 in 2022, while the largest group of households has placed 2+ orders, "bringing the average household spend to roughly $109.01." Nearly all (89%) Prime Day shoppers are Prime members; roughly 80% are women. Amazon's success is closely tied to Prime. And Prime Day was originally conceived partly as a way to drive new Prime memberships, which boost loyalty and spending on Amazon throughout the year. However, Prime subscriber growth has stalled in the US, so the company is looking to international expansion for new growth.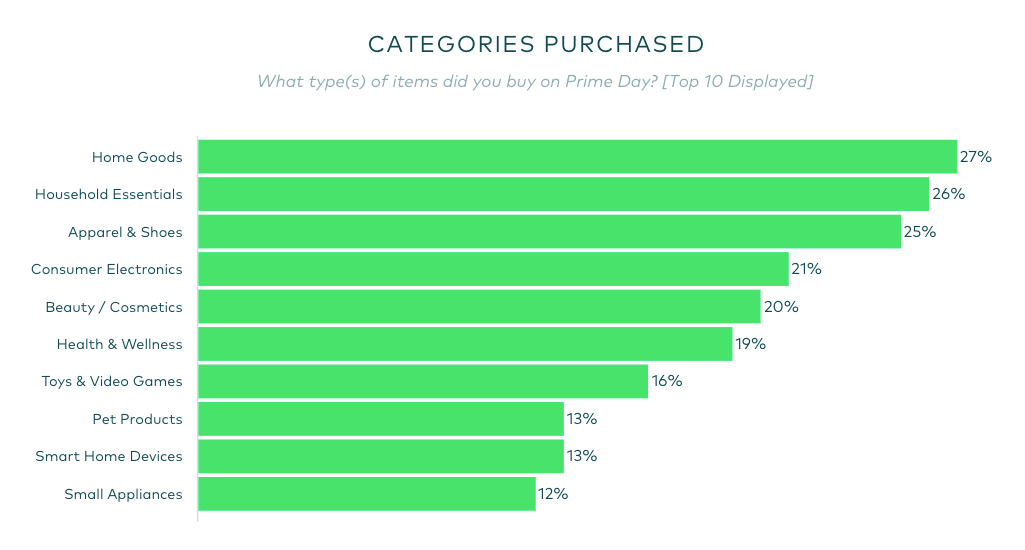 Our take:
In 2021 Amazon said it had more than 200 million Prime members overall; 85% are in the US. That means huge growth potential globally.
Prime fees generate $25 billion per year. And subscribers spend an average of $1,400 annually (up to ~$2,000), compared to less than half that for non-Prime members.
Meanwhile, the FTC accused Amazon of using "dark patterns" to manipulate people "into unknowingly enrolling in Amazon Prime."
Recent Analysis
Short Takes
Listen to our latest podcast.

How can we make this better? Email us with suggestions and recommendations.