Google Ads: AI Everywhere All at Once
The subtext of Google I/O was about convincing investors the company wasn't going to be bested by AI competitors. Search-related announcements focused on Bard enhancements and the awkwardly named "Search Generative Experience" (SGE). Google Marketing Live, this week, was almost a mirror of I/O, showing how AI now defines the company's ad products. Simplification and automation were hallmarks of newly announced features and enhancements (e.g., paid-search headlines will dynamically adapt to user queries). Campaigns and copy will become easier to create with a new Google Ads "conversational experience." In some cases ad creative will be will be automated, using existing website content. Similarly, Google's making Merchant Center more accessible to SMBs with Merchant Center Next, which automates product feed creation. Product images themselves will be easier to design and manipulate with Google's "product studio." Google also showed how SGE ad units will look. It emphasized how privacy, targeting and attribution all benefit from AI.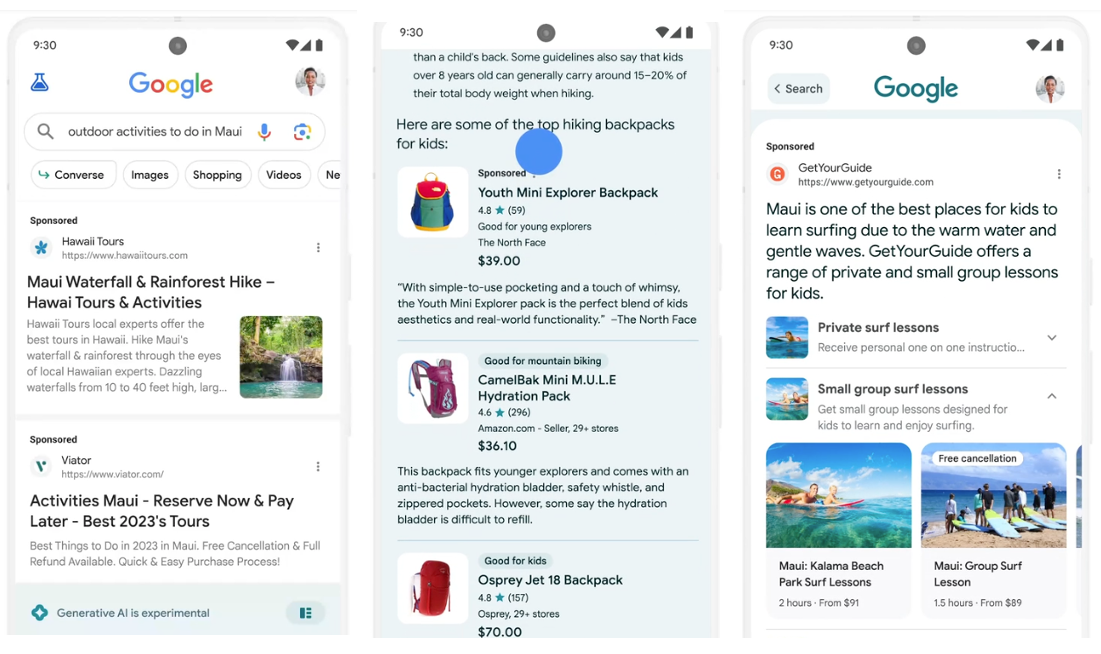 Our take:
There were multiple ad units in SGE: traditional paid-search and other examples, including expandable ads with more text and images.
SGE's impact on organic rankings is still unclear, but ads will be front and center. This will compel more ad spending.
While Google's AI efforts in Bard and Workspace are still a work in progress, the ad side is where AI may really shine for the company.  
'Local Invisibility' Costs $2.4B Annually
Local marketing platform SOCi published the latest edition of its Local Marketing Benchmark Report, now rebranded as the Local Visibility Index. The report analyzes the local presence and marketing efficacy of top retail and franchise brands. It scrutinizes search, social media and online reputation to calculate scores for each brand. Most retailers aren't killing it. For example, while brands do a good job with basic "profile optimization" across Google, Yelp and Facebook (e.g., listings) they are weak on full optimization (e.g., images). On average, brands respond to less than half (46%) their online reviews; those that do consistently convert 16% more customers. SOCi also points out that nearly half (43%) of tracked retailers on Facebook are posting corporate content on store location pages rather than localized content, which increases engagement and is another missed opportunity. Overall, SOCi argues, each brand could gain an estimated $24 million in additional annual revenue by doing a better job in local search, social and reputation management. This rolls up across the top 50 large chain/franchise US brands into the $2.4 billion figure cited.

Our take:
It boils down to this: fully optimize local profiles, respond to most/all reviews and localize content on social media.
For brands with numerous locations (especially franchises) the challenge is typically less about the why than the how – operational execution.
AI can potentially help, especially with review responding and localizing content. However, not if it's the perfunctory version.
Yelp Investor: Sell to ANGI
Yelp investor TCS Capital Management President Eric Semler argued on CNBC that the company should sell itself or merge with ANGI Homeservices, which is the result of a 2017 merger of Angie's List and HomeAdvisor. Currently, Yelp's market cap is about $2.35 billion, while Angi's is $1.75 billion. Semler was sharply critical of Yelp's long-term stock performance and of its executives for "enriching themselves." However, he's quite bullish on Yelp's home services business. Semler says "Yelp is a misunderstood stock" and observes "most of the market has given up on Yelp." He explains that Yelp is not a restaurant recommendations site; it has a "wonderful" home services business and is growing revenues "mid-teens" with a "terrific balance sheet." He claims there's "a lot of interest" in Yelp from strategic buyers and private equity. But Semler believes the best case is an Angi merger to provide more scale and reach in the $600 billion US home services market.
Our take:
In 2009, before it launched reviews, Google tried to buy Yelp for $500+ million. That triggered the antagonism that has persisted to date.
Homeadvisor and sister site Angi have been accused of deceiving consumers and cheating SMBs customers, making it a toxic partner.
Frustrated investors will likely push Yelp into a sale or merger, seeking to "unlock value." That would likely be the effective end of Yelp.  
Recent Analysis
Short Takes
Listen to our latest podcast.

How can we make this better? Email us with suggestions and recommendations.