We got a copy of the heavily redacted complaint, which omits specific numbers and percentages.
Most of the FTC allegations go to material misrepresentation of lead quality and false representations by sales reps to SMB contractors.
HomeAdvisor vigorously disputes the accuracy of the claims and will probably litigate them in an administrative hearing.
Previously we reported on an FTC complaint charging HomeAdvisor had cheated SMBs for years. The agency initially didn't publish the full complaint and there was no response from HomeAdvisor to our request for comment.
We now have the actual complaint (redacted like a national security document) as well as a response from ANGI Homeservices, HomeAdvisor's parent company.
What the Complaint Says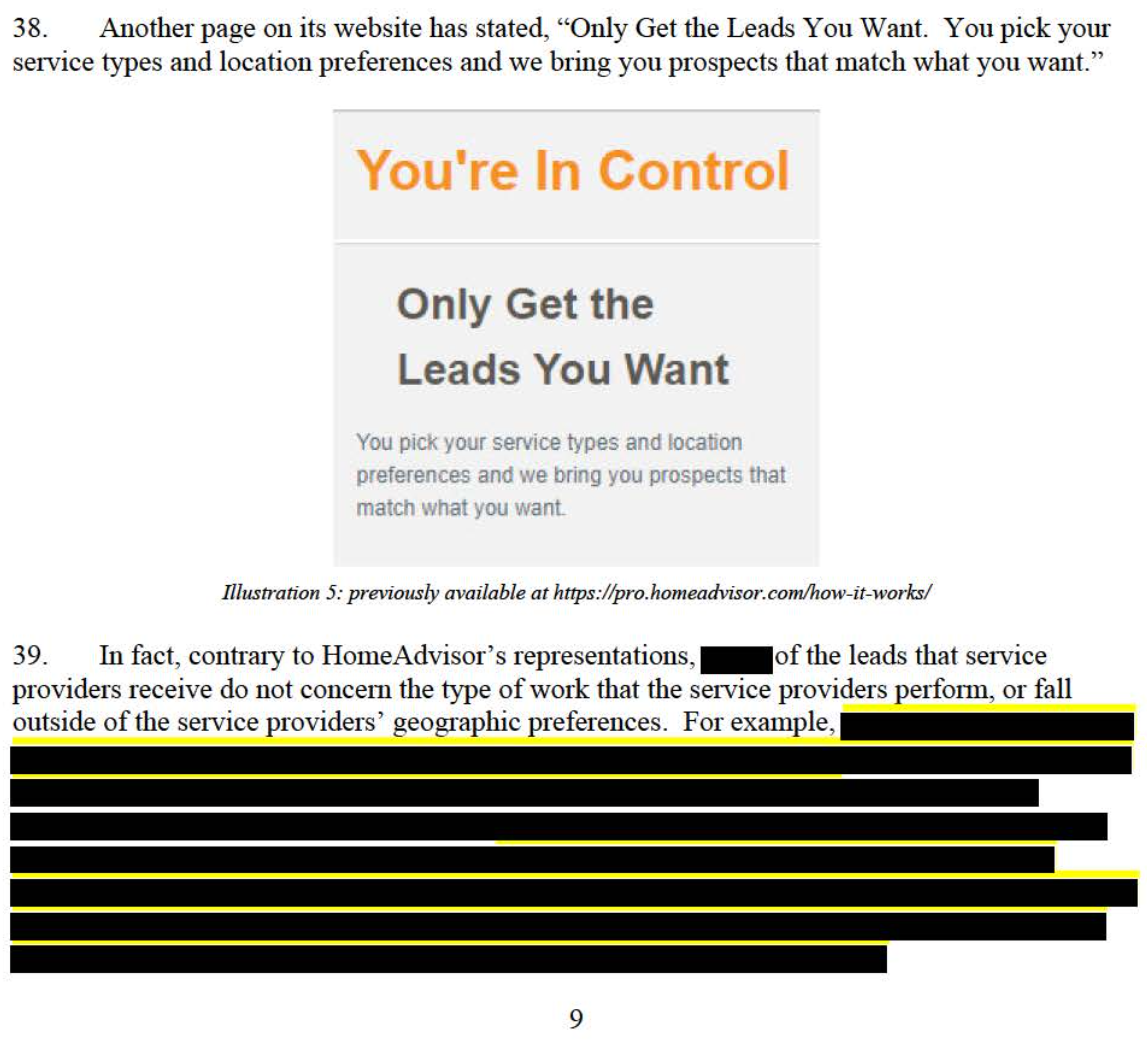 The complaint includes three main counts:
I - Misrepresentations About the Quality, Characteristics, and Source of Leads
II - Misrepresentations About the Rates at which Leads Convert into Jobs
III - Misrepresentations Regarding mHelpDesk
Detailed Allegations
Below are highlights from the complaint (provisionally redacted version), which form the basis of those the three counts:
HomeAdvisor sells information to service providers as leads even when internet users affirmatively indicate that they do not intend to hire a service provider soon.

In fact, contrary to HomeAdvisor's representations, [X%] of the leads that service providers receive do not concern the type of work that the service providers perform, or fall outside of the service providers' geographic references.

Since July 2014, HomeAdvisor has denied more than [X#] of lead credit requests, approximately [X%] those submitted.

Service providers, already busy with the demands of running small businesses, expend precious time following up on leads that are not of the quality HomeAdvisor promises, and still more time seeking, often unsuccessfully, credits and refunds from HomeAdvisor for such leads. HomeAdvisor's deceptive practices have caused service providers to suffer [X] dollars of injury.

Contrary to HomeAdvisor's representations, [X#] of the leads that HomeAdvisor sells to service providers are purchased from affiliates and concern individuals who did not knowingly seek HomeAdvisor's assistance.

HomeAdvisor recognizes that it has very limited control over the quality of affiliate-generated leads. Indeed, a document HomeAdvisor's parent company filed publicly with the Securities and Exchange Commission acknowledged that "the quality and convertibility of [HomeAdvisor's] leads generated through third-party arrangements are dependent on many factors, most of which are outside our control."

HomeAdvisor's sales agents have represented falsely inflated [lead] win rates to service providers.

HomeAdvisor does not allow service providers to preview leads prior to receiving them. If a service provider is dissatisfied with a lead she receives from HomeAdvisor, her primary recourse is to request a credit to her HomeAdvisor account for the cost of the lead in question. If HomeAdvisor grants the credit request, HomeAdvisor then applies the credit against the cost of future leads. HomeAdvisor does not generally provide refunds for leads.

Similarly, until at least 2016, the form email that HomeAdvisor sent service providers confirmning their purchase of an annual membership represented that $347.98 was the cost of the annual membership and a "free" month of mHelpDesk.

In fact,the cost of an annual membership is $287.99. The $347.98 price has represented the cost of an annual membership plus one month of mHelpDesk, an optional, add-on product that costs $59.99 per month and automatically renews after the first month. If a service provider does not want a one-month subscription to mHelpDesk, she can purchase an annual membership for $287.99.

After HomeAdvisor's sales agents have added a month of mHelpDesk to service providers' annual memberships, service providers frequently have not learned that they were charged an additional $59.99 because the $347.98 charge has appeared as a single line item on the service provider's receipt and credit card bill.
HomeAdvisor: The FTC 'Out of Touch'
We asked HomeAdvisor to comment on the complaint and they sent the following statement:
"This lawsuit is meritless and shows how out of touch the FTC is with the enterprising American small business owner of today.
Fraud and deception don't work as business models. If our pros don't win, we don't win. We've been in business for over 20 years. That longevity is thanks to putting our customers first. It's because we've earned the privilege of becoming trusted partners to hundreds of thousands of local plumbers, roofers, general contractors and electricians—the people who help protect Americans' great asset: our homes.
We will vigorously fight these allegations."
- an Angi Spokesperson
Next Up: Administrative Hearing
HomeAdvisor could settle the case without admitting fault or guilt. However, the statement provided to us suggests the company is going to contest the claims before an administrative law judge.
Investors don't seem particularly concerned about the complaint; however, the stock is way off its one-year high. A negative outcome for HomeAdvisor could be poisonous for its reputation among home services pros.
---
*Details like specific numbers and percentages of impact have been redacted from the complaint, so where numbers were implied we added an X.