SGE: The New Local Pack
Google opened the gates to its AI Search Generative Experience (SGE). There's much to say and we'll provide more analysis soon. Here are some quick observations. When they appear – roughly 60% - 70% of the time – SGE "snapshots" dominate mobile and desktop SERPs. They're above everything, except ads. Snapshots feature multiple vertical links and a horizontal carousel (7 - 9 links). The number of main links varies: "best running shoes" had 21, "things to do in NYC" had 9, "best pizza in San Francisco" had 5 – plus the carousel. Most local searches triggered a snapshot or "SGE Pack," with five or more listings. Clicking on the embedded Map doesn't open the Local Finder; clicking on individual listings brings up a knowledge panel within SGE. The carousel, however, sends users to websites. There's often an overlap between the Local Pack and the SGE results. But some local queries don't generate AI results, while some require users to hit a "generate" button. Google seems to have done a thoughtful job with SGE, though it visually overwhelms the rest of the SERP.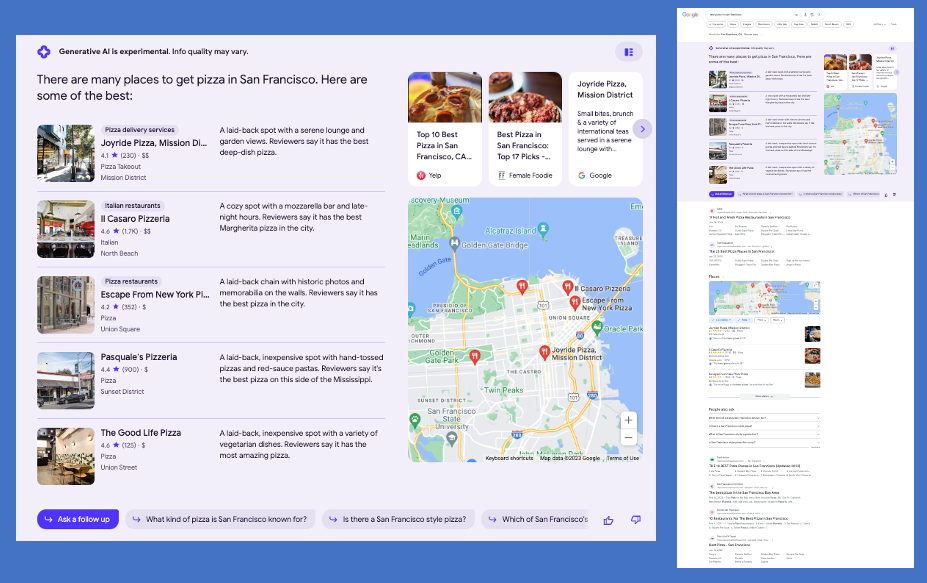 Our take:
We don't yet know how users will react; there's lots of information in the SGE area/box. But it's not the pure zero-click experience as some feared.
Yet the visual dominance of SGE content could reduce engagement and clicks with the rest of the page. This UI will boost ad spending as well.
The SGE combo of GBP listings and third party links may partly seek to blunt the "self-preferencing" charge made against the Local Pack.
Bard Gets Pictures
As part of a broader set of features announced at Google I/O, the company has rolled out images for Bard searches. Search for "things to do in NYC" and Bard spits out a dozen images of local attractions, each with a descriptive text blurb. Each picture shows its source and links to that site. Searches for entertainment venues, travel and tourist activities, classic cars, restaurants and multiple local services all produced these results. The service business queries (e.g., HVAC repair, dentists, lawyers) pulled images from a mix of sources, including directories and individual websites. A few searches produced only text results. Among them, recipes didn't generate any images – strangely. Google has said that it will bring the full power of search, Maps and the (local) Knowledge Graph to Bard as well. At Near Media we're divided on the outlook for Bard as a search engine (as opposed to creative assistant). It may be that Google is developing Bard mostly to hold on to users who might otherwise defect to ChatGPT but won't turn it into a true alternative to Google.com.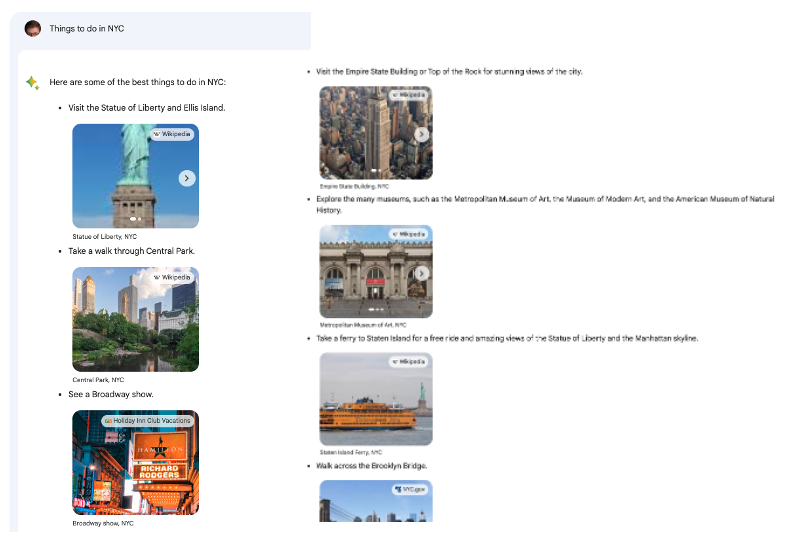 Our take:
The addition of images (with links) makes Bard immediately more credible and visually appealing.
I remain hopeful Bard will become a viable, simpler (ad-free) alternative to Google.com – though Bard will get ads at some point.
Google's SGE could provide enough of the AI-chat experience to retain people and keep them from using Bard or ChatGPT for most queries.  
TikTok Tako and Reviews
TikTok is getting local reviews as well as an AI assistant called Tako, built on third party technology. According to social media marketer Natalie Brereton, "Very much like Google and Trip Advisor, you can [ ] leave a written review of your experience, rating it out of 5 stars and commenting on the service, ambiance, food and price." This will likely come to bars and restaurants and other categories such as hotels. It may also come to local services as well; however, there's no official TikTok announcement. Whether and how it impacts TikTok's algorithm remains to be seen. At the same time, the company is testing Tako, a chat assistant, in the Philippines. It said that the "AI-powered tool [will] help with search and discovery on TikTok." Increasingly TikTok is leaning into search for content discovery and to boost ad spending. It recently introduced an iOS search widget and has selectively promoted itself as an alternative to Google. Tako, if implemented widely, could further encourage search on the site. Reviews would also support local search on TikTok.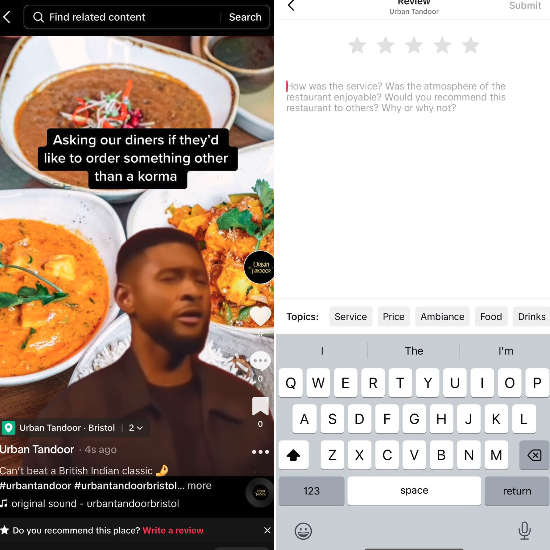 Our take:
In the image above there's a review prompt: "Do you recommend this place? Write a review."
If TikTok deploys reviews it will need to have moderation and anti-fraud measures in place, otherwise fake reviews will proliferate.
Tako is speculative. Yet it could make search a bigger part of the TikTok experience and boost leads and transactions accordingly.
Recent Analysis
Short Takes
Listen to our latest podcast.

How can we make this better? Email us with suggestions and recommendations.