NYC Ortho Fined $100K for Fake Reviews
The NY State Attorney General fined physician Dr. Mark J. Mohrmann and his wife $100,000 for buying fake reviews and suppressing negative ones at multiple sites including ZocDoc, Google, Yelp, Healthgrades and others. AG Letitia James noted, the business "would falsely flag negative [Google] reviews as violating the platform's policies prohibiting inappropriate content. This tactic was often effective ... as Google's automated system will remove a review that has been flagged without analyzing the content of the review." At ZocDoc, Mohrmann "repeatedly prevented patients from leaving a potentially bad review by falsely indicating on the platform that they had failed to appear at a scheduled appointment" or by offering to refund a $50 copay to remove negative reviews. On Yelp, Mohrnmann used an old address to prevent patients from finding his practice. His wife hired contractors through Fiverr and Upwork to post reviews "she either wrote herself or copied from positive reviews of other orthopedic physicians." They partnered with a particular contractor "who discovered how to evade the [review platform] filters." The couple, now divorced (big surprise), have been ordered to ask for the fake reviews to come down. Interestingly, while most reviews around the web now reflect reality, Mohrmann's personal listing on Google still shows a 4.5 rating with reviews from the period in question. More embarrassing is the fact that ZocDoc allowed Mohrmann to have no reviews at all: "This doctor has chosen not to have their reviews shown on Zocdoc."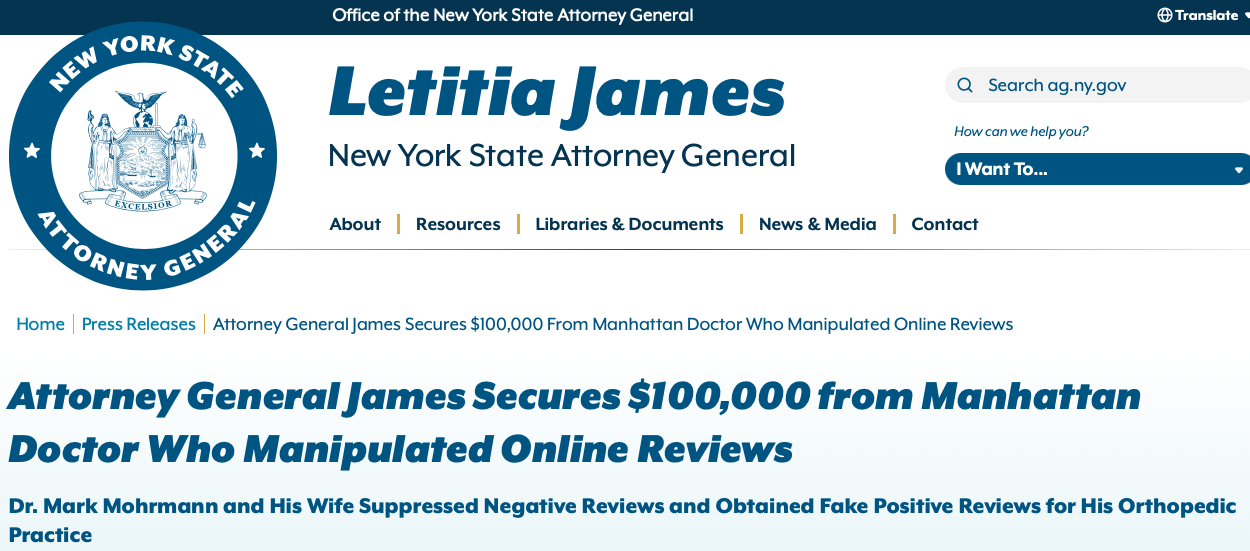 Our take:
New York has been one of the more active states going after fake reviews with high profile cases in 2009, 2013 and 2016 but these cases have proven to be not enough to slow review fraud.
Perhaps along with the recent FTC's more aggressive stance on fake reviews, more states will go after these business practices.
The NY AG noted in the press release that so "many patients rely on online reviews when choosing which doctor to trust with their health." The medical profession is particularly vulnerable to FTC and state enforcement.
Social Engineering in GBP Forums to Remove Reviews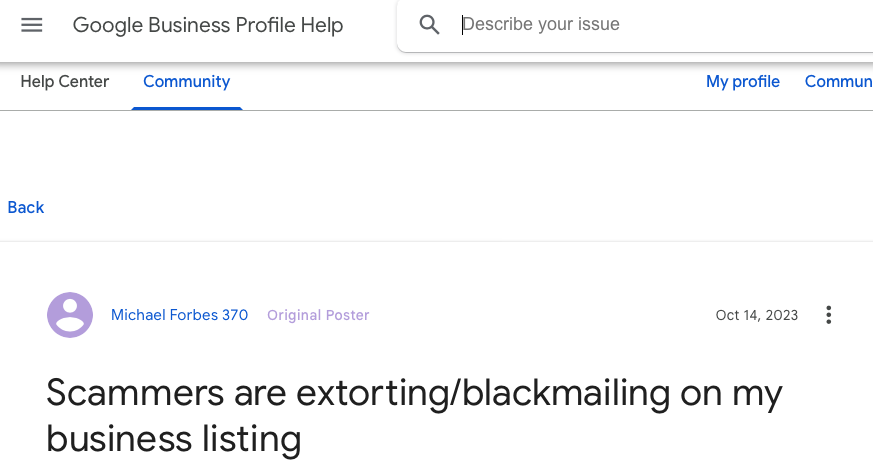 Recently in the GBP forum I uncovered a reputation management company manipulating Product Experts to get "fake review" cases escalated to Google. In the past, there was a scam where a foreign company would leave fake reviews on a business and then threaten to leave many more negative reviews if they were not paid a ransom. Like me, many Google GBP Product Experts have deep sympathies for how disruptive fake reviews can be to a small business and this group of perhaps 20 PEs are some of the few people in the world anointed by Google to have access to the inner workings of review removals. We are "allowed" to report, escalate and advocate for businesses suffering this fate and we do so with a strong focus on the well being of the business. The reputation management company, pretending to be an SMB being extorted by a fake review attack, would repeatedly get PEs to engage on their behalf to get negative reviews – fake or not – taken down. I got suspicious when they indicated four year old reviews of a widely criticized residential treatment center were part of the attack. I shared my suspicions in a Product Expert Slack group and together we uncovered a large number of cases with the same m.o. These had been missed because each of us had only dealt with a few of them. I called one of the businesses mentioned in the posts and they willingly shared the name of the reputation management company. The owner hadn't actually been threatened, although he did have a legitimate complaint about some of his reviews and fired this vendor. He was clueless about how to have reviews disputed or that this "reputation management" company had lied on his behalf.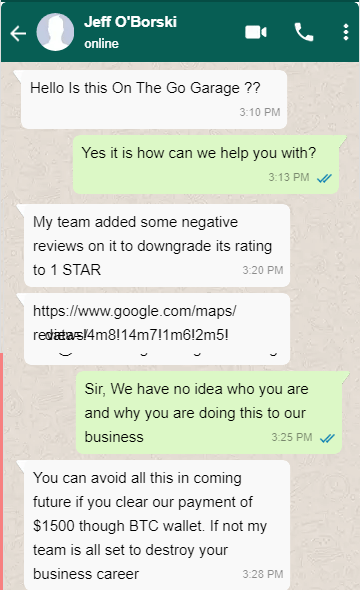 Our take:
Time and again, Google says it created a simplified GBP interface to help SMBs; yet disputing fake reviews and fighting review attacks is unusually difficult.
Small businesses should be wary of any "reputation management" company that "guarantees" it can remove negative reviews.
The wacky world of SMB reviews, combined with vagaries of Google support, lead "reputation management" companies to use unethical tactics for profit.
Solution for Ongoing SAB Location Bug?
When an SAB moves, updates its listing to a new address and reverifies, all too often, Google still shows the profile at the old location. This bug (or is it a feature to prevent hijacks?) has been around for a very long time. When the business reaches out to support, it's told that everything is just fine – except it isn't. Escalations through the forum go into the deep dark recesses of Google never to be seen again. Through collaborative discussions in one of our GBP PE Slack channels we may have come upon a solution. Toggle the hidden address to be seen, save, toggle it off and then save again. This might result in a re-verification process but it is an improvement over having your listing showing on the wrong side of the state or even the wrong side of the country. Early reports indicate that your listing might just show at the new location.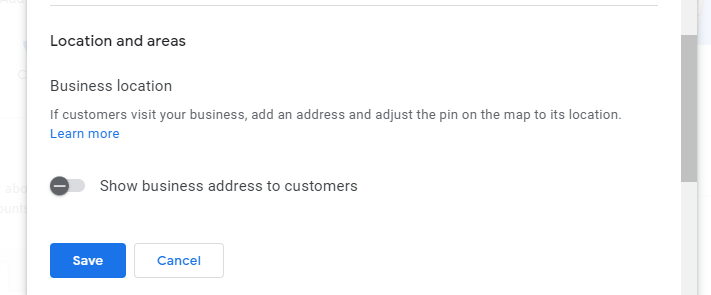 Our take:
This solution has not been thoroughly tested. If you try it and it works please let us know but approach with caution or await more testing.
This GBP bug, along with many others, seem to last forever and are very slow to be addressed and fixed, making working the product very frustrating for many.
Equally problematic is the disconnect between Google support and the knowledge of the bug's existence. It's to the point that support is effectively, though perhaps unwittingly, gaslighting the business owner.
Recent Analysis
Short Takes
Listen to our latest podcast.

How can we make this better? Email us with suggestions and recommendations.