Can the 'AI Pin' Replace the iPhone?
The short answer is "no." But Humane's new AI-powered wearable "pin" is an impressive hardware device that points to a next generation of wearables and ambient computing. It's a powerful virtual assistant in a $699 container that has picture and video-taking abilities. It can also retrieve, summarize and respond to emails and messages. It can perform real-time language translation and answer general knowledge questions. It even has e-commerce capabilities. Based on the demo (below), the AI Pin assistant appears considerably more sophisticated than Alexa, Siri or Google Assistant. The company, which has raised more than $200 million, was started by two former Apple employees, which shows in its design and marketing. The Pin has ChatGPT built in and draws upon multiple sources for content and information, including music. There are no apps and no screen. It's entirely voice and touch activated. It can emulate a screen by using a laser to project images or controls onto your hand, though it also uses gestures. Humane says it plans to enable developers to work with the device as well.
Our take:
There will be many early adopters who buy the AI Pin but it's not something likely to see mainstream adoption.
Most people will probably regard it as less capable than their smartphones, and so unnecessary accordingly.
The AI Pin may not succeed, but it opens the door to a new category of wearables, with embedded AI, that can replace many smartphone functions.
Explaining Google's Decline
AJ Kohn's tome on the state of Google and SEO, "It's Goog Enough," is making the rounds. Darren Shaw called it the "most important SEO read of 2023." Using a mix of experience, logic and Google antitrust trial documents, Kohn seeks to explain the state of the Google SERP. He goes through the user engagement material revealed at the antitrust trial, which exposed Google's reliance on click data and other behavioral signals for ranking purposes. He also discusses how Google's bias toward familiar brands plays into this: people click on sites they know, regardless of quality, which reinforces their ranking ability. Forbes is the poster child for this in the article; its content is completely mediocre yet it continues to rank. He points to other, comparable sites that are ranking for things they arguably shouldn't be ranking for. User engagement data now just reinforces this cycle of mediocrity according to Kohn. He adds that smart people are retreating to various corners of the internet (forums, Reddit, Slack) for information they once might have sought on Google, leaving morons and rubes (my language) to deliver Google's behavioral signals. Add to that "ad creep" and "enshitification" (sacrificing product quality for revenue) and viola: today's SERP. Kohn makes some hopeful recommendations at the end about how to fix the SERP and UX.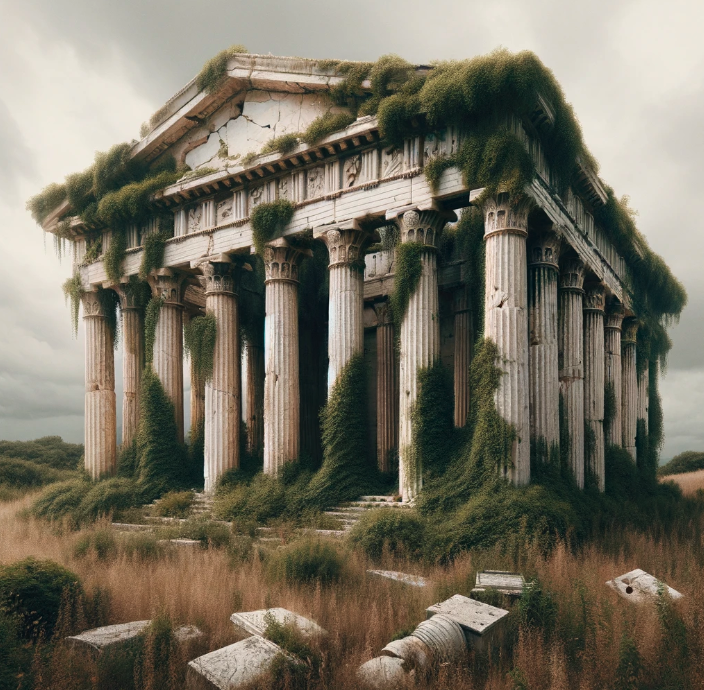 Our take:
My summary is a significant oversimplification. Read the article yourself and see what you think. It's pretty compelling.
The quality rater system may be partly a recognition from Google that click data has lost value over time as a way to understand content quality.
Back end AI capabilities and things like SGE are wildcards that may help improve search quality. But AI-generated content could also make everything worse.
Which Categories Have the Most Reviews?
Darren Shaw at Whitespark analyzed Google Business Profile data (specifically reviews) for the top 100 businesses, across 168 categories, in the 100 largest cities across the US. The total dataset includes more than 1 million business locations and hundreds of thousands of reviews in total. There's a remarkably wide distribution of reviews across categories. The category with the most reviews per location is "historical landmark," with more than 15K reviews on average. But the bottom of the list has over 150 categories with fewer than 10 reviews per location. Among them are: architects, financial planners, accountants, psychologists, engineers, ad/marketing agencies and numerous others. Many business categories had an average of just one review per location. Those business categories where there are very few reviews are either not trying or perhaps ignoring their GBPs. And in some cases these are regulated industries not permitted to market themselves aggressively or solicit reviews. Beyond general interest, Darren suggests this data could be used for client benchmarking.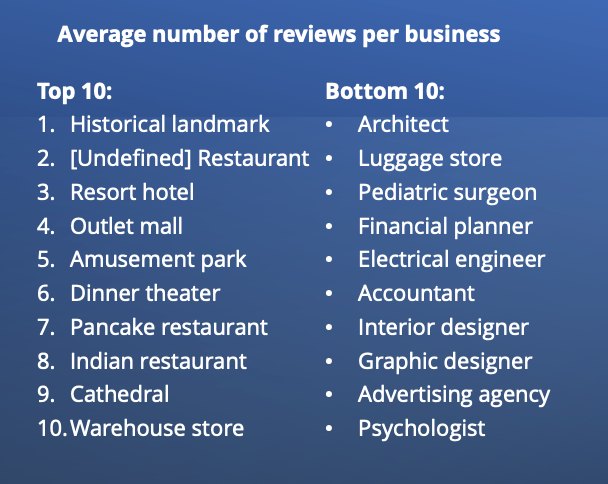 Our take:
It would be interesting to compare review distributions and review fraud. Do more reviews correlate with more fraud, for example? I would assume so.
Consumers have incredibly high expectations when it comes to star ratings and review volumes. Most want more than 4.5 stars and lots and lots of reviews.
Near Media's research revealed a paradox: heavy consumer reliance on reviews but the majority are not actually reading review text.
Short Takes
Listen to our latest podcast.

How can we make this better? Email us with suggestions and recommendations.