Earnings: Digital vs. E-Commerce
Snap, Twitter, Microsoft and Google revenues have all disappointed Wall Street recently. (Meta reports today, Apple tomorrow.) Yesterday, Google missed on both the top and bottom lines. It reported $69.7 billion in revenue, which was 13% growth YoY. However there was strength in Google's core search-ads business and its cloud division. Paid search brought in $40.7 billion – above expectations – boosting Google's stock. Analysts thus opined, search is "recession resistant." YouTube and the display network, not so much. Online ad spending by retailers was a major factor in search revenue growth. Also yesterday, Shopify (synonymous with e-commerce) laid off 1,000 people. The company said its bet that online buying would "permanently leap ahead by 5 or even 10 years" was wrong, according to CEO Tobias Lütke. So while digital ad spending by retailers saved Google's quarter, Shopify has suffered as people returned to stores.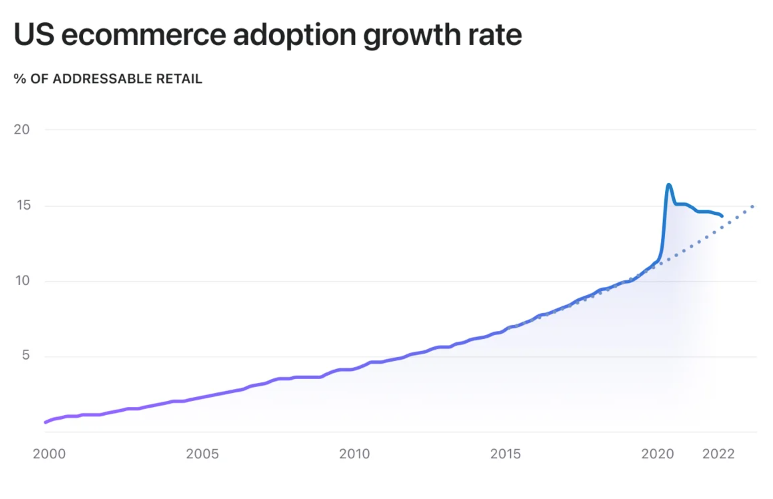 Our take:
What many people didn't clearly recognize during COVID is that digital and e-commerce aren't totally synonymous. Necessity drove e-commerce gains.
Now that stores are back, e-commerce growth has moderated. Digital marketing is critical, however. The customer journey is now mostly digital.
Google's online + local "agnostic" commerce strategy (to compete with Amazon) seems to be paying dividends.
Google Commerce SERP Trends
Shopify's SEO Director Kevin Indig, and much of his team, were unfortunately laid off yesterday. Indig recently produced an analysis examining Google SERP features for e-commerce queries. His dataset was 20K e-commerce keywords (desktop SERPs). There's considerable detail in his post. But at the highest level, Indig found that Amazon was the top e-commerce domain, ranking for "18% of keywords and capturing almost 20% of total search volume." He goes on to discuss the frequency of SERP features in commerce results. Product Listing Ads appear for 84% of queries. Local Packs are shown for 77% of commerce searches (hybrid strategy). Image carousels appear 37% of the time and top stories (featuring products) on roughly 16% of SERPs. He summarizes with four big commerce trends: 1) SERPs are increasingly visual, 2) there are more SERP features for ambiguous queries, 3) Google shows Local Packs for the majority of e-commerce searches 4) maximum SERP visibility requires ad spending.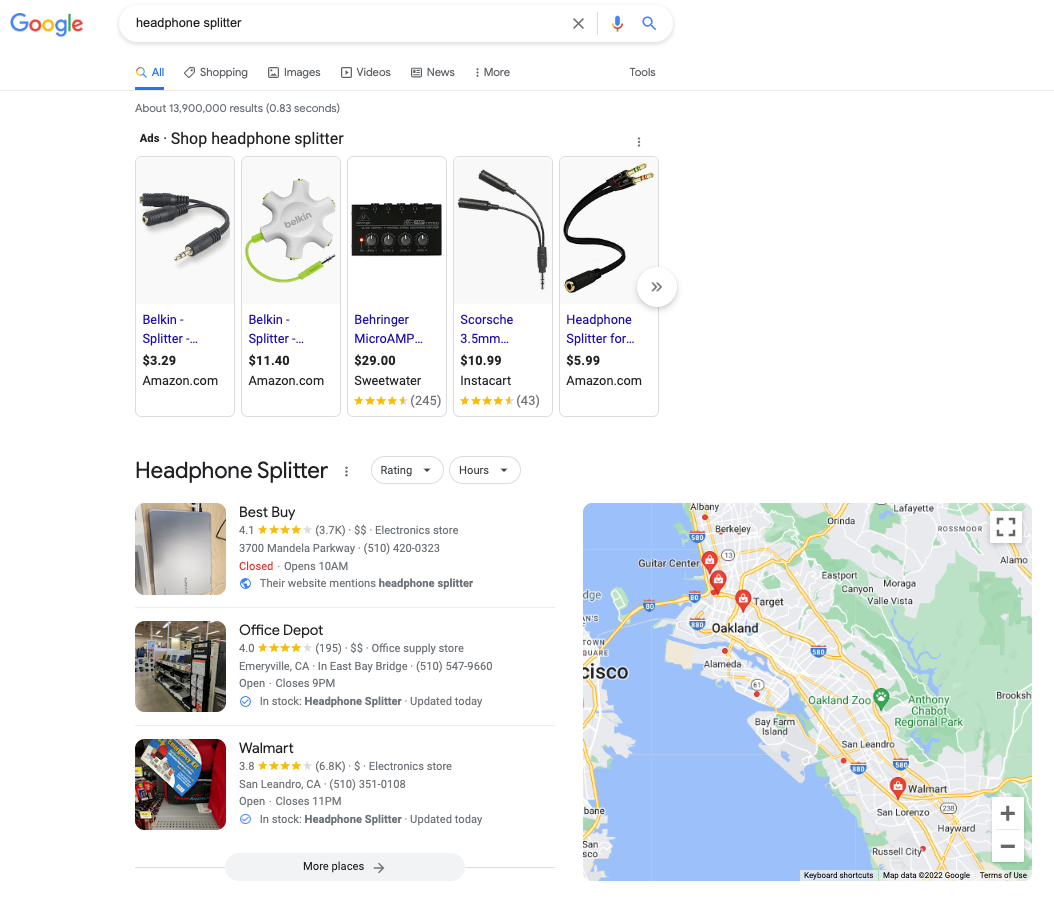 Our take:
As indicated, retailers are paying for visibility and top position in commerce SERPs. That's partly what produced strong paid-search results.
The fact that 77% of commerce queries are generating Local Packs is significant. This is part of Google's larger "agnostic" approach.
Increasing amounts of local content in commerce SERPs is also about Google's growing database of local product inventory.
B2B Marketers: 'Social Beats Search'
A new (or another) "state of B2B digital marketing" report comes from Ascend2 (and Wpromote). It's mostly what you would expect, except for a couple of surprising findings: marketing budgets are growing and social media was rated the most effective revenue-driving channel. The survey of 321 B2B marketers was fielded in May 2022. Company revenues ranged from $5M to over $1 billion, with just under half (47%) above $100 million a year. All had a minimum of 50 employees. Only 8% of respondents said their marketing budgets were under pressure, while 74% expected moderate or significant increases for 2022. (These numbers might be different today.) When asked, "Which digital marketing channels are most effective at driving revenue?" they responded "social media." Social media aren't parsed in any way. But out of seven options, paid and organic search come in at five and six, beating only "streaming TV."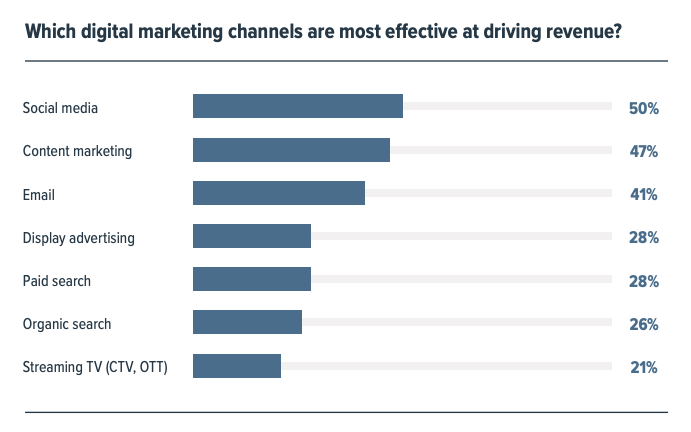 Our take:
A Nielsen B2B survey found something similar. Marketers valued social and display more than search. They also found social most effective.
It's strange that B2B marketers are devaluing/undervaluing search. SEO and content fit closely together; note the disconnect above.
Paid-search growth helped save Google's quarter, while display advertising and social sites are seeing weakness – another disconnect.
Recent Analysis
Short Takes
Listen to our latest podcast.

How can we make this better? Email us with suggestions and recommendations.