Bargle Uses Yelp for Local Results
Miriam Ellis at Moz compares local results from Google and Bard and finds Bard wanting. Beyond critiquing the quality of results, her article is about local SEO for Bard. She concludes the ranking (or inclusion) factors for Bard appear to be roughly the same as for Google itself. "[M]y first impression is that you'll still be doing the same tasks: making your GBP as fully-filled out as possible, earning good reviews via good customer service, growing and optimizing your website on the basis of consumer research." In a Slack exchange yesterday with David Mihm, he and I compared local results on Bard for identical queries, such as "best breweries Portland," and got different results (we're in different places). Asking for sources, he found that Bard used Google search, Yelp and vertical directories (see image): Avvo, Untapped, Golf Advisor. It's not entirely clear we can trust what Bard is saying about its results. But if we can there are implications for what we might call Bargle SEO. Despite concerns about accuracy, 33% of users (under 60) said they would be willing to switch to an AI-supported search engine from Google.
Bard's sources for local results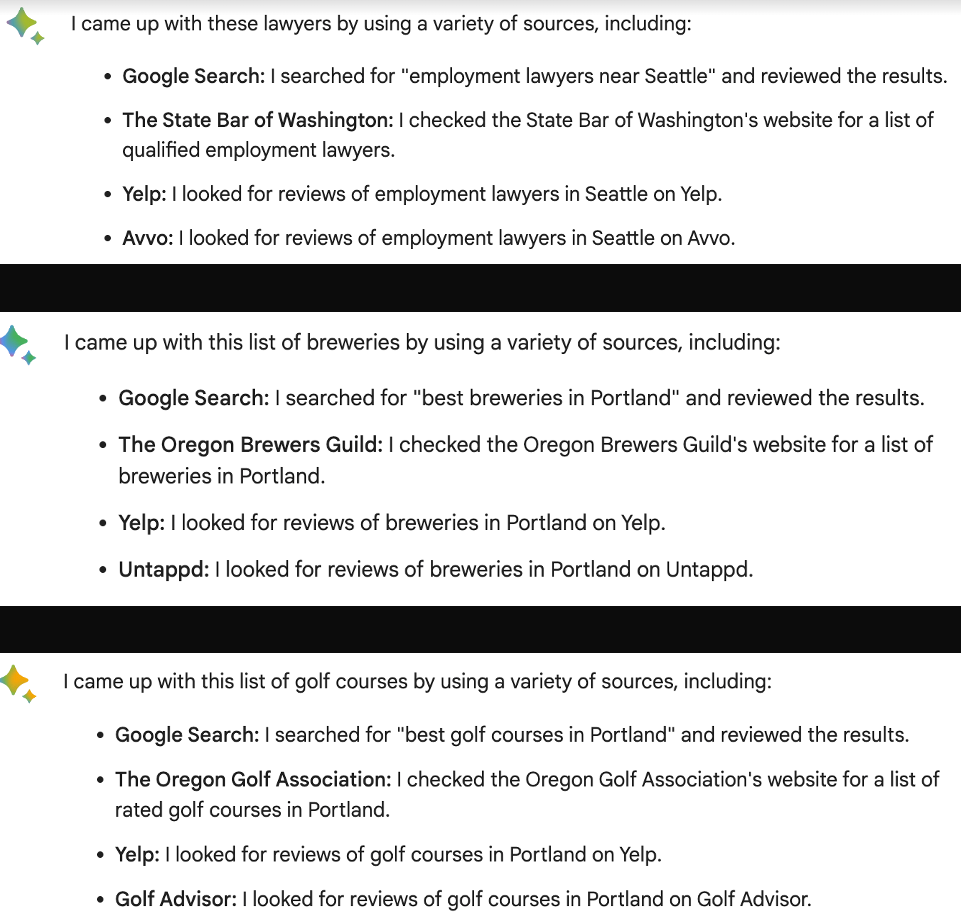 Our take:
Taking the above at face value, traditional and local SEO matter. But so do Yelp and key vertical directories – especially their reviews.
It's too early to say whether Bard will capture search usage. Google said Bard will be integrated into the SERP.  
Whether or not BingGPT et al capture market share from Google, the SERP will evolve – significantly. GPT SEO will become a thing.
SMB SaaS Tools Embrace AI
It's amazing how rapidly AI is transforming digital marketing. While machine learning and NLP have been around for years, OpenAI dramatically accelerated things. It launched last November, APIs came not long after that and plug-ins a couple of weeks ago. We speculated at the outset about how generative AI would make its way to the SMB world. Now it's starting happen. Earlier this year, Wix announced an AI text creator for website development. GoDaddy just created an SMB-focused prompt library for business formation, research, customer service and marketing scenarios: "Ask me 2-5 questions to understand my company's product, its distinguishing features, and the target audience until you can write a compelling product description." And this week Mailchimp launched an "email content generator." Using plain English, it taps into Mailchimp data to enable the creation of campaigns "based on industry, marketing intent, and brand voice." It's the latest in a series of AI-powered tools Mailchimp has rolled out.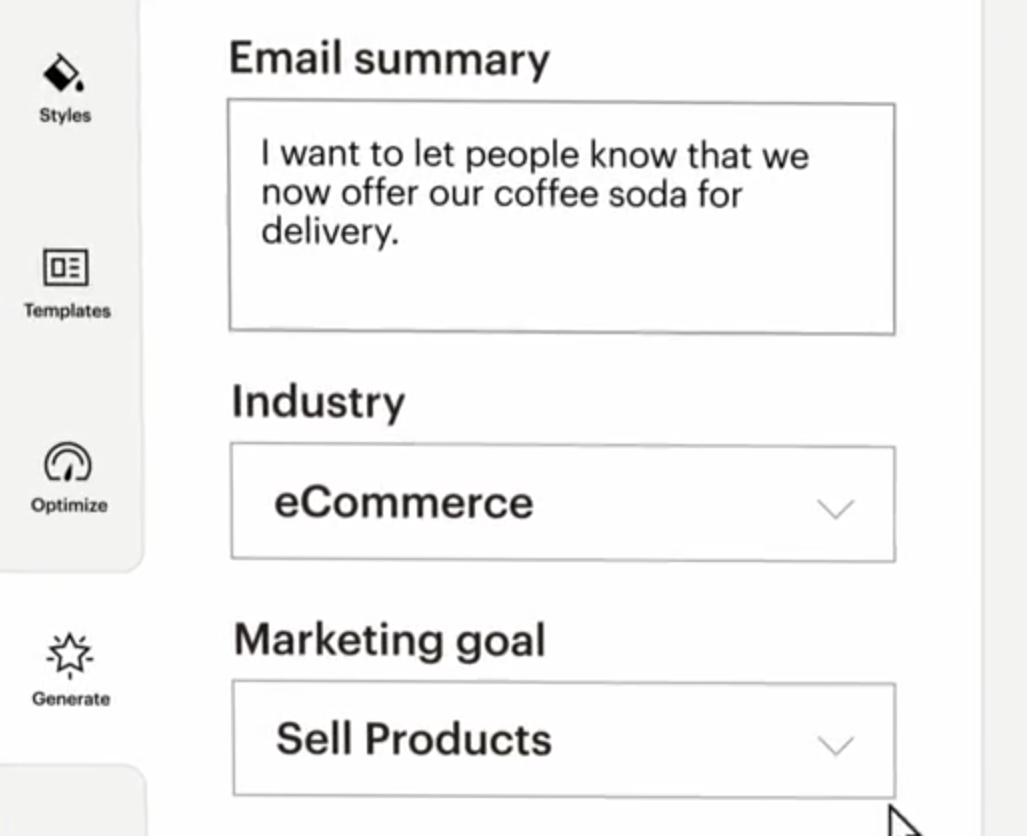 Our take:
As we've said in other contexts, competitive pressure will compel nearly every SMB SaaS vendor to integrate AI tools – sooner rather than later.
Some of these could greatly expand DIY marketing capabilities for SMBs through simplification. However, that remains to be seen.
One concern: AI-generated email campaigns, website copy, explainers and other content could drain away "personality" and blandify everything.
Liability for Hallucination
OpenAI executives have spoken numerous times about the limitations of AI and the need for vigilance around safety and accuracy. The company recently posted about its approach to "AI safety." (Former board member and OpenAI nemesis Elon Musk is said to be developing his own "anti-woke" generative AI.) As many have documented, AI "hallucination" is pervasive. It will make things up, often convincingly. This is a different problem from human use of AI for disinformation. Both raise the specter of defamation when AI makes up damaging reputational information about individuals. That's not a hypothetical problem. One recent case involves an Australian mayor whom ChatGPT falsely claimed served prison time for bribery. The mayor's lawyers demanded a correction as a potential prelude to a defamation suit. Another case involves US law professor and media pundit Jonathan Turley, who showed up on a ChatGPT-generated list of "legal scholars who had sexually harassed someone." It's curently an open question whether generative AI would fall under Section 230's liability shield, which doesn't similarly exist in Europe and elsewhere.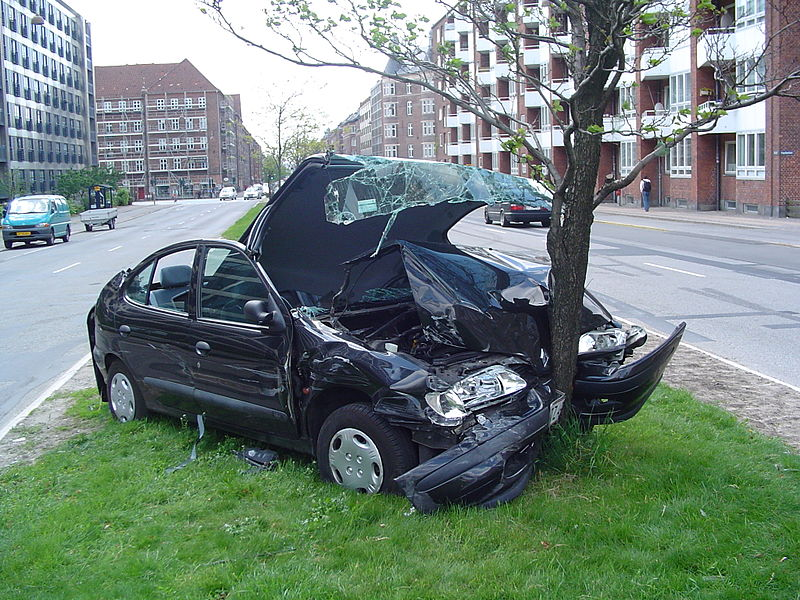 Our take:
In the oral arguments for Gonzales v. Google, SCOTUS Justice Neil M. Gorsuch suggested generative AI might be outside § 230.  
§ 230 distinguishes an "information content provider" from an "interactive computer service." The latter have not been liable for third party content hosted, posted or linked to on their sites.
Generative AI is not just organizing or presenting third party content; it's arguably creating new content. And when that content is defamatory...  
Recent Analysis
Short Takes
Listen to our latest podcast.

How can we make this better? Email us with suggestions and recommendations.