Google 'Online Conversion Local Ads'
Michel Van Luijtelaar of GMBapi.com brought our attention to what he/Google is calling "online-conversion Local Ads." These units can appear in a few places, but mostly on GBPs (see below). They can either be from the business itself or competitive advertisers. They appear to be some flavor of a test that goes all the way back to 2017 and that I wrote about in 2020. At the time I asked Google if this was part of Local Campaigns. They said it wasn't and that the units were being tested by a small, whitelisted group of advertisers. Now this has become a more formal program, apparently made available to multiple advertisers. In 2020 these ads couldn't be controlled by the business owner and there was no way to pay to remove a competitive ad. Now Google appears to be allowing businesses to advertise on their own profiles, as well as competitor profiles. Van Luijtelaar says, "This is a big new ad format to consider for omnichannel businesses."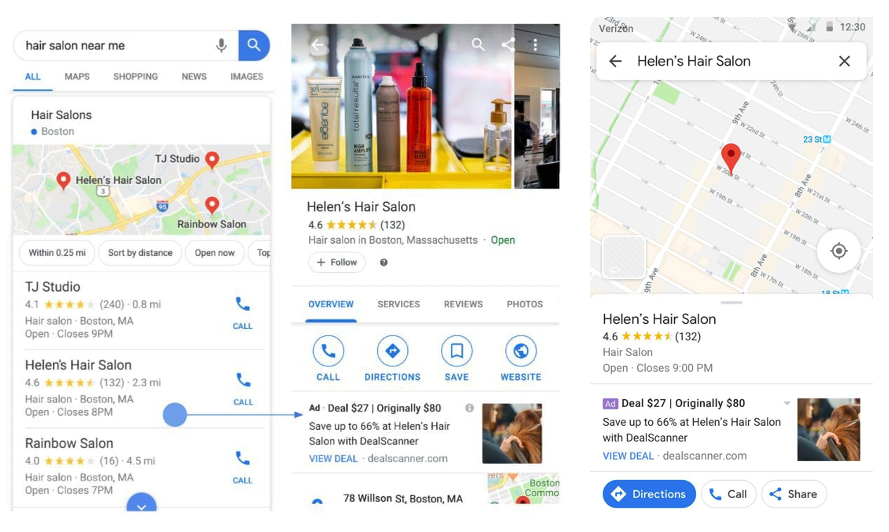 Our take:
Even though the example shows an SMB, currently this isn't for them. It's for more sophisticated multi-location brands.
"Advertisers have to create an online-conversion Local Ads feed to specify [ad content] and the specific location [for] each ad."
If competitive ads start appearing in GBPs, it will cause an uproar. Google needs to find a way to enable SMBs and/or allow removal of these ads.
ChatGPT Apps vs Search
Last last week OpenAI announced ChatGPT plug-ins. Plug-ins are intended to extend ChatGPT to third party apps and provide access to the web and new datasets. The company announced a limited number of launch partners. Among the inaugural group were OpenTable, Kayak, Instacart and Expedia. So far their new virtual assistant capabilities aren't live. However, OpenTable envisions users being able to ask esoteric or specific questions such as, "I'm throwing a surprise birthday dinner for my BFF next Friday and inviting 10 of our closest friends" and get a list of suggestions. Kayak says, "ChatGPT will act as a virtual travel assistant, allowing for more conversational interactions with KAYAK's search engine." It also promises more personalized recommendations: "ChatGPT can understand the traveler's specific needs and preferences and ask KAYAK to provide tailored recommendations based on that information." While not exactly a consumer-facing app store, the ChatGPT plug-in list could evolve into one.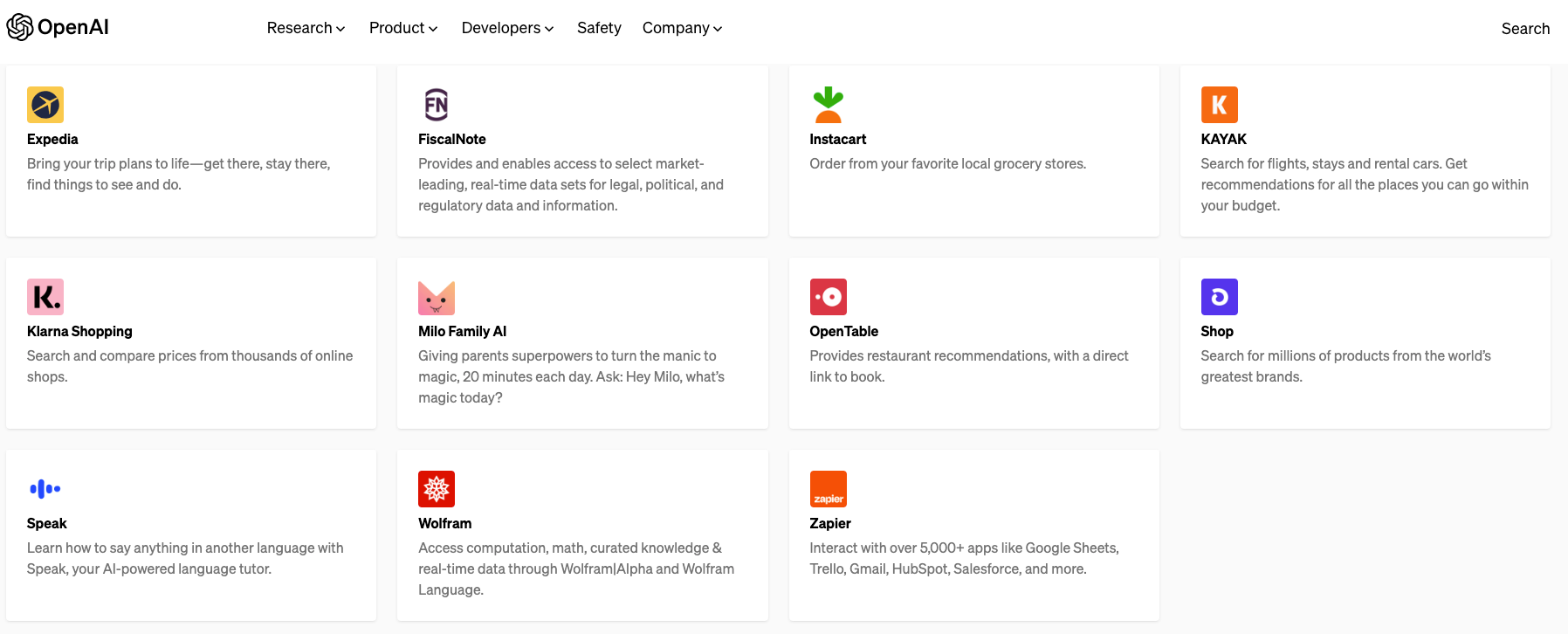 Our take:
It's too soon to evaluate these integrations, but they're intriguing and may transform the user experiences on some of these sites.
Might "conversational" interactions motivate consumers to go directly to these sites and bypass general search? It's possible.  
In some cases the new assistant capabilities will create more engagement and loyalty. Everyone is doing it so execution will be critical.
TikTok Beats Google with GenZ
A newish survey from Jungle Scout (n=1,000 US adults) explores consumer buying behaviors and preferences. It asks about the impact of inflation, buying considerations and future spending. Most interesting among the questions are 1) where consumers start their online product searches and 2) who's likely to buy directly from social media? Answering the second question first, GenZ and Millennials were more likely to buy on social media compared to older shoppers – no surprise. Facebook was the top social commerce site overall, but that's because of Millennials. Otherwise GenZ dominates social shopping, with Instagram as their top site (71%), followed by YouTube (68%) and TikTok (68%). Amazon was the starting point for product search for all groups (56%), followed by Google (42%), with 19% starting on TikTok. But when GenZ shoppers are isolated, the TikTok number is 43% – more than Google. Walmart also appears to have gained, coming in just after Google among all age groups.
Where consumers start their search for products online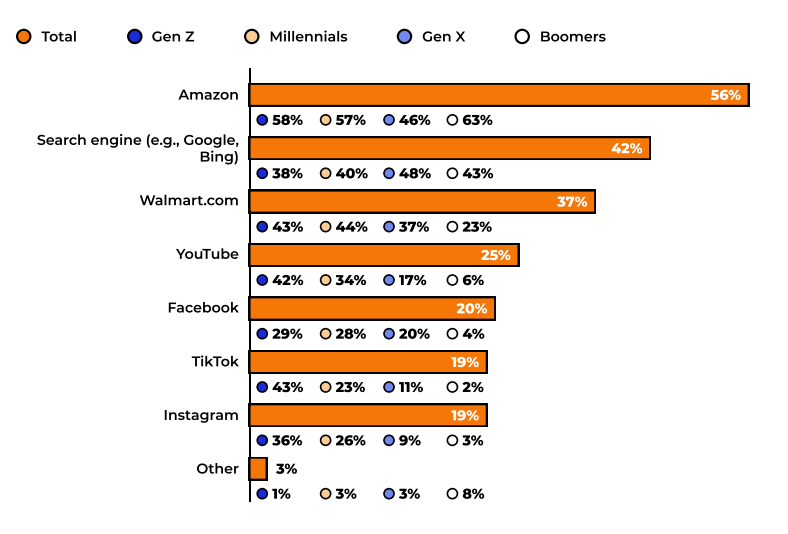 Our take:
This is further evidence of TikTok's rise as a search engine for GenZ.
The US govt. is unlikely to succeed in banning TikTok; we can assume it will continue operating and growing as a search tool.
TikTok recently expanded its search ads trial. To succeed, TikTok will need to grow search and promote itself as a Google alternative.
Recent Analysis
Short Takes
Listen to our latest podcast.

How can we make this better? Email us with suggestions and recommendations.