Is Apple Maps Driving Traffic?
In late 2021 it became obvious that Apple Maps had become a much more powerful discovery tool that could deliver traffic to businesses. The rollout of Apple Business Connect made clear that Apple was going to provide business tools that would give marketers insights into that traffic. We are now six months in and have enough data to assess Apple Maps as a marketing tool and how it compares to GBP in delivering traffic. We looked at common data points (web clicks, call clicks and driving directions) available for both GBP and Apple Maps, for a single location jeweler, a resort spa/restaurant and a multi-location storage company. According to Apple Insights, 28% of all clicks came from category searches while 54% were from brand searches. When we compare Apple Maps to Google, Apple is delivering about 5% of the web visits and roughly 10% of the calls driven by the Google Local Pack. However, Apple Maps actions appear to be growing year over year. (Apple only retains 12 months of data so it will take some time and effort to gather better year over year data.)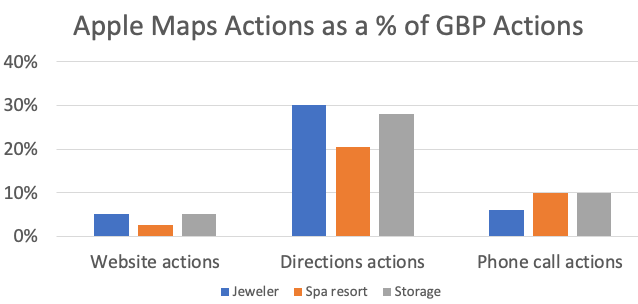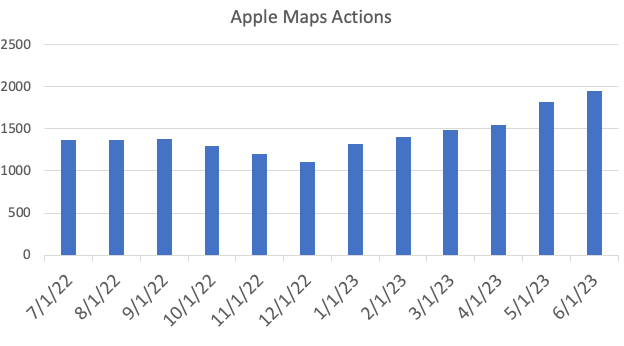 Our take:
Apple Maps can't compete with Google for traffic volume, but it has made inroads and is vying to be (a distant) second in local search.
We can roughly calculate Apple Maps market share on the iPhone: ~37% of iPhone users are using Apple Maps for driving directions.  
Apple plays the long game. Over time, spatial computing has the potential to upend everything we know. Maps could play a much larger search role in that future. Apple seems to be laying the groundwork.
Google Nukes GBP Call History
Last Friday, we saw the disappearance of call history from the Google Business Profile dashboard. It appears that Google's "free call tracking" offering has ended. While the documentation is still available, the option is no longer visible to most users. We don't know the status of existing users or whether/when they will lose the feature. First seen in October 2020 and rolled out more broadly in spring of 2021, call history has been problematic from the start. It has always been pitched as an experimental feature available to businesses in the US and Canada. To keep costs low and the product free, Google used a pool of numbers assigned to any given caller and business on a per-transaction basis. Thus numbers were not exclusive to a business location and frequently led to other businesses answering when a user clicked on your number. Go figure.


Our take:
With its poor design, Calls reveals the flaws of Google's "release early, iterate often" approach to business critical features, both in terms of functionality and use cases.
Building great free products and monetizing later led to ginormous success in everything from search to analytics to productivity tools.
But Google's many recent failures and cancellations (e.g., Domains, GA3) are now more common than hits. Future hits will be harder to achieve, and businesses should be skeptical about new product adoption.
GBP Forum: Suspensions, Video, Reviews
Google support has always sucked. But being the sucker I am, I have spent too much time in the GBP forum helping businesses overcome hurdles Google throws their way. Yet it also gives me insight into what is going on with Google local bugs and problems. The pie chart below shows my tabulation of the current distribution of complaints; the table below it shows changes over time. And over the past year, Google dramatically increased the number of suspensions, particularly for SABs --an apparent effort to re-verify virtually every SAB business. (Even the smallest change to an SAB listing can result in suspension.) Then there's video verification. This is where a business takes a short video of its location and proofs of existence and uploads it via a special interface. The problem is that a growing number of uploads are timing out at 99% completion, caught in verification limbo as support might or might not respond. Finally we have fake reviews and missing reviews, two sides of the AI-moderation coin. When algorithm adjustments are made, one side goes up (fake reviews in this case) while the other goes down (missing reviews). This month's drop in missing reviews is impacted by a new missing review form that captures users in the support flow rather than sending them to the forums.
June GPB Forum Issues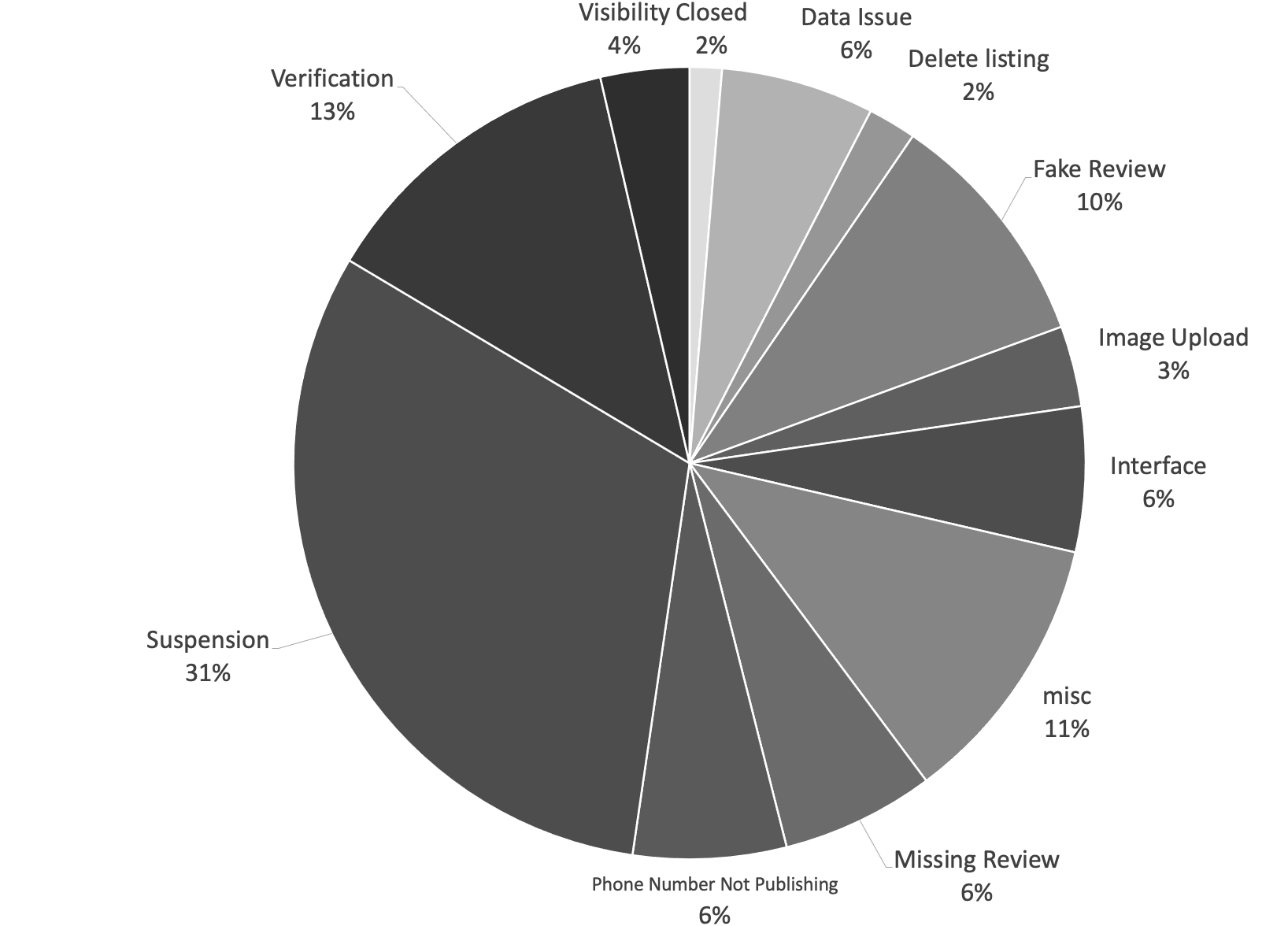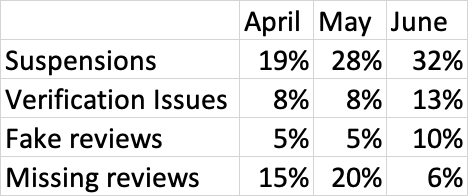 Our take:
Suspension/verification issues reflect Google finally trying to clean up the broadly spammed SAB world. But success is far from guaranteed.
Video verification is a good idea to speed up listing validation. Yet it breaks too often and is incredibly frustrating. And while Google has made progress on removing fake reviews, it's just scratching the surface.
Google's support strategy is brilliant (from a cost perspective) though it has high social costs. By externalizing support, Google creates huge inefficiency for businesses who waste hours trying to resolve GBP issues.
Recent Analysis
Short Takes
Listen to our latest podcast.

How can we make this better? Email us with suggestions and recommendations.