With the roll-out of a number of new Map search features, this year and last, Apple  has firmly planted a stake in the arena of local discovery. It's clear that Apple [1] is just getting started with their push into business discovery.
What's New in Apple Maps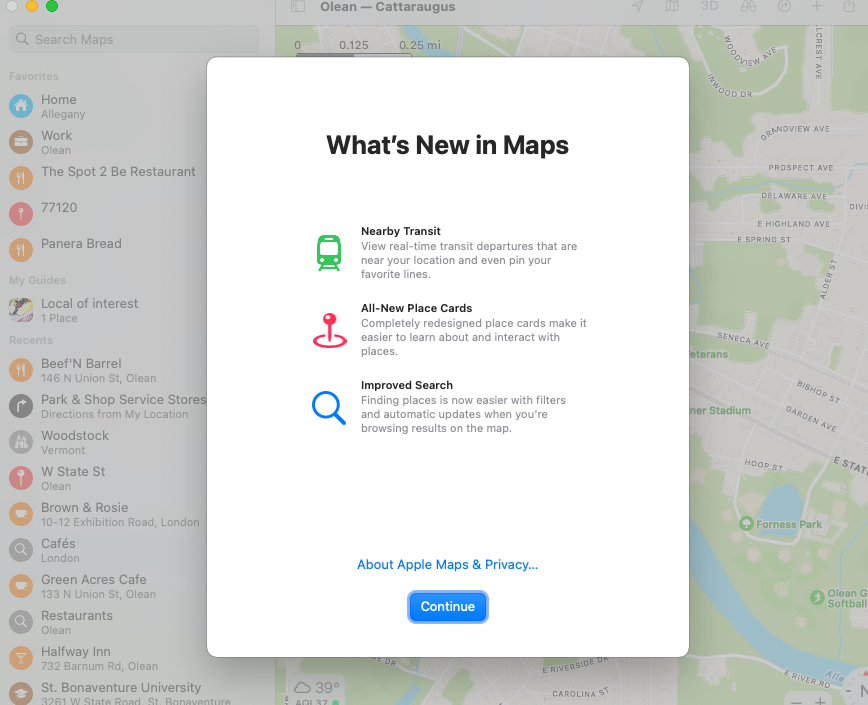 In the new OS, Apple Maps has placed discovery front and center with a new default Explore layer, new Place Cards, improved search filters, and significant Guide updates.
The Explore Layer
When you perform a city or neighborhood search, the first thing that is different is a new map layer called Explore, which highlights neighborhoods, parks, attractions, museums, restaurants, noteworthy buildings, and monuments.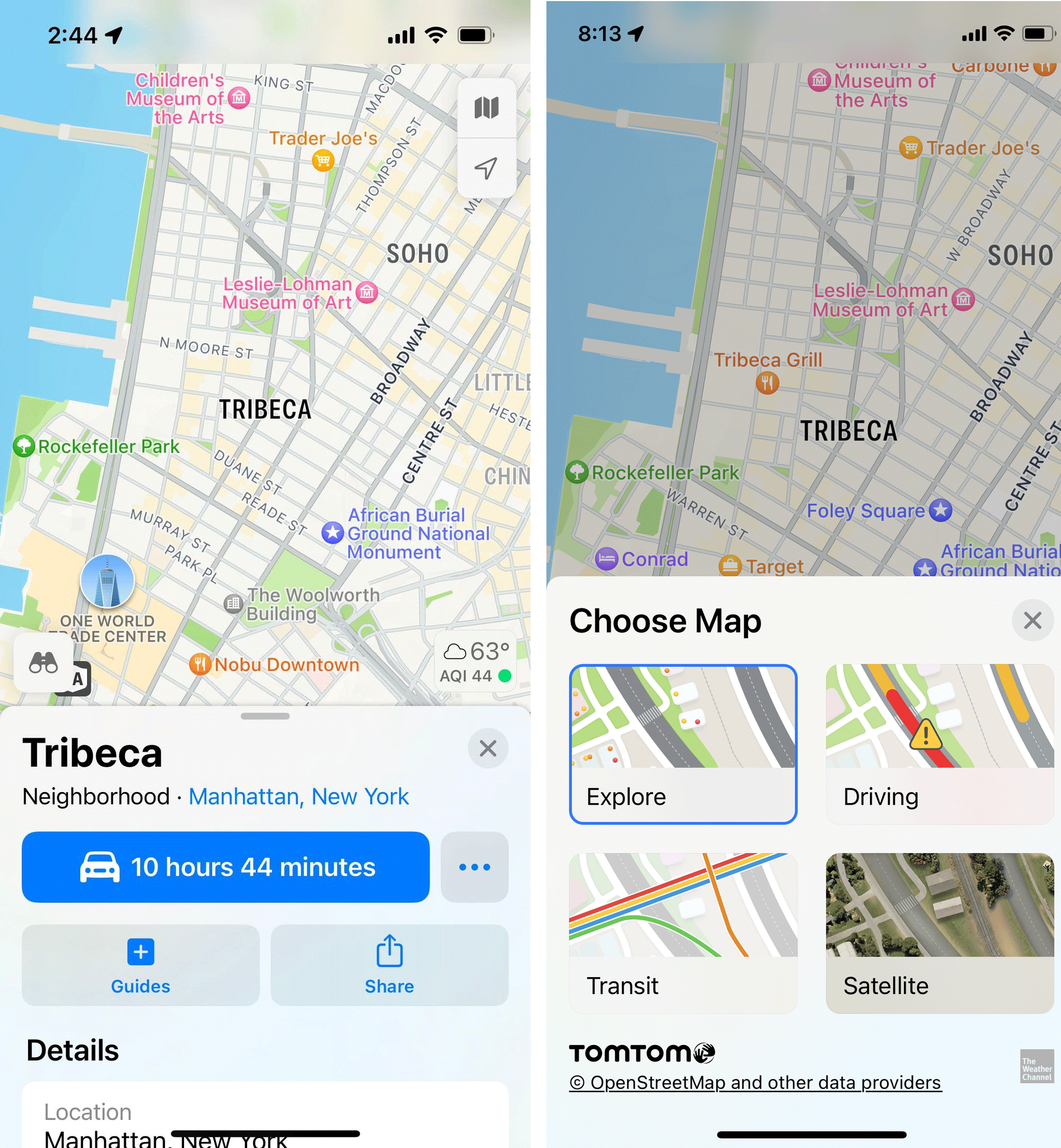 Previous versions of Maps offered only three layers: Driving, Transit and Satellite.
New Place Cards
In this new Explore view when you select an attraction like the One World Trade Center, you are instantly shown an option to view a 360° virtual walk around and a summary Place card. The summary includes a category, location, high level details and a call to action that changes depending on the category – all of which expands when you select the card. With the World Trade Center, the call to action is a flyover.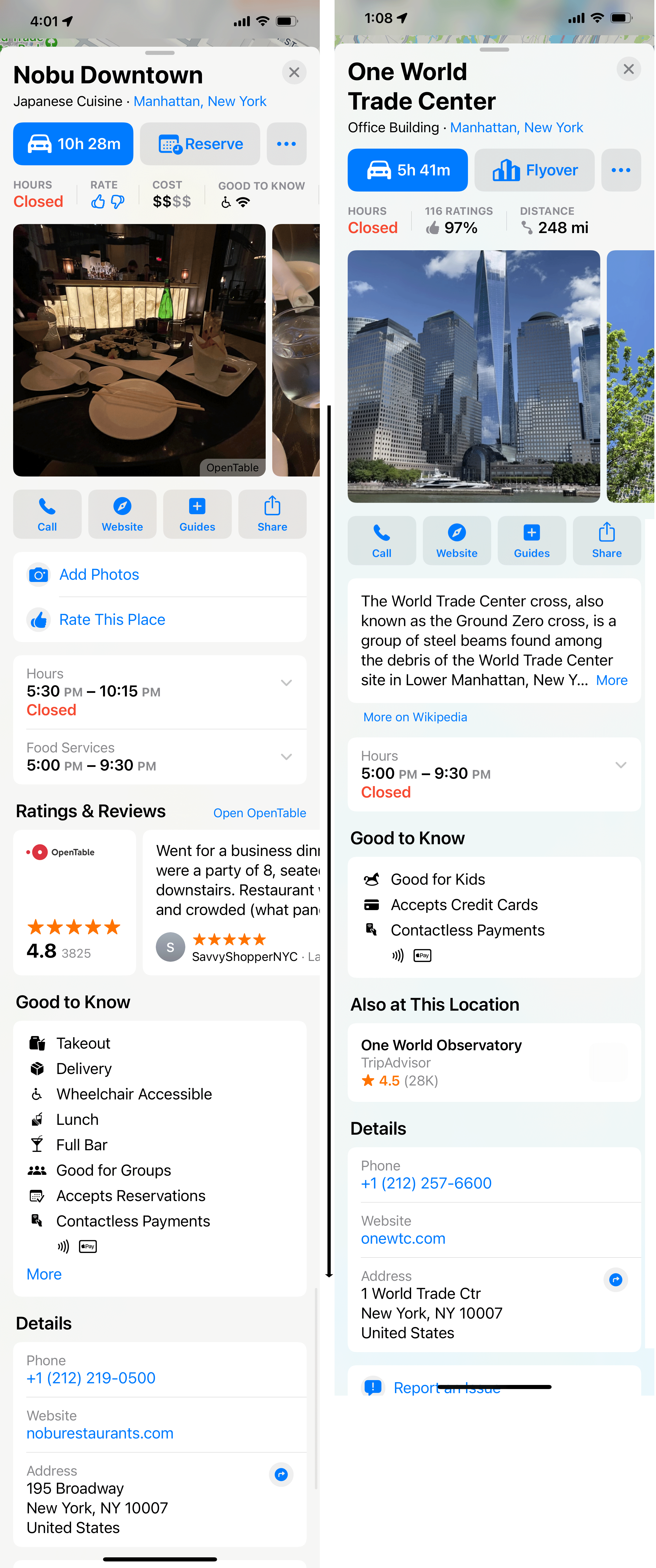 If you select a restaurant instead of an attraction, the card summary includes  a transactional call to action. When you slide the summary Place Card up you are presented with full contact and location details, with a photo carousel – either from a third party like OpenTable (for the restaurant) or in the case of the World Trade center, photos loaded directly into Apple – the place details and "good to know" attributes.
New Filtering
When you perform a category search you're now offered filtering options. Some of the new filters, like "All Cuisines," offer a plethora of additional choices.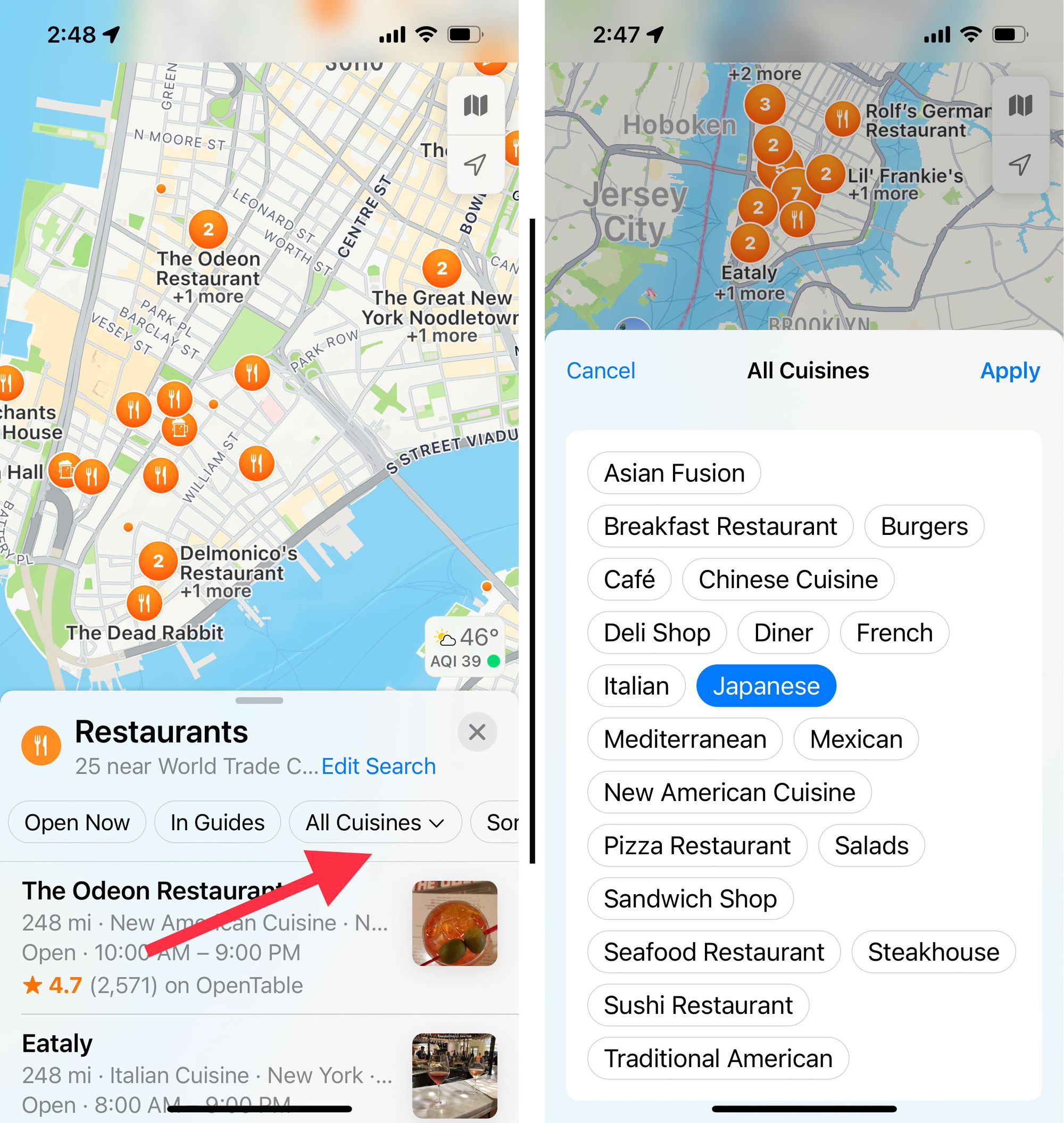 Improved Guide Options
The Guides, introduced in iOS 14 in 2020, have been improved in terms of layout, content and visibility within Apple Maps. Guides can be accessed from city searches, category searches or from within the new Place Cards.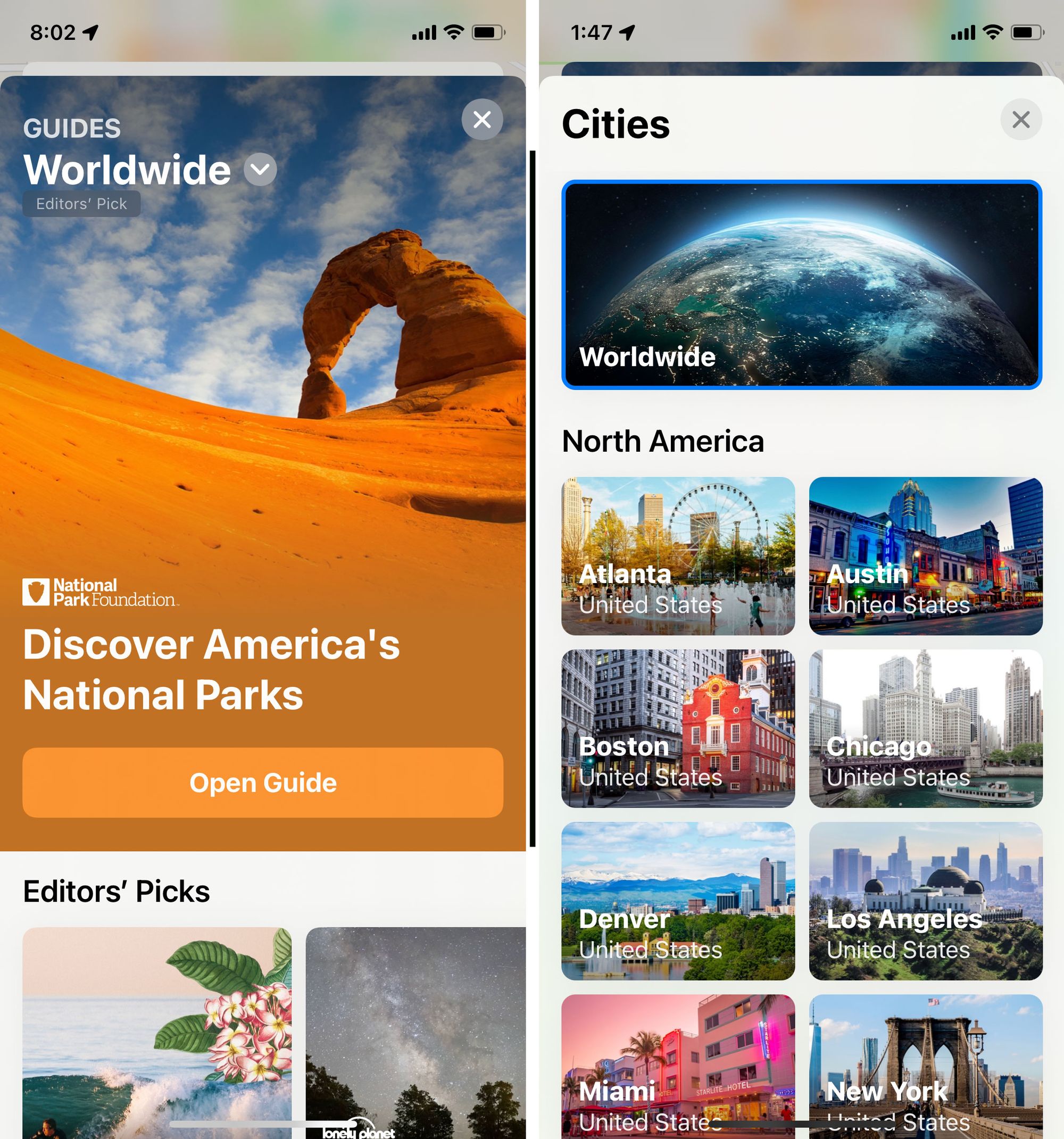 Guides are sourced from authoritative local sites, much like Google critic reviews. Unlike Google critic reviews, however, all of the content is available within Apple Maps for exploration. And once you've chosen your favorite spot or list, you can save any of your discoveries to your own Guides by clicking the + sign in the upper right.
Apple often takes this "curation at scale" route to add value to content. You can see this very un-Googly approach in Maps as well as in Apple Music channels, News and TV+. Within Maps these Guides allow you to immediately access authoritative content to make a more informed decision without having to do additional research, creating a richer discovery environment.
There was no indication on Apple's site as to how a publication might become a trusted partner for this program. That question was asked several times and went unanswered on their developer forum.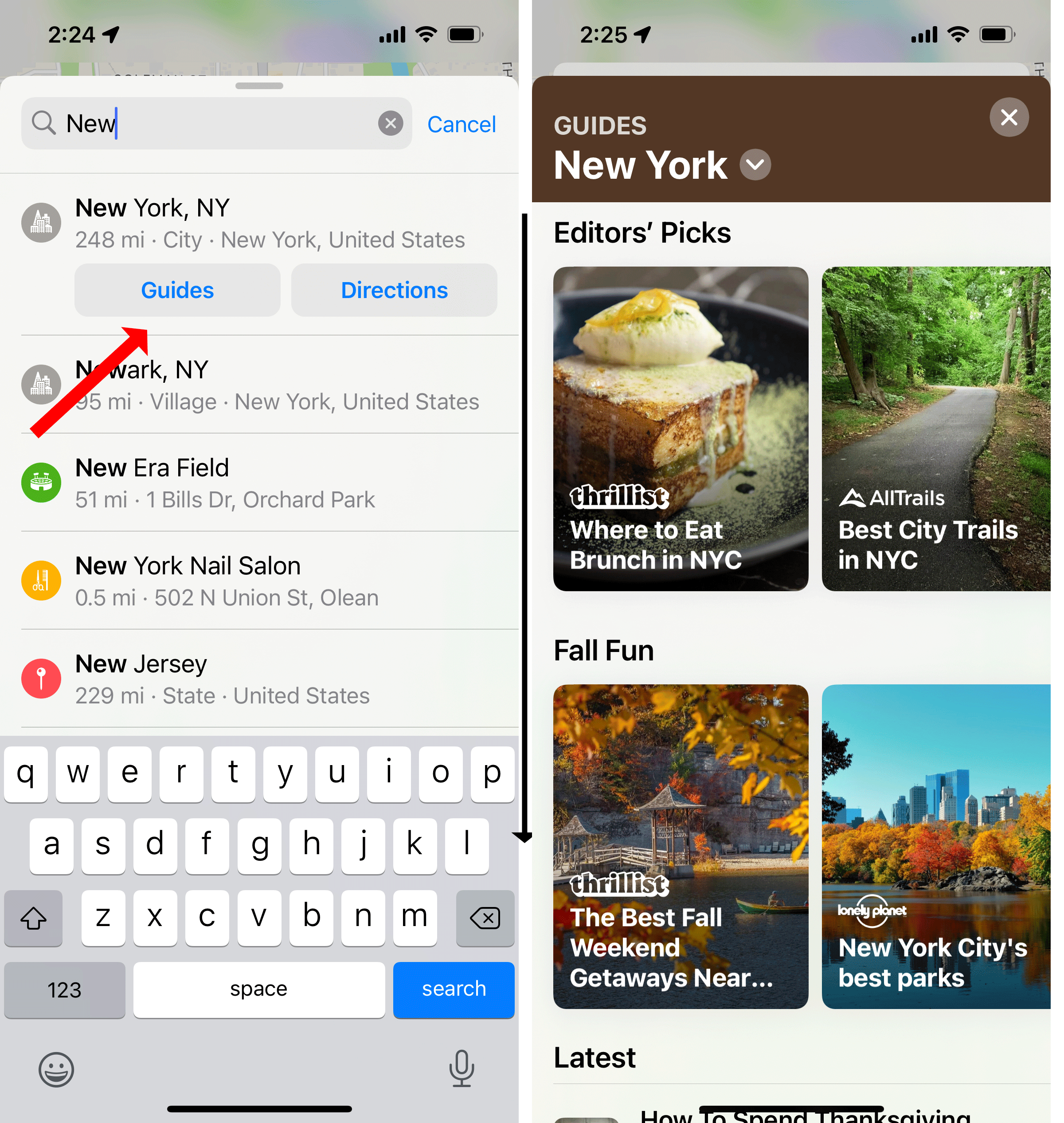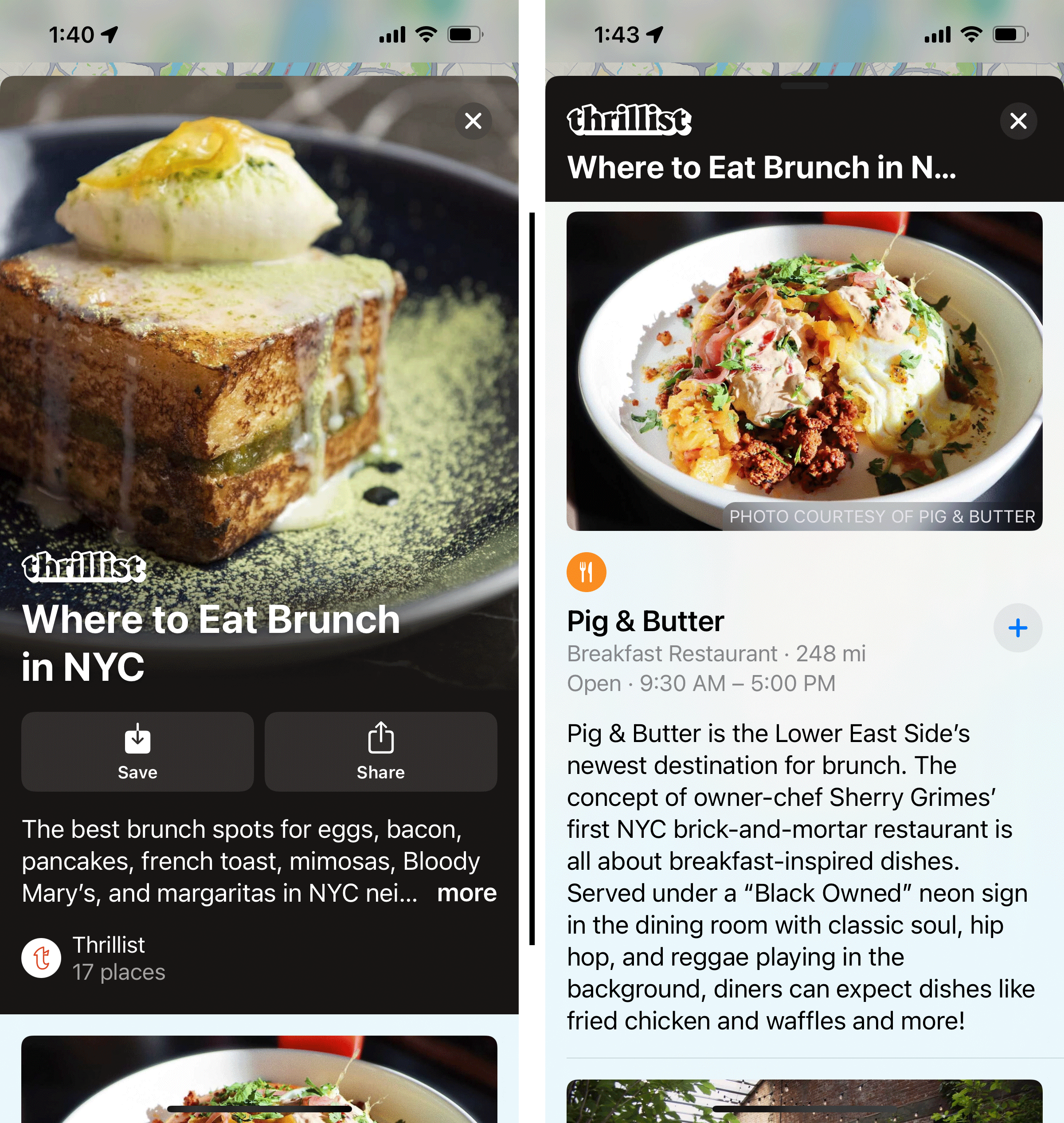 Other Discovery Features Added in 2020
Apple Maps' Transaction Layer via App Clips
App Clips was introduced with iOS 14 in 2020. From Apple's site (bold mine): An App Clip is a small part of an app that lets you do a task quickly, like rent a bike, pay for parking, or order food. You can discover App Clips in Safari, Maps, and Messages, or in the real world through NFC tags, QR codes, and App Clip Codes—unique markers that take you to specific App Clips.
When used in the context of Maps, App Clips easily allow the searcher to not just find a business's location but to place an order as well. Even though App Clips download like an app, they are small and quick to download and create an nearly seamless experience for the searcher. Because they work on Safari and Messages and in the real world via QR codes, they can be instantly deployed across Apple's ecosystem, allowing a business to add an iPhone transaction layer almost everywhere simultaneously.
Dunkin' Donuts has implemented this feature. Ordering directly via Maps is fast and painless without needing to download the whole app.
Interestingly, the third party Guides noted above can also become transactional using Apple's App Clips.
Apple Posts - Say What?
Who knew that Apple was offering a Posts feature? As I explored the new Apple Maps, I saw Posts cropping up in some Place Cards.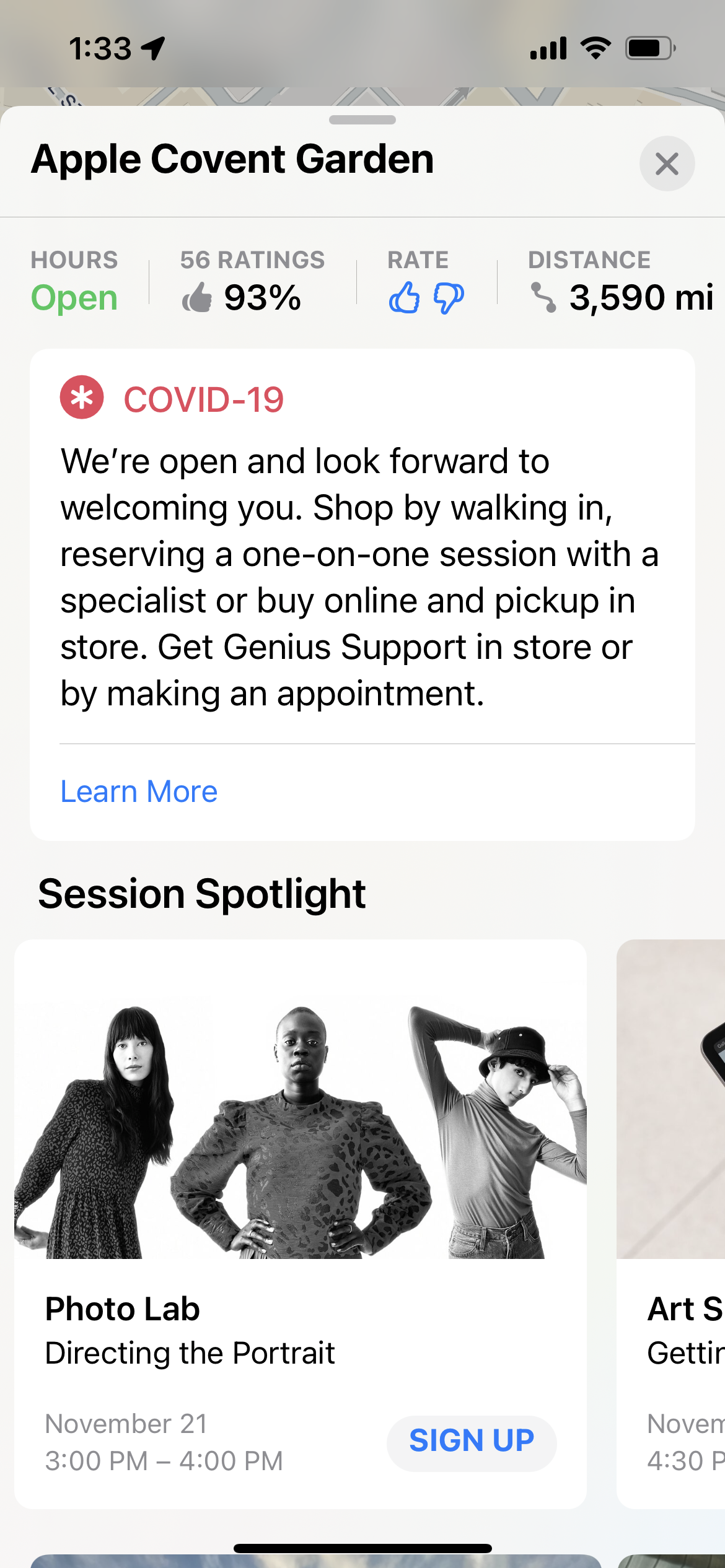 Apparently Posts are created via a JSON field with uploads from Apple's larger partners and there is no way to create one without using one of those partners. Like the Place Card and Guides, Posts support a call to action. I assume that they could also support App Clips and instantly become transactional as well.
Apple Reviews
In 2020, Apple added the ability to leave reviews directly on Place Cards. Initially rolled out in the UK and Australia, this Apple Maps review feature was released in April of this year to the U.S. Like everything Apple does it was uniquely Apple and unlike reviews on either Yelp or Google, Apple Map reviews are fast to create, easy to leave and hard to spam.
Fixes, Improvements, Upgrades
Apple has slowly and steadily been fixing its mapping app. In the first few years of Apple Maps' existence, updates were about fixing road geometry, driving directions and design elements. Then they moved on to repairing business listing accuracy.
By 2016, I had noticed dramatic improvement in navigational capabilities; Apple Maps became my go-to for driving directions although business listings remained a weak spot. With tight integration with Apple Watch and CarPlay, the Apple Map experience has continued to improve.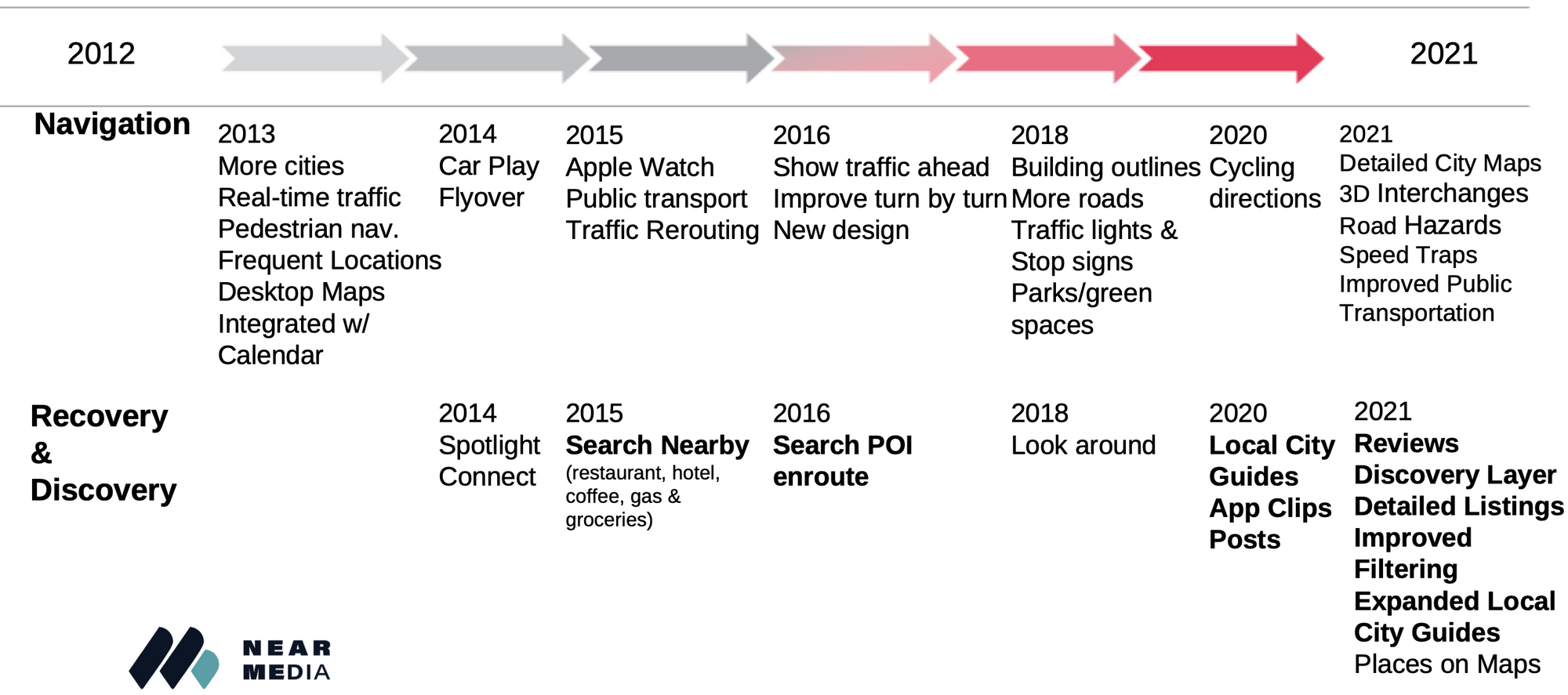 Historically, I have been reluctant to use Apple Maps to find local businesses but recent travel experiences demonstrated to me that their Places listings have improved dramatically as well. Even if under the radar, Apple has been working on improving this critical aspect of the local mapping experience.
Unlike Google's often experimental early release methodology [2], Apple takes a long term, measured approach to offering additional features in their local search environment. You can see a progression: from their improvements in basic navigation, to location accuracy and gradually improving location details and granularity.
Why These Catch-up Features Matter
Ok, so big deal. Apple spent nine years building out Maps, following Google's feature playbook. Yet they still haven't quite caught up. So what?
The real question isn't "So what?" but "What's next?" With the iOS 15 upgrade, Apple has made clear that navigation and business recovery are not their only priorities with the mapping product.
Not only are business discovery and local transactions on the table, but given Apple's long time horizons and consistent development, Apple Maps is likely to play an important role in coming augmented reality developments.
Stay tuned for Part 2 (Apple Maps: The Road to the Future) where I discuss why this is important now and where it might lead.
---
[1] If it isn't obvious I am fully invested in the Apple ecosystem both in the sense that I rely heavily on Apple hardware across all aspects of my life as well as the fact that I have Apple stock.
[2] The obvious exception to this rule was the disastrous (too?) early release of Apple Maps itself that led to high level firings and a great deal of public scorn. Some of that scorn, whether justified or not, has tainted Apple Maps to this day.